Start of the 50th Solitaire URGO Le Figaro
On Sunday 2 June 2019, the 47 contenders in the 50th Solitaire URGO LE FIGARO, set sail for Ireland. A major event of the French Elite Offshore Racing Championship, the Solitaire is celebrating its 50th anniversary this year and all the skippers taking part will be competing on the new Figaro BENETEAU 3 foiling one design.
The new boat has brought some of the legends of offshore racing back into the spotlight, such as Michel Desjoyeaux, who won the Solitaire three times, and the Vendée Globe twice, Loïc Perron who has no less than four circumnavigations under his belt and who also won the Route du Rhum and Alain Gautier, a former winner of the Solitaire and the Vendée Globe. This year, 12 rookies will be taking part in the Solitaire, sailing alongside skippers with impressive records of achievements, such as Jérémy Beyou, Armel Le Cléac'h, Yann Eliès and Yoann Richomme.
NANTES, hosted the start
For the first time Nantes welcomed the skippers of the Solitaire Urgo Le Figaro. Close on 90,000 visitors walked along the Quai de la Fosse in the week before the start. At 8.30 am on Sunday 2 June, the sailors were given instructions to sail down the River Loire to the starting line off Pornichet, for a start in the early afternoon. The starting horn sounded at 4.25 pm and the skippers set sail for a 553-mile stage from Pornichet to Kinsale.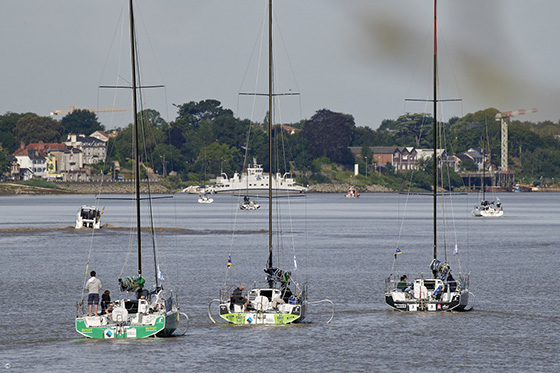 The Figaro Beneteau 3 sailing yachts as they sailed down the Loire.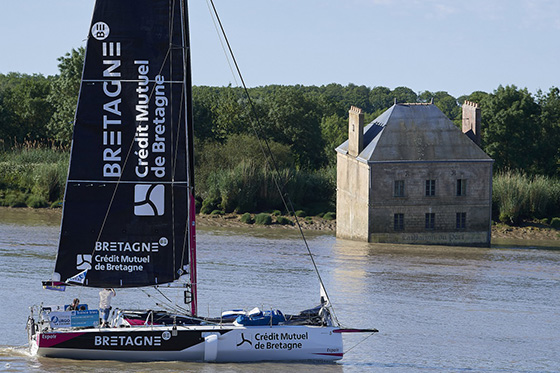 Sailing past La maison dans la Loire (house by JC Courcoult).

©photos COURCOUX Alexis
FILM OF THE RACE START
Emmanuel Faure of France 3 fame commentates the start, with the assistance of Sébastien Simon, winner of the 2018 Solitaire.