Antares: over 40 years of success!
Everyone knows the Antares! This seaworthy, pilothouse cruiser has held a special place in the hearts and minds of boaters since the Antares 7.50, designed by André Bénéteau, was first launched in 1977. It was the first in a long series of successes.
With 47 models launched in just over forty years, the classic Antares is the boatyard's best-selling motorboat range. The epitome of a family boat, their traditional profile, excellent hulls, very safe seakeeping behaviour, and sizeable living spaces, make them a firm favourite. Timeless and reassuring, the story of the Antares joins that of recreational boating and boaters.
« In forty years, the "Pêche-Promenade" recreational craft quickly became a liveaboard cruiser.Her semi-planinghull developed to become a planing hull. The Antares has always been and still remains a comfortable boat that is seaworthy and safe," says Patrick Tableau, in charge of motorboat naval architecture at BENETEAU.
The many stories heard on the pontoons bear witness to a shared history.
The fact that Luc Besson chose an Antares 11.20 to film The Big Bleu, in 1988,was no coincidence. The technical crew designed a stainless-steel bracket, which they attached to the bow to film the dolphins.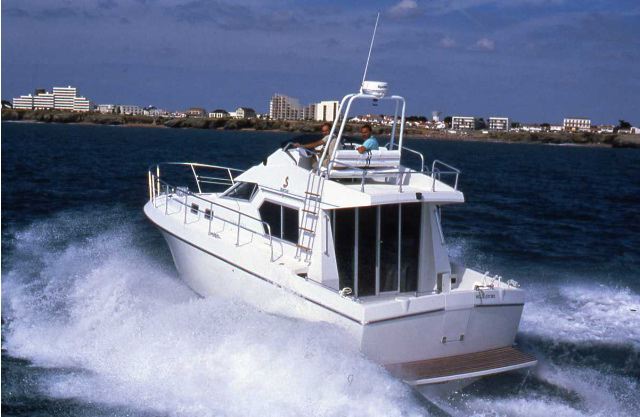 The Antares 11.20, with a shallow draught, was first produced in 1988.
Performance and good all-weather behaviour also led BENETEAU to use the Antares 8.8 OB hull to create the Barracuda 9 , the first model of a new series of boats for sport fishing. We know what came next…
It is worth noting too, that boatyard installed the IPS Volvo pod drive system for the first time on the Antares 12. Another success.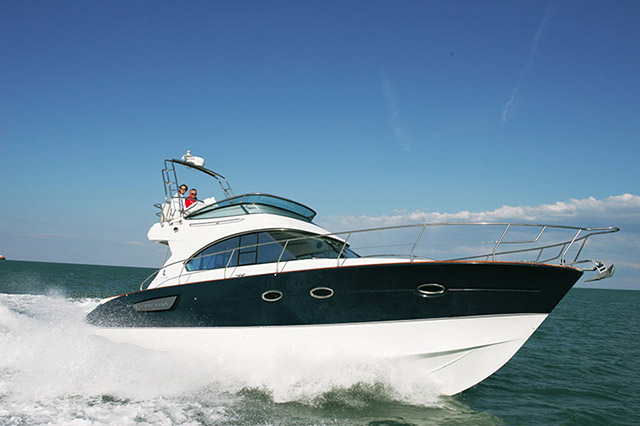 In 2004, BENTEAU introduced the Antares 12, an invitation to travel first class!
Continuing with an established tradition, the Antares have also been on the cutting edge of innovations in style and modern-day motorboating technology, as witnessed by the Antares 6, 7, 8, 9 and soon the 11 – a truly vibrant line of 5 outboard engine boats from 5.70 to 11 metres.

watch the video of the Antares 8.60
In 1987, Seaworthiness and habitability emerge as the hallmarks of the Antares range. We found the Antares 8.60 video !