Buyer's guide to motorboats: finding your perfect boat
Buying a motorboat can be a lifetime project. Before making your purchase, it is vital to ensure that you choose the boat that fits best with your sailing plan. Buying a motorboat that matches your needs and desires will guarantee you maximum enjoyment and a host of unforgettable days out. To be sure of choosing the right boat from our range of yachts and motorboats, means asking the right questions and prioritizing a list of criteria (navigation programme, size, comfort, onboard equipment and fittings, engine rating, etc.).
Use BENETEAU's motorboat buying guide to help you ask the right questions and find the boat that is right for you. The main consideration: a boat that is going to guarantee you memorable days out on the water, for a day, a weekend, a week or even your whole life.
BUYING A MOTORBOAT: YOUR TICKET TO FREEDOM!
Contrary to popular belief, anyone can enjoy the pleasures of motor boating and try out all sorts of water sports and leisure activities; the wide range of boats on offer means that there is something for everyone whatever their level of experience. The extraordinary diversity of models means there is a motorboat for every type of sailing programme: from buying a yacht for experienced sailors, to a mid-sized speedboat, easier to handle for first-time buyers.
Owning a motorboat opens up a whole new world of marine activities:
Leisurely day trips spent exploring coasts and islands - ideal for relaxation and a change of scene.
Exciting fishing trips - with rod and reel from the boat or onshore, or underwater fishing in little coves that you can only reach by boat.
Sailing on comfortable Trawlers that provide you with a genuine nautical "home from home".
Water sports like water skiing, wakeboarding, tubing, etc.
Thrilling, high-speed rides on a powerful speedboat.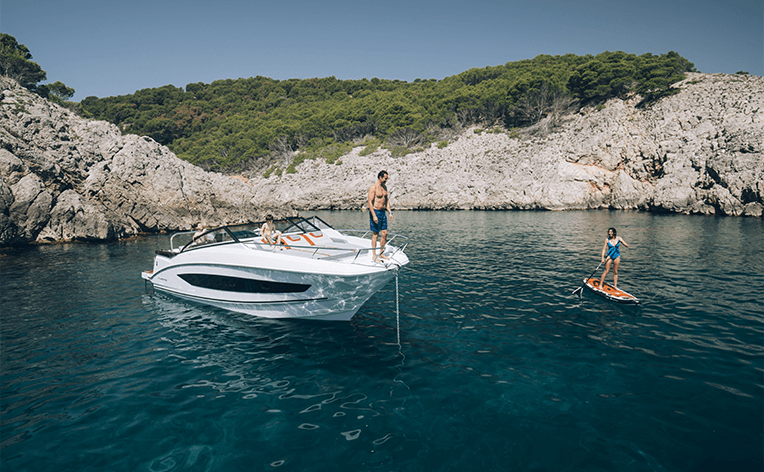 Enjoy a host of nautical activities with the Flyer 10
Buying a yacht: a floating second home
Buying a motorboat can provide a real opportunity for investment. For instance, purchasing a yacht is like investing in a floating second home. Whether you intend to go on day trips or longer cruises, this type of boat with its exceptional range gives you the freedom to set sail whenever you want, for as long as you want, and in exceptional comfort. Like any house or apartment, BENETEAU yachts are all equipped with several cabins with all the comfort of an onshore bedroom, a galley area, or even an entire, fully equipped kitchen. They also boast comfortably kitted out deck areas with unbeatable panoramic views wherever you are. The ideal solution if you are intending to take longer cruises and, why not, sail right around the globe.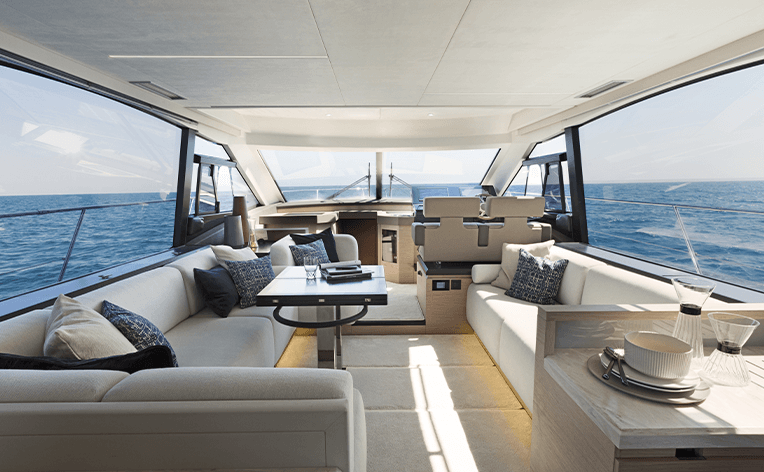 Space, light and comfort aboard the Monte Carlo 52
HOW TO CHOOSE YOUR MOTORBOAT?
The first step in choosing your motorboat is to define your sailing project.
It is essential to have a clear idea of your sailing project, as this will help you focus your choice on the boat range that fits best with your sailing plans. This can be extremely useful given the huge range of models on offer in the BENETEAU boat range. By asking the right questions, you will discover whether your preference is for day-trips, in which case a Flyer 6 SPACEdeck, the smallest boat in the Flyer range, sold fully-equipped and ready-to-sail at € 31,664 would suit you fine, or whether you intend to go on family weekend cruises, in which case an Antares 7 would be the better option.
The best way to develop your sailing project is to discuss it with professionals who will provide you with valuable feedback. While the best place for this would be the pontoon where your future boat is going to be berthed, you will also find experienced professionals at all BENETEAU dealers and trade shows who will be happy to advise you and help you determine your needs, define your priorities and identify which range and model is the one that suits you best.
Which motorboat for which activity?
Once you have a clear idea of what you want to do with your motorboat, it is time to look for the model that is best suited to your planned activities. Making the right choice means you will sail more often, creating lasting memories of unforgettable days out. While some BENETEAU boats may be more suited to a specific activity, they are all nevertheless highly versatile.
A boat for fishing and cruising?
Whether you want to go fishing or take a day trip, the smaller models in the Antares range are all perfectly suitable. Whether the largest of the Weekender models, like the Antares 9, or the smaller Pocket Cruiser models, such as the Antares 7 that has the added advantage of being towable, all these boats are spacious and comfortable, and perfect for leisurely fishing trips. They are also fun to drive, highly manoeuvrable and easy to steer. They will guarantee easy access to your favourite fishing spots for fun-filled days out with family or friends catching mackerel, sea bream and other sea bass species.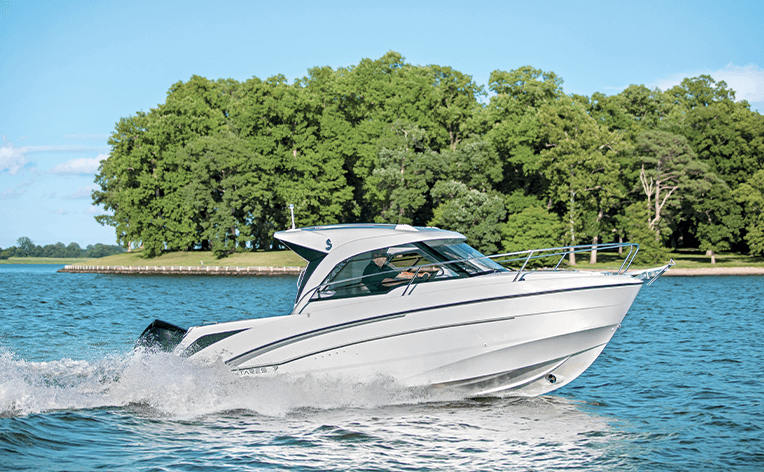 Make the most of a sunny day out to go fishing aboard the Antares 7
A speedboat for water sports and day-trips?
BENETEAU also develops boats fitted with one or more powerful engines designed for water-sports enthusiasts looking for exciting days out. On a calm sea, these boats are perfect for wakeboarding or just for pushing the engine to its maximum to enjoy the thrilling sensation of speeding over the water with the spray in your face. These comfortable boats are ideal for day trips, with the advantage of a cabin fitted with a double berth, perfect for rest and relaxation, as shown in the Flyer 8 SUNdeck.
Other, larger boats, like those in the Swift Trawler range, are genuine holiday homes that are perfect for longer cruises. You can spend one or more nights at sea on these comfortable, energy-efficient boats, waking up each morning in a different bay or cove.
The Swift Trawler 41 Fly, a boat that is comfortable, functional and has ample living space
A yacht designed for longer cruises?
If you are looking for a motorboat that you can use for cruises of indefinite length in optimal comfort, you need to think about getting a yacht. The Grand Trawler 62 or the Monte-Carlo 52 will both guarantee you unforgettable cruises in a top-of-the-range floating home. These boats have an excellent range that lets you steer a course to the faraway destinations that you have always dreamt about.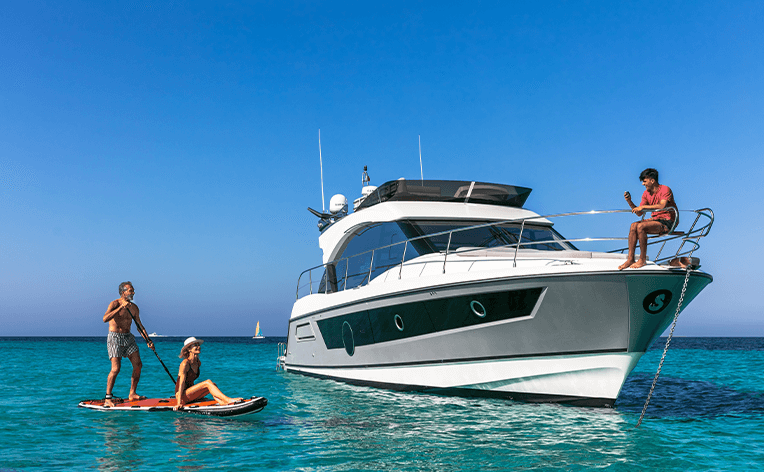 Family vacations aboard the Monte Carlo 52
WHICH IS THE BEST ENGINE FOR THE BOAT?
There are two main types of boat engine:
Boats with outboard motors, i.e. fixed to the outside of the hull
Boats with inboard motors, i.e. housed inside the hull
Deciding which engine model to choose could not be simpler. This is because your chosen boat model will be automatically fitted with the motor that is most suitable for its size, weight or its technological features.
Outboard models
Outboard motors are the usual choice for the smaller boat models, for several reasons:
Outboard motors offer great manoeuvrability
They guarantee a thrilling ride
They are easier to clean and maintain
They are lighter than inboard motors and can be fixed to the back of the boat without altering its stability.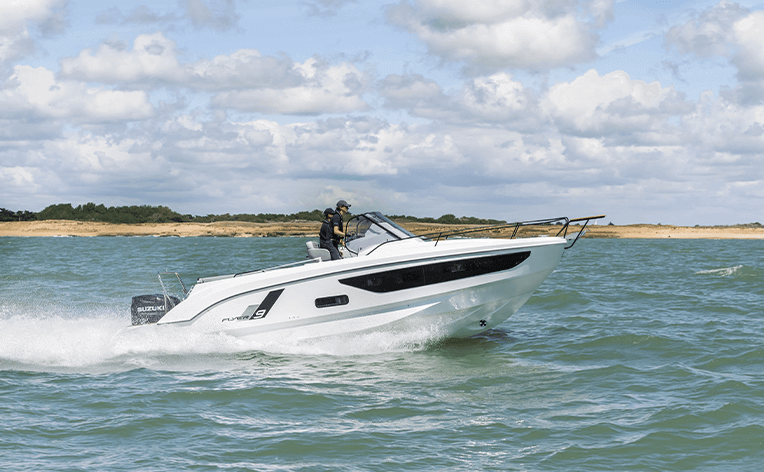 The Flyer 9 SUNdeck, a welcoming outboard model with sleek finishes
Inboard models
Inboard motors are more suitable for larger boats with more ample fixtures and fittings. It makes better use of the space in the saloon area and inside the boat and provides for more even weight distribution. This option allows you to choose a diesel-powered motor, in contrast to outboard motors which generally use gasoline. To sum up, inboard motors are quieter than outboard motors and are easier to fit with new technologies, such as Ship Control®, an onboard computer providing navigational assistance.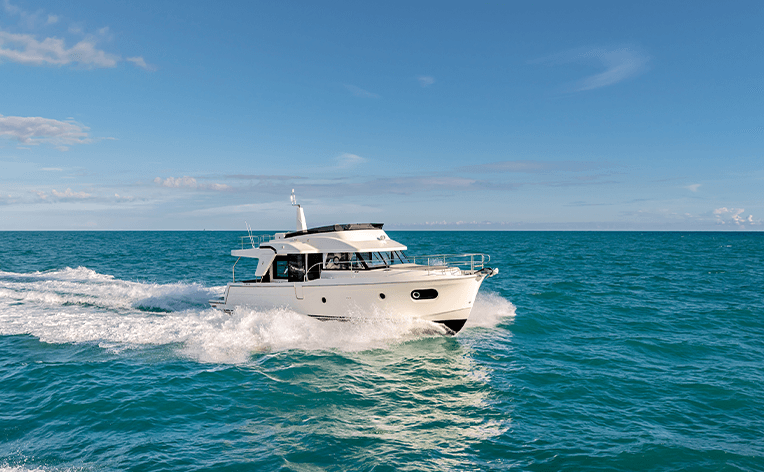 The Swift Trawler 47, featuring high-tech Ship Control
WHICH SIZE MOTORBOAT TO CHOOSE?
Choose a boat that is appropriate to your level of experience
Another vital consideration when buying your motorboat is to decide which size is right for you. This decision needs to take account of your level of sailing experience, for the simple reason that the larger the boat, the greater the level of skill required to handle it, to manoeuvre in harbour and to pilot it smoothly to ensure maximum sailing enjoyment.
Start small and gradually work up to the bigger boats
Beginners would be advised to start with the smallest boats in order to develop their piloting skills, gradually moving up to the larger models as they become more experienced.
However, choosing to start out with a small boat does not mean lowering your requirements (power, comfort, etc.); far from it. BENETEAU offers several different boat ranges that include small, highly equipped models that guarantee top-level comfort and performance.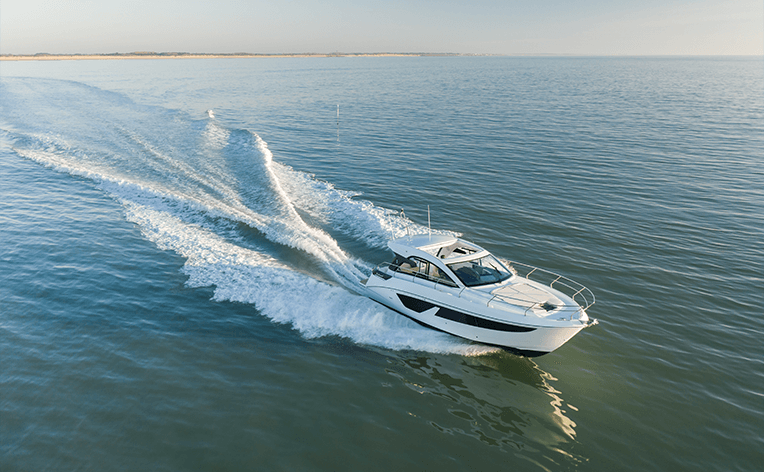 With its sporty hull and sleek lines, the Gran Turismo 41 combines both speed and elegance
To sum up, the aim is to identify which model of boat you are best able to handle while still making your sailing dreams a reality. Choosing the right boat means you are more likely to sail regularly. This way, you will quickly gain experience and, above all, be able to cruise safely and comfortably. As your confidence builds, every trip you take will be a memorable experience, creating precious, lifelong memories of days out with family and friends.
SHOULD I BUY A NEW OR SECOND-HAND BOAT?
Once you have decided what you want to do with your motorboat and you have a clearer idea of which model you prefer, there is one last question to ask: is it better to buy a new boat or go for second-hand?
Why buy a new boat?
Buying a new boat is, quite simply, the best possible option in terms of sailing quality and onboard comfort as:
You can choose between all the models currently on the market
You can access all the very latest equipment and technologies
You can set sail with perfect peace of mind, knowing that you have a boat that is reliable and seaworthy
You benefit from a more extensive warranty cover coupled with an after-sales service that you can call at any time
There is no work to be done on the boat.
Buying a new boat is the surefire way of guaranteeing unforgettable sailing on a boat that is tailored to your dreams.
However, even if you cannot buy a new boat straight away, this should not stop you wanting to become a boat owner. In this case, it could be a good idea to think about buying a second-hand boat.
Why buy a second-hand boat: as a basis for a future purchase of a new boat
It is a good idea to purchase a second-hand boat if your aim is to eventually buy a new, larger boat in a more high-end design. Choosing to start out with a competitively priced second-hand boat is the perfect way to familiarise yourself with how to handle a boat and to get the necessary practice before making your next investment. Not only that, having a second-hand boat that matches your sailing project will also guarantee you memorable days out with family and friends.
The Antares 11 Fly is the ideal family cruiser
As you can see, there are as many motorboats as there are sailing programmes. The first and most important step in buying your boat is therefore deciding exactly how you want to use it. Another vital point is to choose a boat model that is appropriate to your level of sailing experience, to ensure you get maximum enjoyment and to create lasting memories.
Would you like help in choosing your future motorboat? BENETEAU boat dealers will be happy to help you choose the boat best suited to your needs and desires, and to welcome you to our family of sailing enthusiasts.