Define your sailing project to ensure you choose the right boat!
Fishing boat, motorboat trips, cruising yacht, sailing yacht for coastal navigation or sailing on the high seas … With so many different sizes and models to choose from, deciding which boat to buy can be a real challenge. Before you start to think about which boat to choose, it is vital to have a clear idea of the kind of sailing you want to do. Whether you are a seasoned sailor or you are buying your first boat, BENETEAU will help you ask the right questions before deciding which boat you want to buy.
Choosing a boat: defining your sailing project
Whether a simple indulgence or a lifetime purchase, buying a boat is a significant event in the life of a sailing enthusiast. By clearly defining your sailing project, you will be well placed to choose the ideal boat design that perfectly suits your needs and desires.
Before you start looking, take a few minutes to think about what you really want to do with your future boat. For instance:
Sailing yacht or motorboat?

Which engine: diesel or gasoline?

Are you looking for a boat to take day trips on?

Do you want a boat that's good for fishing trips?

Which element of comfort do you consider an absolute must (deck space, cabin, etc.)?

Would you like to buy a cruiser to be able to take longer trips – maybe even go on a round-the-world voyage?

Do you want to use the boat for watersports (wakeboard, waterski)? If so, you will need a fairly powerful engine.

Are you planning to take part in regattas? If so, you will need a fairly light boat that handles well in competitions.

Have you thought about how many onboard passengers are likely to accompany you on your sailing trips?

What about the boat's length? Remember to ensure that the boat's length corresponds to its berthing location.

What about the boat's draft? This is really important to get right, as the keel ballast determines where you can sail.
Answering all these questions will help you form a more accurate picture of the boat that would be best suited to your sailing programme. If you're still hesitating over whether to opt for a sailing yacht or motorboat, you should now be able see things more clearly.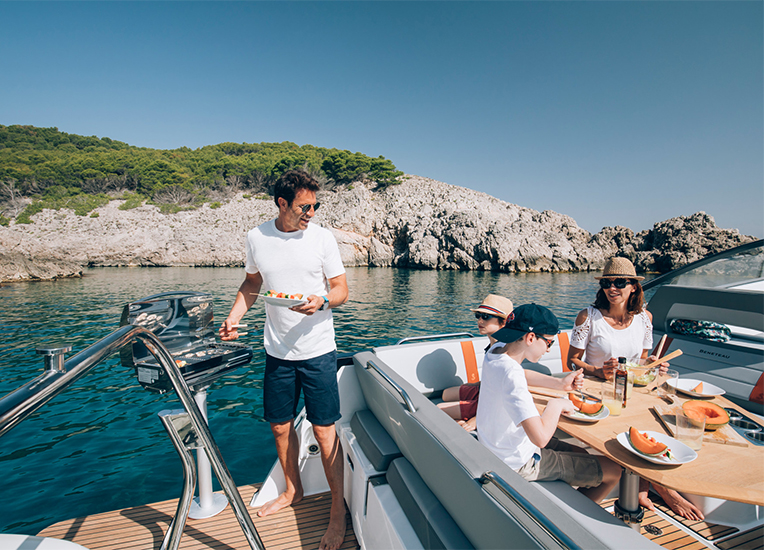 Have you thought about how many passengers you want to take on board when you go out to sea?
Choosing your boat: budget and logistics
Once you have fixed your priorities, you can start thinking about how much you want to spend on your future boat. There are a whole host of options available to help you finance the purchase of your boat, whatever the price. Leasing arrangements, rental management, etc.
Buying a new boat means you will benefit from professional guidance as well as being sure that your boat is fitted out with all the latest, high-tech equipment. Warranty, maintenance and upkeep, large choice of options; why not pay a visit to your BENETEAU dealer to discuss your project in more detail?
You can also choose to buy a second-hand boat. In this case, the BENETEAU dealership network will be able to advise and support you in your purchase of a second-hand boat, maintained and prepared by a professional.
One question that has to settled at the very beginning is where your boat is going to be berthed and moored. Our newsroom article: What can you do with your boat when you don't have a slip? will give you some important information on this issue.
So, are you raring to go and get started on planning your project? Why not use our configurator to custom-build your ideal boat according to your sailing programme?