Finding the Right Boat for You
With so many different sizes and models to choose from, deciding which boat to buy can be a real challenge. Before you start to think about which boat to choose, first get an idea of the kind of boating you want to do. Whether you are a seasoned sailor or you are buying your first boat, BENETEAU will help you ask the right questions before you make your decision.
Choosing Your Boat: Defining Priorities
Whether a simple indulgence or a lifetime purchase, choosing a boat is a significant decision in the life of a boating enthusiast.
So, before you start looking, take a few minutes to think about what you really want to do with your future boat and the activities you intend to use the boat for. Here are just a few ideas to get you started:
Will the boat be used for fishing? Saltwater or freshwater fishing?
Do you intend on using the boat for any watersports? Waterskiing? Tubing? Wakeboarding? Kneeboarding?

Are you looking to only do day trips on the boat or will you also use it for overnight trips?

Do you prefer speed or a smooth, slow ride?

How many people do you want to fit in the boat at once? Will it only be used for you and your significant other? Do you want to have small boat parties? Maybe you just want a comfortable ride for you and your family?
Figuring out your intentions for what you want to do with your boat will help you determine which boats will fit your needs. For example, if you intend to use the boat for waterskiing, make sure it has at least 70 horsepower to effectively pull the waterskier up and out of the water.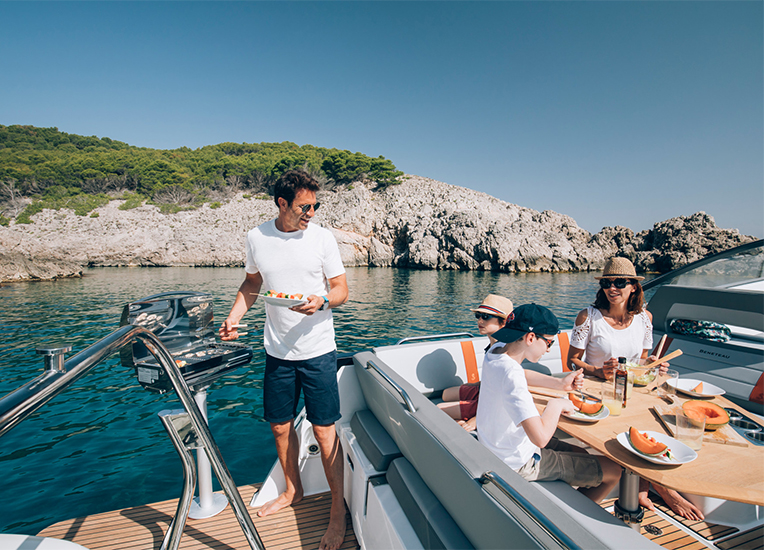 Choosing Your Boat: Budget and Logistics
Once you have set your priorities, you can start thinking about how much you want to spend on your future boat. Just like cars, boats come in all budget ranges and have the same types of financing options. So, whatever your budget is, there will always be a way to fulfill your boating priorities.
You also need to consider the logistics of your boat. This mainly revolves around whether your boat will be berthed or moored when not in use. You can check out our newsroom article "What can you do with your boat when you don't have a slip?" for more information.
Now that you have your boating priorities, budget, and logistics ironed out, you're ready for the next step of talking to a professional. Thankfully, this is the easiest step of them all. Simply call up your local Beneteau dealer and tell them your priorities, budget, and logistics. They'll gladly help you find a boat that perfectly fits your needs.
Alternatively, you can use our custom boat builder and create the exact boat of your dreams.
So, the only question left is, are you reading to get out on the water?