Double award for BENETEAU
On the Flagship Night of the Boot Düsseldorf, on 18 January, BENETEAU was honoured with two highly-esteemed titles, awarding the best boats of the year – "European Yacht of the Year" and "The European Powerboat of the Year".
Having already won several international prizes, the Oceanis 30.1, a recent addition to the range, was a clear choice in the "Family Cruiser" category. The 30-foot sailing yacht stands apart for its affordability, comfort and easy use, and for its smart design and excellent performance.
FIND OUT MORE ABOUT Oceanis 30.1
The latest addition to the Flyer outboard range was also a sensation in the "up to 10 metres" powerboat category. Borderline day-boat and sport cruiser, the Flyer 10 provides unique living space. Stylish and sporty, this large outboard powerboat offers matchless thrills with its twin engines of up to 2x350 hp and an Airstep® hull. This is a wonderful award for the flagship of the range, which has now become the gold standard.

FIND OUT MORE ABOUT THE Flyer 10
Both these titles awarded by a panel of judges comprising leading journalists of the boating press in Europe, highlight BENETEAU's ability to innovate in sailing yachts and motorboats, offering highly competitive boats that are excellent value for money.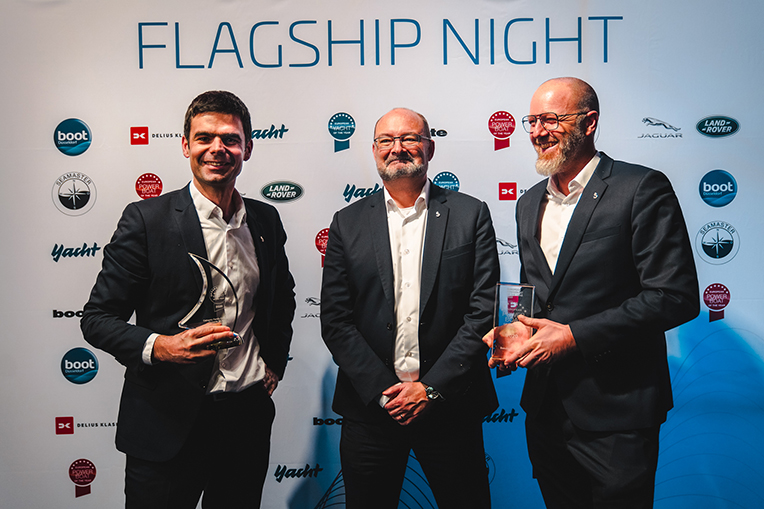 The BENETEAU Sailing Yacht and Motorboat Marketing team : Damien Jacob, Robert Chaffer, Michael Guinet,
standing together with the two trophies.