First and Seascape Challenge: a joyful, fun-filled regatta
Between the 16th and 20th June, Jezera in Croatia saw close on 90 yachting enthusiasts gather to participate in the season's standout European event: The First and Seascape Challenge!
Following the extended period of health restrictions due to the Covid-19 pandemic, the regatta was eagerly awaited by the many participants. Having been postponed last March, this European regatta finally took place on the Adriatic coast in June to the delight of keen yachting fans and sailing enthusiasts. In all, 44 teams sporting 10 nationalities from Northern and Eastern Europe competed during two days on the First 18 SE, First 24 SE and First 27 SE.
A highly convivial sports event
After getting in some practice on Wednesday and Thursday, on Friday 18th June the 44 teams set off for a two-day double-handed regatta sailing boats from the First SE range.
While the sailors' nerves were tested by low wind zones that require tactical sailing skills, the extraordinary beauty of the Kornati Archipelago lifted everyone's spirits and amply compensated for the challenging conditions and the lack of wind.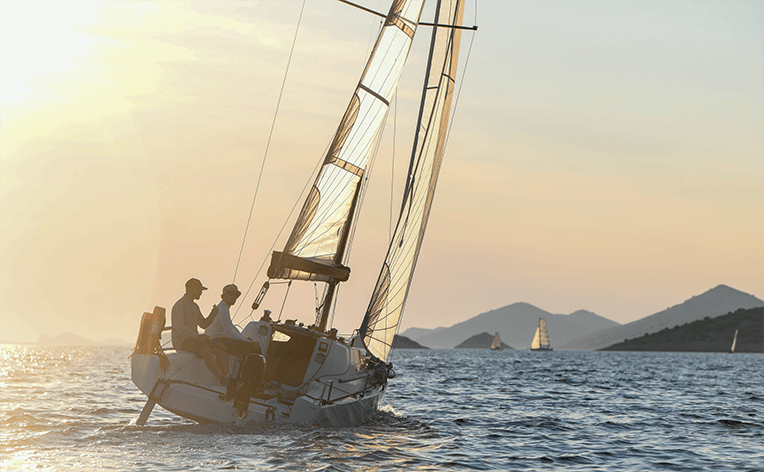 In the words of one participant, "I absolutely loved every minute of it! It was a great event; it felt like getting back to normal life again after a year spent teleworking. This was my first regatta and I found it really challenging, but I'll definitely be coming back once I've had more practice".
Different routes
Two different routes were planned to make it a fair race between the various categories of boat. One route covering 84 nautical miles was dedicated to the smallest boats in the fleet, the First 18 SE, while the First 24 SE and First 27 SE followed a second, longer, route of 95 nautical miles.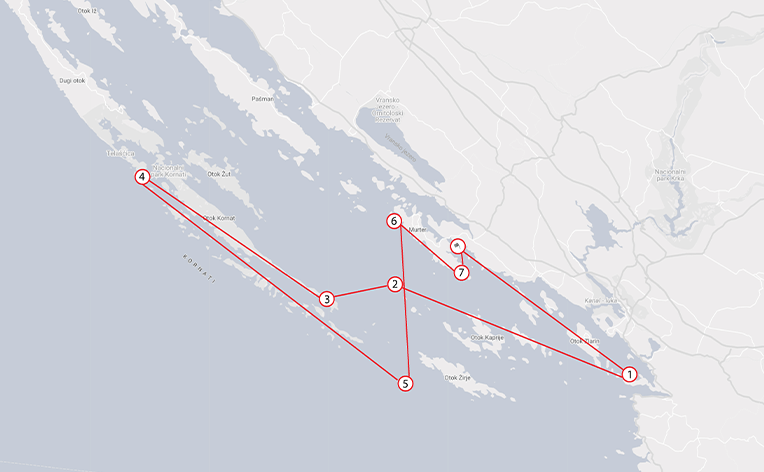 Route of the First 18 SE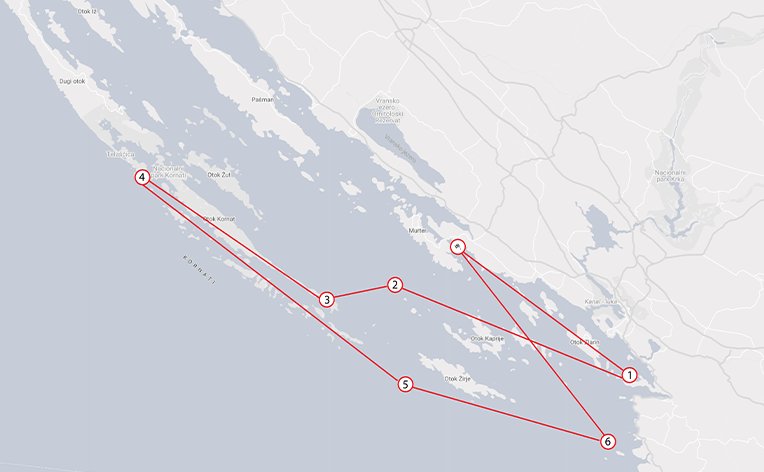 Route of the First 24 SE and First 27 SE
CZECH MERMAID, winner of the race
The CZECH MERMAID team, sailing a First 27 SE, dominated the race and was the first to cross the finishing line after just 25 hours and 28 minutes, nearly 2 hours ahead of the other participants.
After that, boats started arriving in a continuous stream. The three First 18 SE leaders, Blue Sardina II, Corna and Lenčina arrived more or less simultaneously with only a minute or so between them. The winners of the First 24 SE, Franz and Falko, gave a spectacular performance given that this was their debut race in First SE.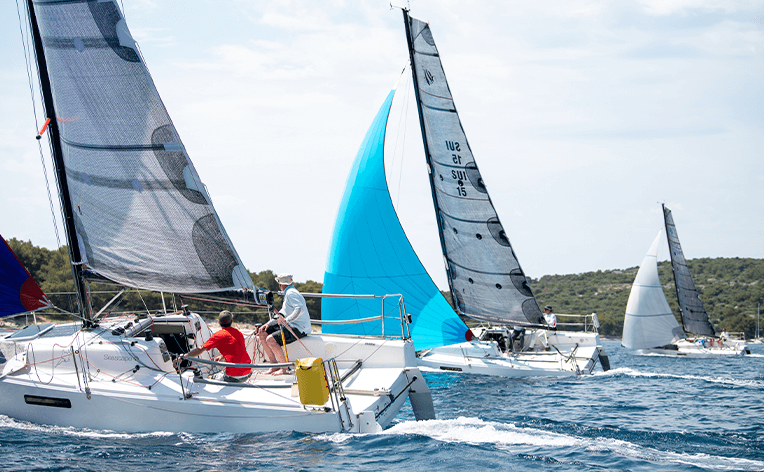 All the teams arrived in time for the awards ceremony. All the sailors were given a trophy with a local and Mediterranean flavour while the 3 winners received the prizes offered by Ronstan, the race sponsor.
Despite the fatigue, nobody wanted to go to sleep and competitors and organisers alike ended their racing weekend by joyfully partying the night away on the jetty.