How to get started with sailing as a family ?
There are lots of questions that come to mind when planning a family cruise on a sailboat. Will the children be able to stand sailing for 30 days in a row? What is the best size of boat to choose? How far can you sail during a summer cruise?
Read how Urška Kustura and her family took their first family cruise onboard a First 24 SE.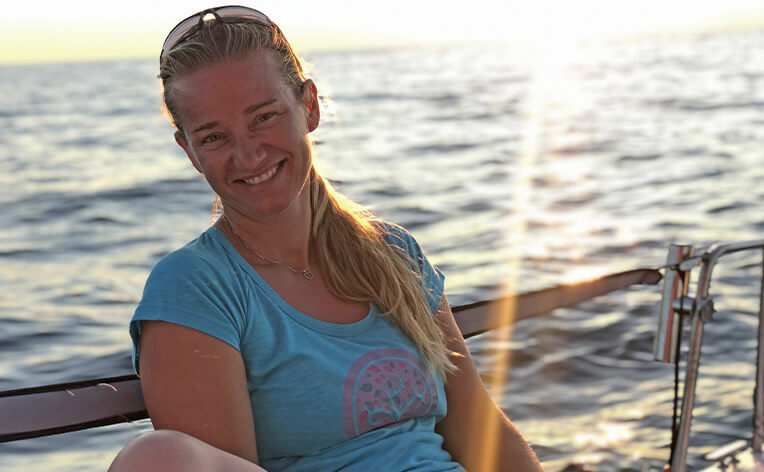 "I've never really been a seagoing person. Even today, after having sailed a few thousand miles, I'm still not sure that I would describe myself as a seasoned sailor. But if you're talking about family cruising, I think I can safely say that I have managed to master that over the last ten years." Urška Kustura
First steps
It all began in 2008 when Urška and her husband bought their first boat, a First 18 SE. Despite a difficult inaugural voyage, during which Urška had to overcome her fear in the face of challenging seas, the young couple spent several years travelling the world in their 18-foot sailboat. They discovered the advantages of a small boat that allowed them to sail quickly and easily to a whole host of destinations.
A growing family
A few years later, Urška and her husband welcomed their first child and, with heavy hearts, had to say goodbye to their 5.5 metre sailboat which was now too small for them. Although they still got some time on the water by chartering boats as they searched for their next purchase, it couldn't compare to sailing their own boat, and the sense of frustration steadily grew.
Not long after this, the Kustura's welcomed their second child and started chartering bigger boats that provided the space they needed for their growing family. That's when Urška's husband decided that their best option was to purchase their own family sailboat. In 2018, the Kustura family bought a First 24 SE, larger and more comfortable for a family of four compared to their first 18-footer.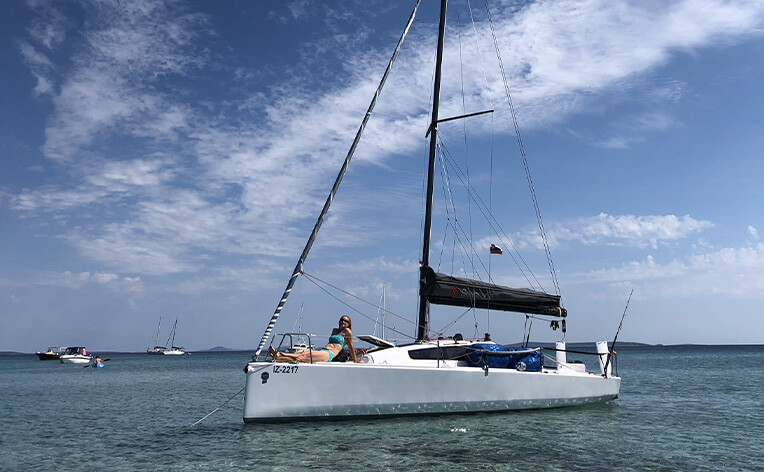 First family cruise
Urška was a little intimidated at the thought of having to gather everything they needed, pack and tidy the boat while looking after two young toddlers as well but a 3-week test cruise from Jezera to Susak helped to dispel her fears.
In the summer of 2019, the whole Kustura family set out on a bigger trip to Izola-Vis-Izola. A total sailing distance of 540 nautical miles which represented a major step up in the family's cruising ambitions - but happily, their previous sailing experience gave them confidence.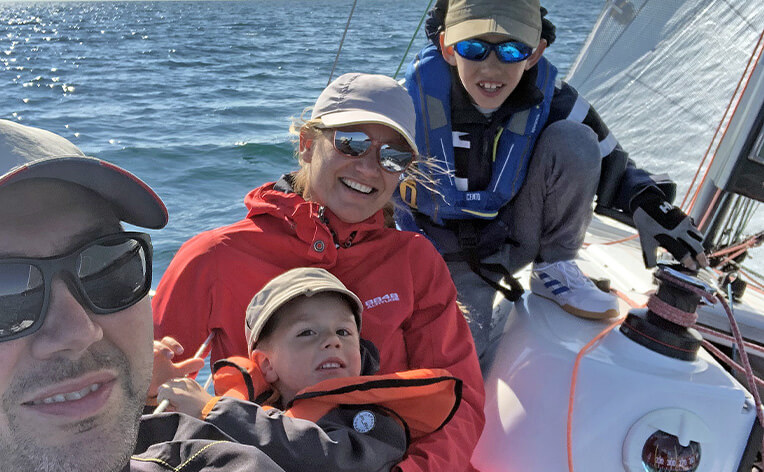 Setting a course for Komiža on the island of Vis
During their cruise, the Kustura's stopped off at several places on the way. There were plenty of things to do or see, some just for fun like the visit of Ist island, along with other more mundane stopovers to do laundry or see a doctor, especially when their youngest child got a cut foot.
They finally reached Komiža-sur-Vis, where they celebrated their eldest son's birthday, wearing their customised t-shirts made specially for the trip.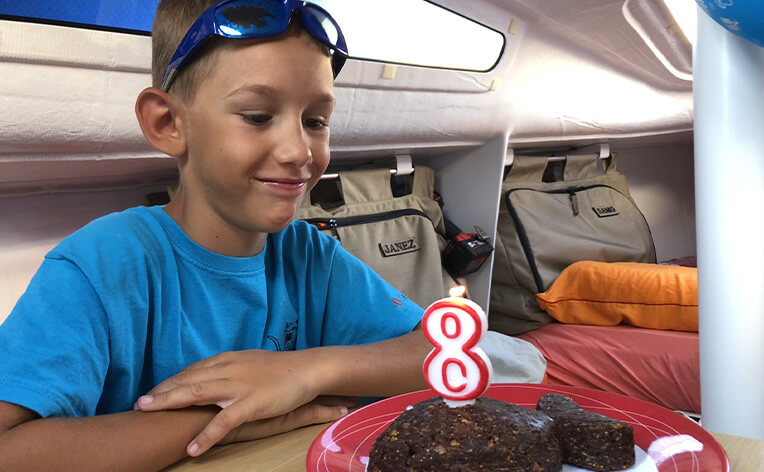 The journey back
The first, northwards, leg of the return journey was fairly long and the routine increasingly tiresome. They therefore decided to stop off at Jereza so the children could run around and let off steam and meet up with other members of the family. Having fully recharged their batteries, the little family set off again for the next leg of their return journey. Bad weather welcomed them on arriving at Bora so they sought shelter in Punta Križa, where they found themselves anchored next to another First SE sailboat.
"We tied our boats together next to an even bigger yacht, and for the next three days we hardly even noticed the gale that was blowing outside." Urška Kustura
Once the storm was over, they set off once again - what with fishing and the wonderful experience of seeing dolphins up close, there was never a dull moment. After an eventful cruise sailing up the coast visiting scenic bays and delightful marinas, finding refuge in Bora during the stormy weather, and having eaten all their food, the Kustura family finally arrived at their destination after spending exactly 30 days at sea.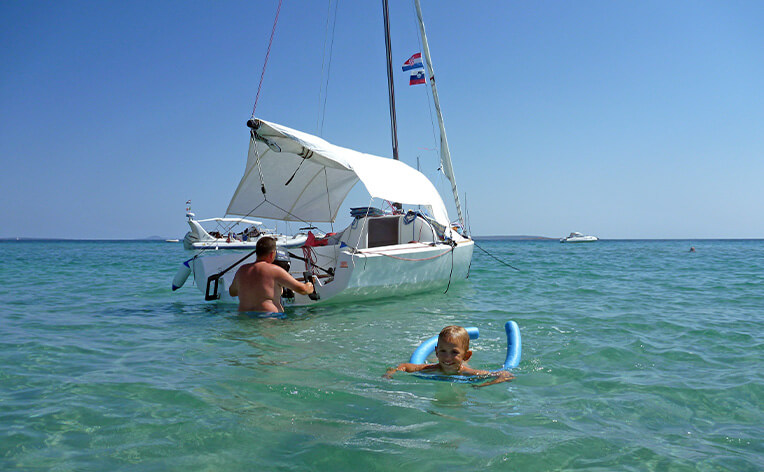 "It was a wonderful experience; a feeling of close harmony with the sea, the air and our natural surroundings at all times, day in day out. During our cruise, we stopped over to spend unforgettable moments with friends and family, who all got a little taste of our life on board. I have to admit that, since we got back onto solid ground again, we are just so much more alive to all the beauty that surrounds us" Urška Kustura
We would like to thank the Kustura family for sharing their family cruising experience with us. So what do you think? Are you ready to set out on a family adventure onboard a First SE sailboat?