The First 27 wins two awards!
The First 27, launched in early 2021 to expand the First range and address the needs of sailors looking for comfort and performance, has just won two highly rated awards in the USA and in France.
BEST POCKET CRUISER/DAYSAILER
Every year, an independent panel of judges from the American Cruising World magazine award the best production cruisers, built and fitted out for coastal and ocean navigation.
This year, the award for the "Best Pocket Sailor/Day Sailor" was awarded to the First 27 in the 2022 "Boat of the Year" competition.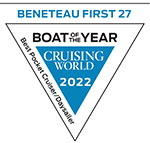 FRENCH VOILE MAGAZINE READERS' FAVOURITE
A few days later, the First 27 won the Voilier de l'Année 2022 (sailing yacht of the year 2022) awarded by Voile Magazine's readers. This award illustrates how much the readers on the panel of judges loved the First 27 at the sea trials in La Rochelle.