BENETEAU LAUNCHES THE FISHING TROPHY,THE FIRST INTERNATIONAL NO-KILL SALT WATER FISHING E-COMPETITION
There will be three stages from 13 June to 30 September, two of which are open to all fishers, no matter what type of boat they have.
It is a digitised competition: the contenders compete from any spot worldwide.
On top of BENETEAU, Garmin and Seanox, the event's partners, will award prizesto the winners.
BENETEAU has set a new date on the fishing calendar: June 13. The BENETEAU Fishing Trophy is an opportunity for all keen fishers and owners to match their strengths in a big E-competition. In many respects, the event focuses on innovationin the way it is managed through social media, but also with respect to the entry criteria and the diversity of challenges.
A DIGITISED EVENT OPEN TO EVERYONE WORLDWIDE
In organising the Fishing Trophy, BENETEAU aims to deliver an event that is more open than ever before. To take part, all you need to do is download the Fish&Youapplication and register for the BENETEAU Fishing Trophy. People taking part will post their best catches and share their photos on theBENETEAU FishingFacebook group.This system has the advantage of allowing them to take part from anywhere on the globe and to share the best spots. However, if the contenders prefer, they can keep their favourite fishing spot confidential.
Although the two first stages will be open to everyone, the third and last stage will be exclusively for BENETEAU sailing yacht and motorboat owners, and will involve a photo competition on the fishing theme.
«RECREATING CONNECTIONS»
"As we emerged from the public health crisis, we felt it was important to recreate connections with the BENETEAU community of fishers at sea, but also more broadly with all amateur fishers, no matter the type of boat they use, type of fishing they do or their location," stresses Luc Joëssel, communication project manager at BENETEAU. "With the Fishing Trophy, we are responding to a strong demand from fishers, reflected in the 1,000+ members who have already joined the Facebook group dedicated to the event. We are set on reminding people that fishing is a wonderful fun activity on any type of boat. Passion and talent are what set fishers apart. What's more, although the last stage is still only for BENETEAU owners, we have decided to innovate by challenging their creativity; another way of giving other participant profiles a chance."
A VARIED PROGRAMME AND A STRONG MOTTO: #CATCHANDRELEASE!
The two first stages of the BENETEAU Fishing Trophy will take place respectively from 13 June to 17 July and from 20 July to 21 August. The quota per participant is 5 fish, following legal sizes, from which they will be counted. The 5 largest fish will be selected among the following species: European seabass, spotted seabass, striped seabass, pollack, coley, meagre, gilthead seabream, black seabream, blackspot/red seabream, white seabream, common pandora, red porgy, northern wolf-fish, great amberjack, mottled grouper / blacktip grouper /goldblotch grouper, giant trevally, barracuda, bluefish, Mahi Mahi/dolphinfish, cobia, drums, jacks (amberjack, blue runner, crevalle, big eye, horse eye and rainbow runner), king mackerel, needlefish, permit, pompano, seabream, cubera snapper.
Since BENETEAU is committed to environmentally-friendly fishing, everyone taking part must release all their catches.
The 3rdstage will take place from 24 August to 30 September. This time, we will test the creativity of BENETEAU boat owners in a photo competition on the theme of fishing (all species), no matter what type of boat they own. A panel of judges will be charged withpicking out the best photos, based on photo composition originality and aesthetic quality.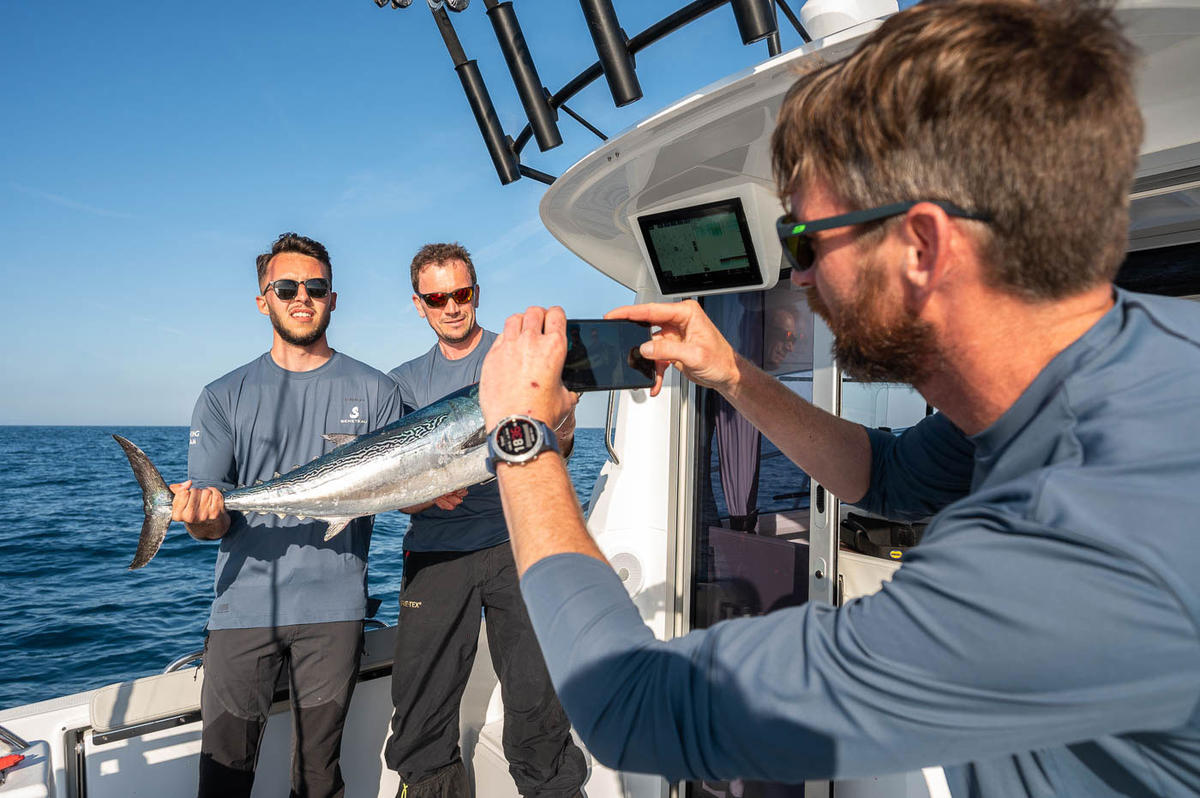 Throughout the competition, BENETEAU, Garmin and Seanox will offer prizes to the winners of each stage. So, BENETEAU is inviting fishers everywhere to get their landing nets, rods and lures ready and is hoping to hear from them on 13 June!