Interview with Xavier L. owner of Hornblower (First Yacht 53)
57-year-old Xavier L. from Guérande built his career in the maritime industry and works in Marseille. He sails all year round and has succeeded in reconciling his wok and private life perfectly. He is torn between the Bay of La Baule and the Bay of Marseille! He had to make a choice for his new First Yacht 53's home port and the boat, called HORNBLOWER, is now tied up in the Vieux Port.
Hello Xavier, how do you end up at the helm of a 17-metre sailing yacht?
Quite naturally! I've been sailing for many years. It's so enjoyable to live aboard, so silent and comfortable. As yet, I can find no fault with her!
What is your link with the sea?
My work and my leisure time revolve around the sea and I've always loved regatta racing. I've had nine sailing yachts one after the other in my life. I have taken part in a great number of races and gatherings with my crew member friends. Saint-Malo, Port-Louis, Marseille, etc. We have sailed on a wide variety of boats, ranging from the "Nicholson 43", a classic boat from 1969 to the First Class 12, the BENETEAU one-design of the 1980s.
How did the delivery of your First Yacht 53 go?
The boat arrived in the harbour of Canet-en-Roussillon for three weeks of preparation. It was then delivered under the watchful eyes of PREMIUM SERVICE with the help of my dealer LA BAULE NAUTIC. I met the PREMIUM SERVICE staff last February at the Ginesta trials base in Spain, when I tried out the boat. This trial session was planned when I visited the Nautic boat show in Paris last December.
The delivery took several days. We inspected the yacht from top to bottom focussing on points that required a little more time. Then we put out to sea in the direction of Collioure. During this mini-cruise, we tested the sail configuration and the First Yacht 53's different points of sail.
I was grateful for the way in which this faultless delivery was organised, for the team's availability, and the time they devoted to each step of the boat's handover." This customised support continues even after delivery. Today, I can still contact my dealer and the PREMIUM SERVICE team if I feel the need.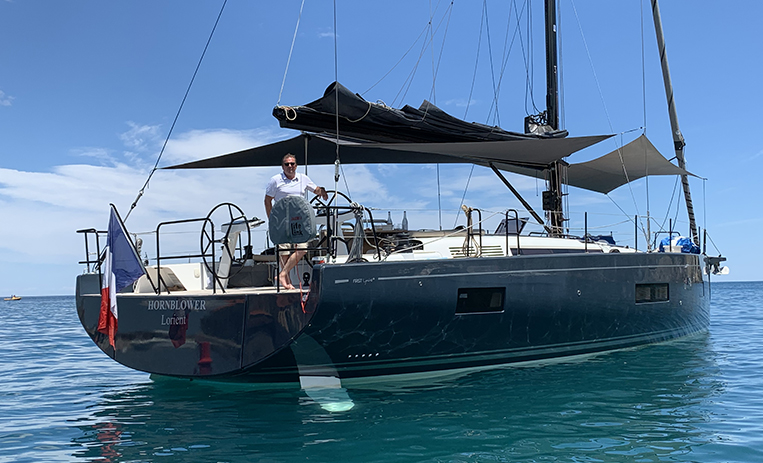 The First Yacht 53 HORNBLOWER and its owner during delivery to Canet en Roussillon.

What are your summer holiday projects?

We have decided to set sail for Sardinia and Sicily. We're ready for three weeks of sheer sailing pleasure!