Interview with Ron F. Owner of WAYFINDER (Oceanis 41.1)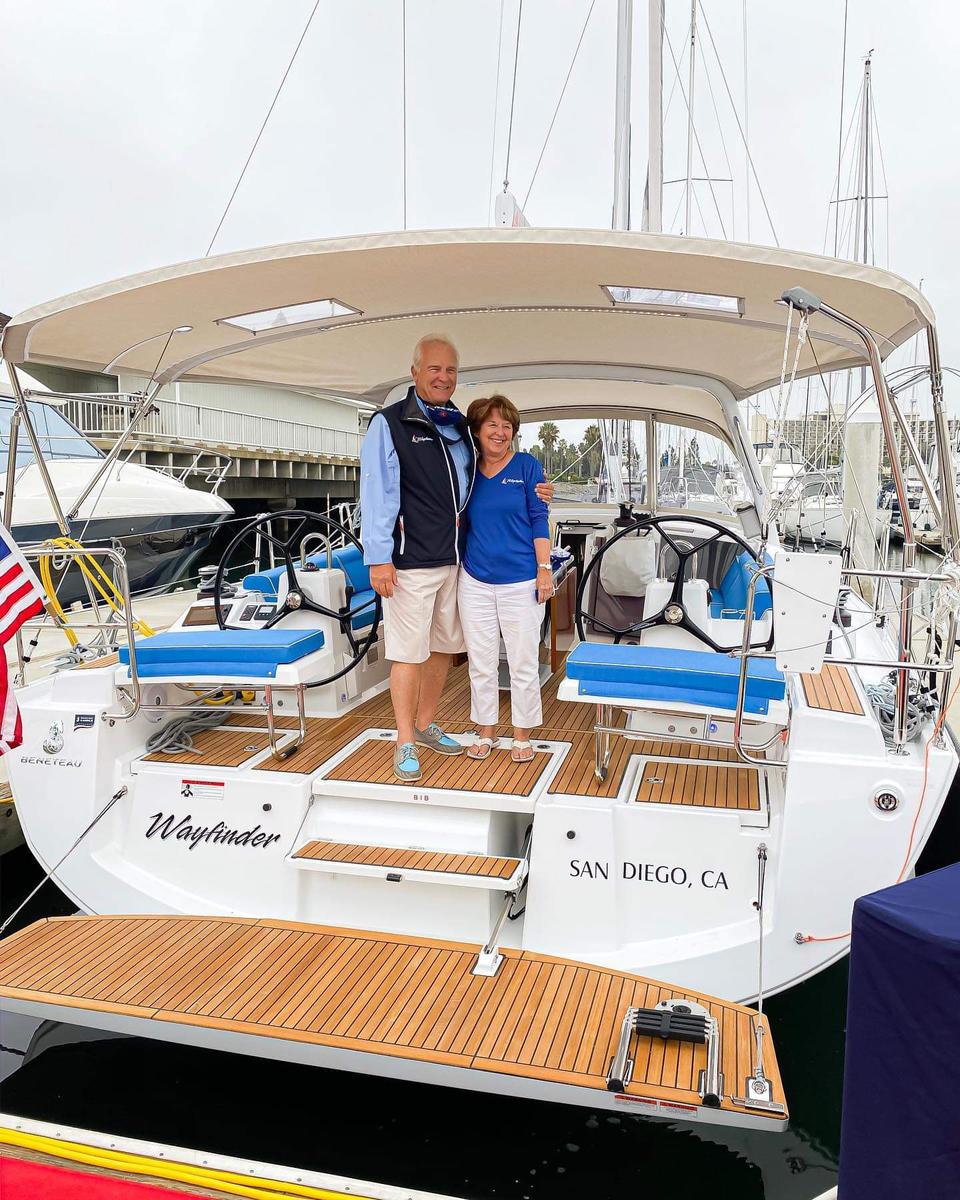 Proud owners of a new 2020 Oceanis 41.1, Ron Floyd and Kathy Fleming of Carlsbad, California have been sailing for as long as they've known each other. And Ron, a good bit longer than that.
"I first bought a 23-foot, trailerable sailboat back in the 70s," he said, "without knowing anything about sailing. So I watched a video, put it in the water, and basically taught myself."
Since then, Ron has owned a handful of boats, both sail and power (his other passion is scuba diving), each a little larger and with a little more performance than the one before. He had to take a hiatus in the mid-80s to focus on his financial advisory business and didn't return to boating until eight or nine years ago with his wife, Kathy.
"Kathy and I joined some sailing clubs and were renting boats at first but got tired of cleaning and preparing our rental boat every time we wanted to spend the weekend sailing. That's when I began to look into buying."
His first Beneteau was an Oceanis 35.1. "Originally, I was thinking of buying a used BENETEAU from a charter company but finally decided on a new 35.1 with the help of South Coast Yachts."
He joined SailTime, a fractional ownership program to defray some of the costs. "SailTime was great. We loved the economics of it, and we were able to enjoy the boat without too many scheduling conflicts with the other members."
After a while though, he had 'customized' the boat with special-made spinnakers, a dinghy, and a barbecue. "Kathy and I got tired of hauling these things aboard before each of our sailing weekends then hauling them back to our garage afterward. She was embracing the sailing lifestyle more and more, and we realized that we were ready for a change."
Two years later, Ron and Kathy took the next step in their sailing journey – a boat that was 100 percent their own. South Coast Yachts was there to help guide them again. Ron recalled,
"South Coast Yachts does such a wonderful job connecting BENETEAU owners with each other through events like the BENETEAU Cup and Rendezvous. It was only natural we use them to help us find our next boat. No matter who you work with there, whether it's Barrett, Paul, Sean, Keenan, or the others, there's a special connection with the customer. It's more than a transaction. It's a relationship."
Ron was looking for something with a little more room – headroom specifically. The 35.1 was no problem for five-foot-tall Kathy, but for the six-foot-one Ron, going below deck had always been somewhat of a challenge.
"We had our eye on the Oceanis 41.1 or 46.1. I was worried about the cost to outfit a boat the way I wanted to, but I had sold my company which meant we had a little more cash on hand. We went to a boat show in February and were able to compare the 35.1, 41.1, and 46.1 side by side. Kathy's choice was the 41.1 which was fortunate for me since I had already ordered one!"
So Ron and Kathy took ownership of their Oceanis 41.1, christened her 'Wayfinder', and never looked back.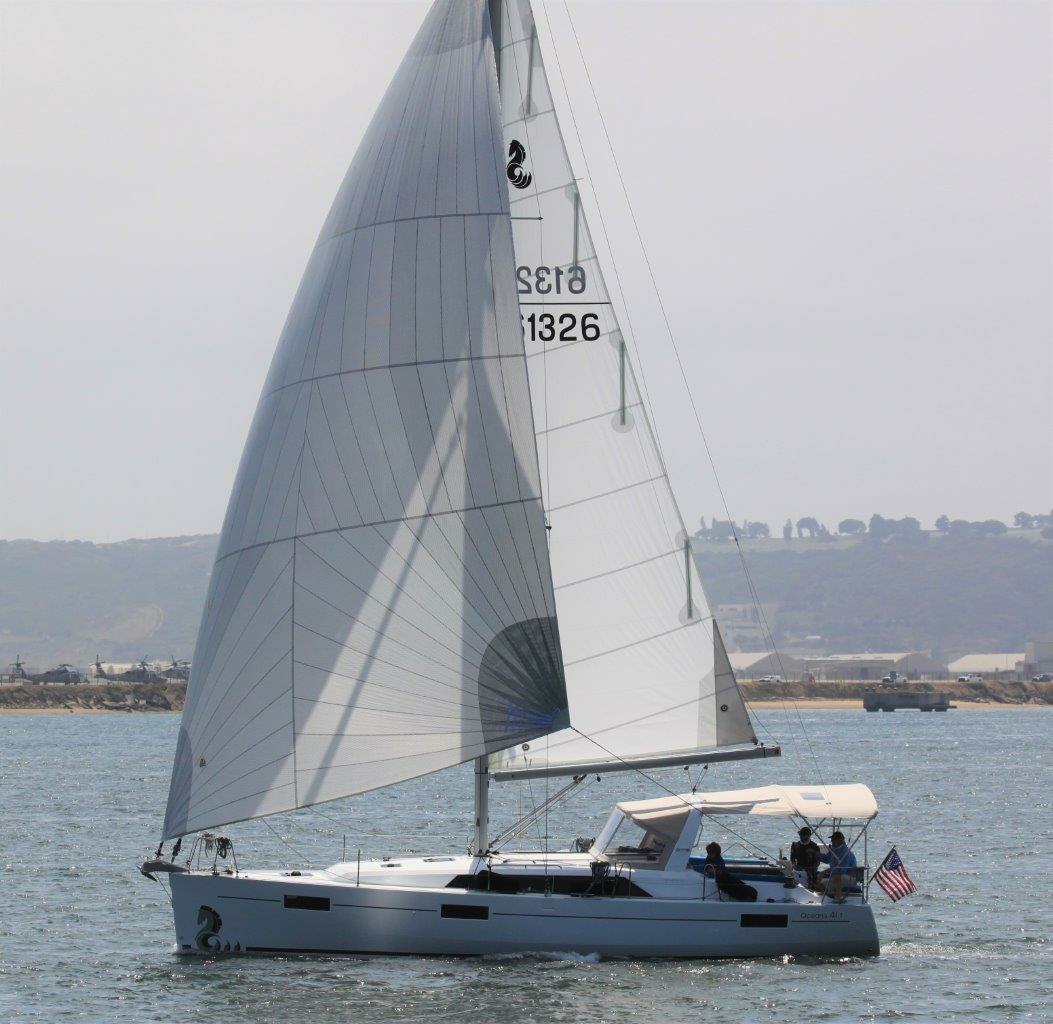 Kathy, who started out as a luke-warm sailor, loved the idea of having their own boat with the technological conveniences the 41.1 offered and is now as enthusiastic about sailing as Ron. "I didn't want her to become a 'sailing widow.' That's not going to happen with 'Wayfinder.' She can haul lines and set sails with the push of a button. The air conditioning is her favorite. And with Wi-Fi, we can both conduct business onboard if we need to. Now she's the one who can't wait to get out on the water!"
Ron is especially impressed with the 41.1's seaworthiness. "The boat just feels stable," he said, "And a boat that feels stable feels safer. The acceleration is surprising for a boat this size too. I have confidence in handling her myself, so offshore trips are something I feel very comfortable with."
And even though 'Wayfinder' is the biggest boat Ron and Kathy have owned, Ron finds it the easiest to dock and maneuver in tight spaces. "With the bow thruster, I can dock this boat easier than the 35.1, especially in heavier winds."
Both Ron and Kathy are still finding their rhythm aboard 'Wayfinder' and having a lot of fun while doing so. Ron said they're on the water a couple of days a week including daysail excursions and coastal cruising, harboring overnight on some of the secluded Southern California bays, and even racing her in the BENETEAU Cup events. A voyage to Catalina is currently in the works too. Social distancing has never been so much fun!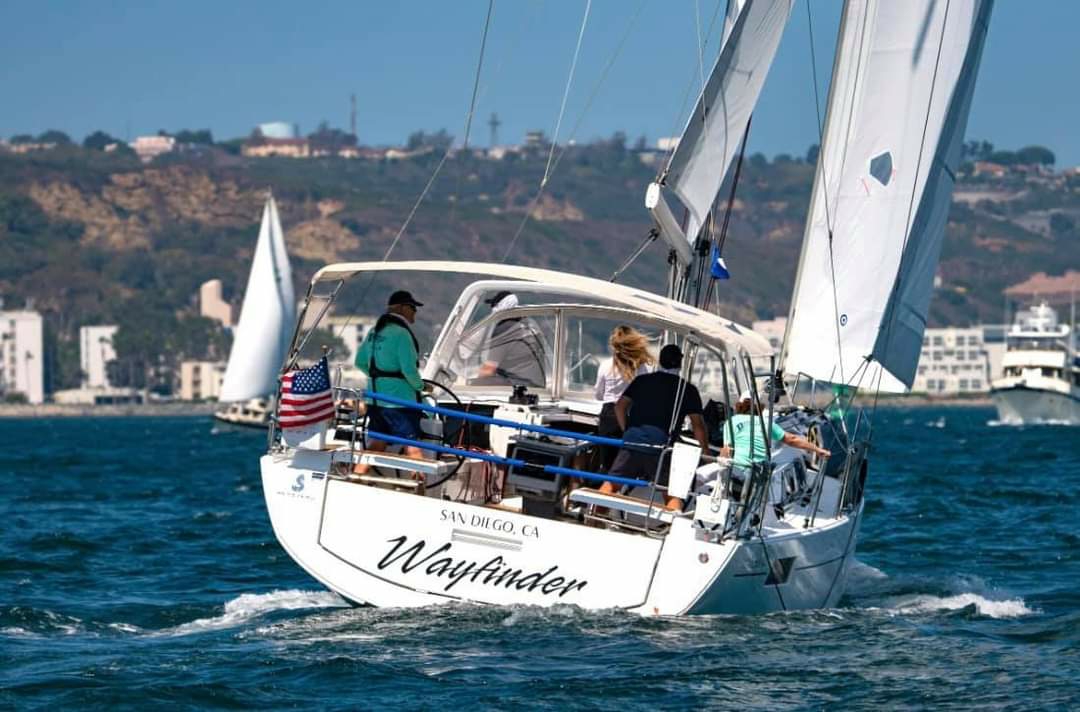 Ron summed up his impression of his new BENETEAU this way, "it's the perfect combination of waterline length and volume coupled with responsiveness and performance. All the little things it has add up to a boat I feel comfortable and confident with. The cockpit is one of the best I've experienced. There's plenty of room for people to move around without banging into others' knees, and when the wings are out on the table, it can easily seat six."
If you have the sailing bug, Ron has this advice: "Take classes and learn how to sail. Before you make the investment, you need to know what you're doing. Rent a lot of boats, and find a size that you feel comfortable with."
As someone who has owned his share of sailboats and powerboats, he maintained the difference between the two is like the difference between the journey and the destination. "Sailing is a connection between you and the ocean. There's also a greater sense of camaraderie in the sailing community. Powerboating is like a taxi that can take you quickly to your preferred destination."
Both are outstanding ways to spend your free time. Know which one you're looking for and enjoy!