ARC 2020 : Oceanis 51.1 First Line in the Race
Great performance from the Oceanis 51.1 in the ARC plus 2020
One after the other the cruisers are entering the port of St Lucia in the West Indies. TY Pierre III, a First Line* version of the Oceanis 51.1, finished the race on Wednesday 9 December in fourth place overall. TY Pierre III was one of the 24 sailing yachts that set off on 8 November from Las Palmas in the Canaries for about 30 days of sailing to the Caribbean. Crews can enjoy sailing across the Atlantic with a fleet for the first time in the annual Atlantic Rally for Cruisers (ARC).
Unlike the traditional ARC, the contenders in the ARC Plus stop over in Mindelo in Cape Verde. Two other Oceanis owners have joined the adventure this year, the crew of Maka an Oceanis 46.1 and the crew of WEYVE on a Cyclade 39.3.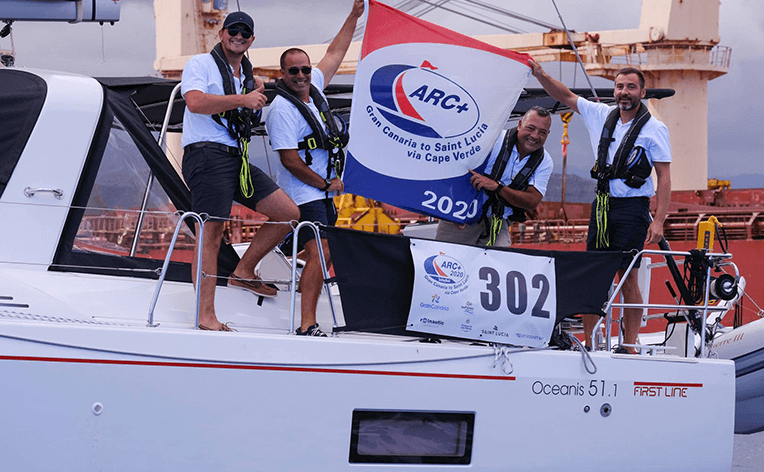 The crew of TY Pierre III photographed just before the start of the race in the Canaries (source: Facebook ARCrally).
The ARC – the Best Transatlantic Race
2020 saw another good lineup of BENETEAU cruisers: the crew of Fenice on an Oceanis Yacht 62, the crew of Sandvita on a First 47.7, the crew of The Monty on an Oceanis Yacht 62, the crew of Escapo on a First 40.7, the crew of Gaivota on an Oceanis 54, the crew of Grace on an Oceanis 473, and the crew of "Suffisant à bord" of a Clipper 331.

Throughout the race, the public followed the mad cruise adventures on social media. It was all interspersed with people having a good laugh, meeting friends, pictures and stories.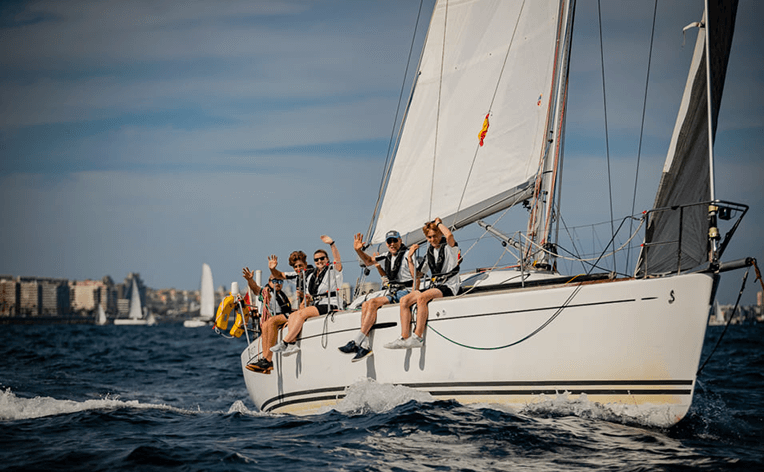 Le First 40.7 "Escapo" (https://www.facebook.com/arcrally/photos/4690348944371995)

A Safe Regulated Race
The Atlantic Rally for cruisers was created in 1986 by Jimmy Cornell as an ultrasafe alternative to single-handed transatlantic races. It is open to everyone, including families with children, hard-core racers, and cruising couples on monohulls or multihulls. The World Cruising Club teams, often referred to as the 'yellow shirts', do their best to provide a safe racing environment for those taking part. They check everything before the start: boat, equipment, and crew. Once at sea, the organization keeps an eye on the participant's progress with satellite tracking. They send weather and position reports by email, and also act as the main contact in the event of an emergency. Safety comes first in this rally!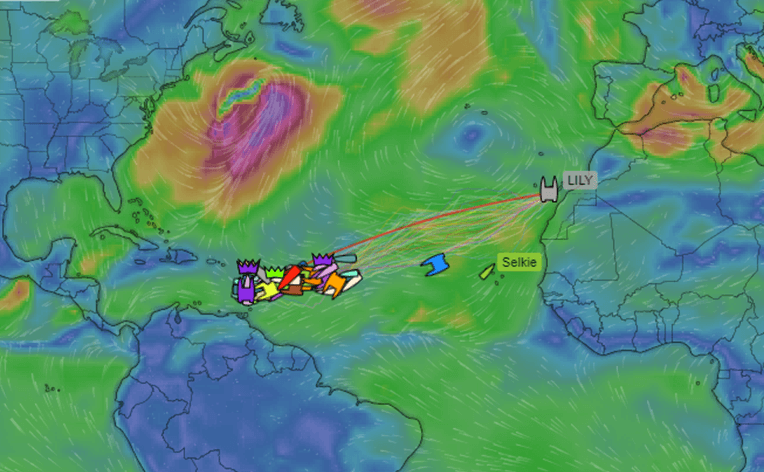 Track the crews and their routes here, with the race viewer here: https://www.worldcruising.com/arc/arc/eventfleetviewer.aspx
Well done to all the BENETEAU teams!
*The First Line version has up to 35% additional sail area made with high-tech material, Harken Performa racing deck gear, and a deep keel with a lead bulb, to reduce drag. This version combines speed with cruising performance and guarantees great thrills throughout the race!