In the wake of Ulysses
In the wake of Ulysses on a Swift Trawler !
Fascinated by the story of Ulysses and having roamed the seas for over 35 years, in 2016 Martine and Bernard Ceas set off for Italian climes in the wake of the Homeric legend aboard their Swift Trawler 42 Tintamarre. Their epic voyage spanning over 2,000 miles and twenty-four legs along the Italian coast was published a few months ago by Editions Melibée. More than an account, it is an ode to freedom, to encounters and to la dolce vita!
Under sail and by motorbike
Epicurean and curious about everything, for a long while this pair of physiotherapists lived their lives - in Aix en Provence then in Guadeloupe – at a pace that left them only three weeks' respite a year. They spent these holidays aboard charter yachts (the size varying according to the number of friends they had aboard!) or on motorbikes, criss-crossing the length and breadth of Italy discovering the delights of a cuisine and a way of life they were to quickly fall in love with. In 2010, a health issue disrupting Bernard's diction, his focus switched to hatching fresh talent and he developed a passion for photography and indulged in writing.
Love at first sight
The day then came when, leaving hospital feeling liberated after a set of positive results from the latest round of medical examinations, the couple come to an abrupt halt in front of a motor boat. Bernard and Martine pushed open the door to Quo Vadis, a BENETEAU dealer in Marseille, and enquired whether they could look over the boat: it was love at first sight.
" We had the idea of continuing to navigate the Mediterranean with the same philosophy as sailing, but without being subject to the vagaries of the wind. We were after a reliable, comfortable boat, which would enable us to make headway at a steady speed. The Swift Trawler concept seemed like the obvious move to us. There was something very affable about the 'Fisher-Price toy'-look she had about her! "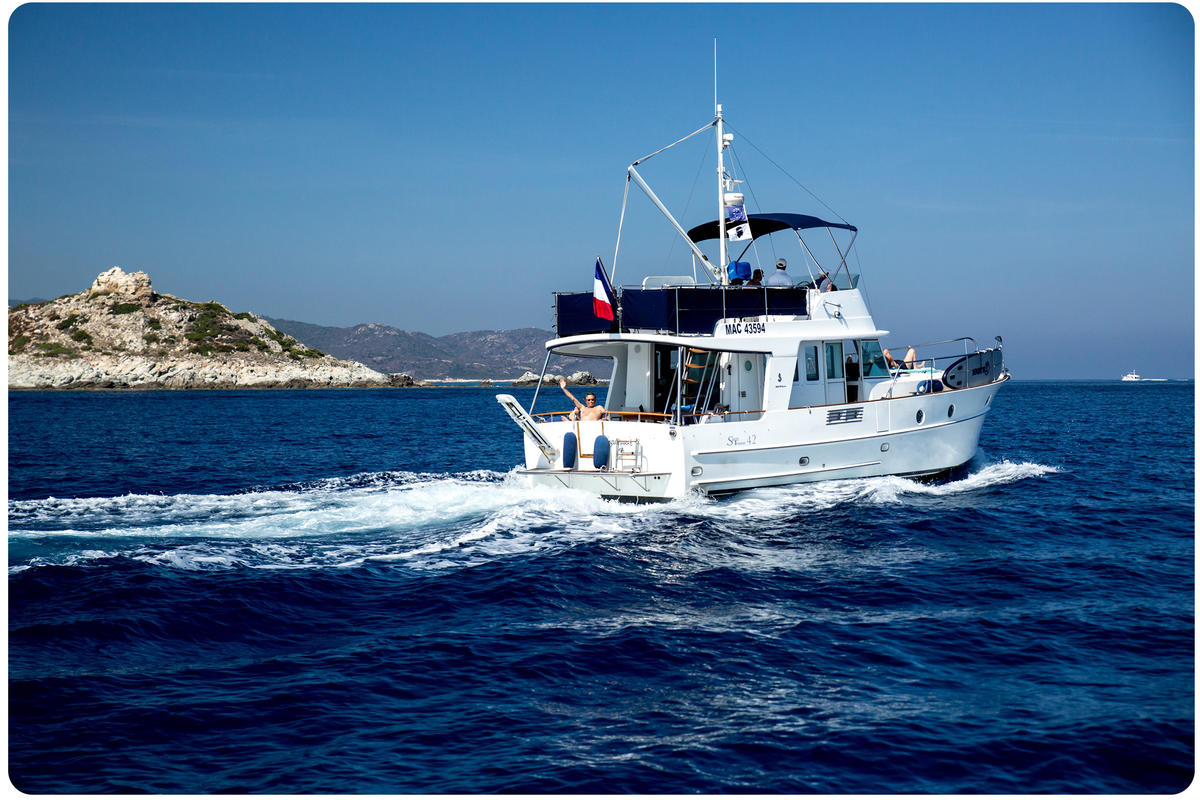 Italy and its islands via the sea
Travelling in the wake of Ulysses is, among other things, about exploring a maritime Italy coloured by ancestral tradition. Unmissable, some of the very busy legs still have a few nice surprises in store. However, Bernard and Martine's itinerary takes particular delight in straying off the beaten track.
" One of our most cherished memories doubtless relates to Ventotene in the Pontine Islands. It's a well-preserved site, with an amazing little Roman port hollowed straight out of the rock, which you can't make out at all from the sea: a sort of paradise which makes you want to stay there forever…"
An extraordinary boat
Long journeys often give rise to lasting friendships and the couple have remained in contact with fifteen or so crews since their return. They really value the friendliness inspired by the Swift Trawler. Bernard also points out that beyond the voyage itself, the Swift Trawler is an invitation to discover
" Among the owners in this range, we've met a genuine community of sailors who share the spirit of an extraordinary boat. It's a spirit we are delighted to rediscover each year during the gatherings organised by BENETEAU "