Enter the digital age of smart boats with Seanapps
The Seanapps application and its smart box simplify your boat's management and maintenance.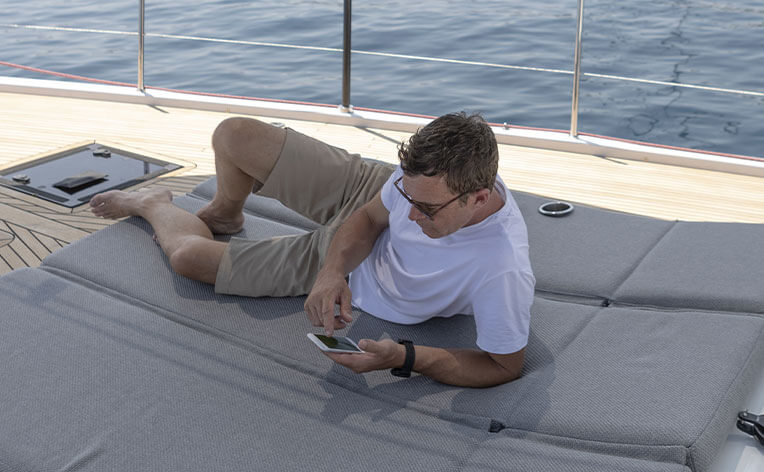 Whether you want to check your fuel and battery charge levels, or schedule maintenance operations, Seanapps helps you streamline and safeguard your boat's maintenance requirements simply and easily.
Functionalities
Safety: GPS position - Engine information - Battery level - Bilge level
Navigation: Depth - Wind information - Average speed - Maximum speed - Distance travelled
Comfort: Fuel level - Water tank level - Interior humidity - Interior temperature
Advantages
Check your maintenance operations easily using the application's integrated maintenance logbook.
Simplify the planning of your boat's maintenance by scheduling maintenance operations directly with your BENETEAU dealer via the application.
Consult our experts to find out how to extend the lifetime and performance capabilities of your boat and all its equipment.
Models equipped with Seanapps
From now on, the First Yacht 53, the Oceanis Yacht 54, the Oceanis Yacht 62, the Grand Trawler 62, the Swift Trawler 41 and the Swift Trawler 35 will all be fitted out as standard with a telemetry pack, letting you connect your boat to the Seanapps application. You can also retrofit your current boat with the new system. The retrofit will take no more than 1hr to 2hr and can be done on all BENETEAU boats.
Find out more about the application
Do you want to find out more about Seanapps?