How are BENETEAU dealers innovating with virtual boat shows
The current situation incites the BENETEAU dealers' network to start new initiatives to keep the conversation going with their clients, while everyone is staying at home. Bob Denison, President of Denison Yacht Sales, based in Florida and Will Blair, Ancasta's Group Marketing Director based in the United Kingdom, tell us how more on how they organized their first virtual boat show.
How was this idea born?
Bob Denison: « The idea was born about 3 weeks ago when it was confirmed that the Palm Beach Boat Show was postponed. It is a great event for us as a BENETEAU dealer, we sold many new boats there in the past. It is definitely one of the favourite boat shows of the year for the local South Florida community. When they announced the postponement, which we sadly believed may lead to permanent cancellation of that show for this year, a lot of our clients were disappointed. »
« Our marketing went full speed ahead to create a virtual boat show. In a matter of 5 days, every person of the marketing department came together and we created our first virtual boat show experience for our clients and brokers. »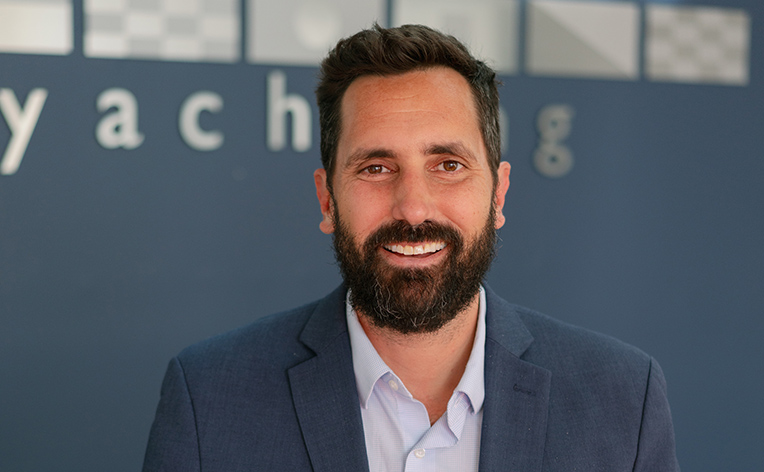 Bob Denison, President of Denison Yacht Sales
Will Blair: « With the cancellation of so many boat shows that our customers normally enjoy at this time of year, it was important to come up with a substitute that would be engaging and informative for those stuck at home, dreaming of life afloat. We also wanted to be the first to launch a virtual boat show in the UK, so that we would benefit from a better media coverage. »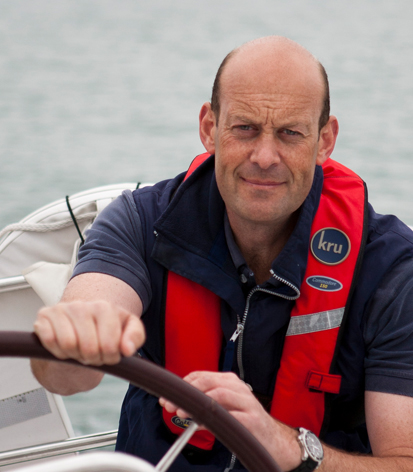 Will Blair, Group Marketing Director Ancasta
What challenges did you face in terms of development and organization to launch this initiative?
Bob Denison: « First, we needed to make sure that we had all the necessary virtual assets because if you promise a virtual boat show to your clients, it must be truly virtual. That means that for each boat featured, we needed to have a video walk-through and a 360° virtual tour. One of the nice things about being a BENETEAU dealer was to benefit from a good library of virtual assets made by the brand. We were able to immediately promote all our new BENETEAU boats that we had in stock, power or sail. »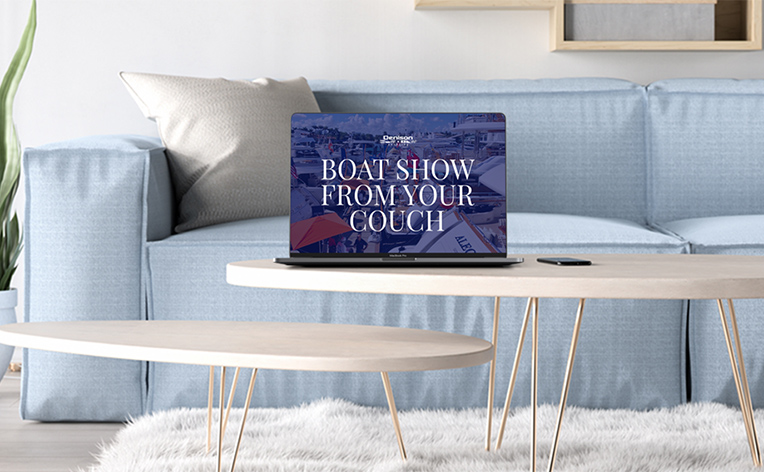 Explore your favorite boats on Denison Yacht Sales virtual boat show.

Will Blair: « Indeed one of the challenge is to collect and reorganize all the video content to create an comprehensive experience. Having already put 360 tours and video content across the pages of Ancasta.com, the challenges of amassing data were less of a strain. But time has been very tight and we needed to find a more creative way of using existing content in a way that feels fresh and accessible »

« This is what led to the marina layout housing 54 models. The idea was to create as many aspects of a real, physical boat show as possible (without the queues!) so introducing live chat to enable visitors to the show to speak to our professional sales teams, 360 degree tours to really explore the boats on display and to make the show as simple to navigate as possible. All the actions of a real boat show – asking for a brochure, talking to a salesperson, taking a tour around, requesting a quote … all of these are guaranteed. Just no rain, no queues to get on boats and no need to take your shoes off! »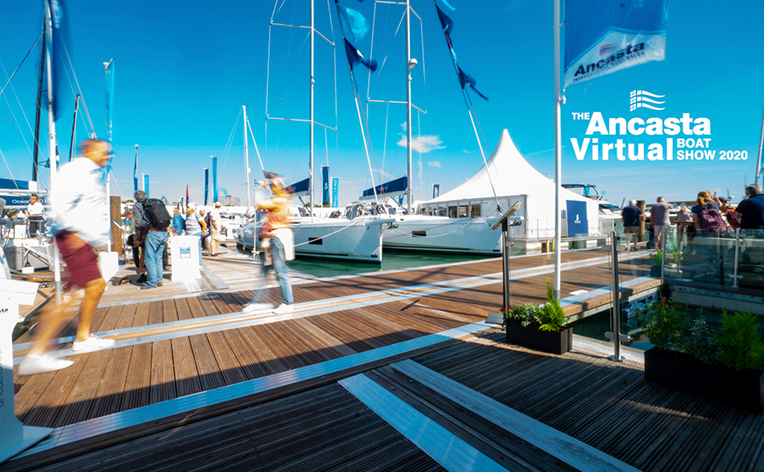 The Ancasta Virtual Boat Show 2020 - from 14 to 23 April sur le site internet d'Ancasta.
Bob Denison : « We firmly believe that a virtual boat show must have a start time and an end time, it can't just be going on forever. Our show started at 9 am and ended at 5 pm. One of the things that makes a boat show exciting is also the people. So we had 12 livestream rooms to talk to experts, whether it is somebody that specializes in Oceanis or Swift Trawler, where you could talk to brokers and asked them the hard questions. We also had a livestream room for 8 hours where we had 32 people interviewed the entire day, one every 15 minute. We had a lot of people to manage logistically and to train in a very short time. We are overcoming all the obstacles with constant learning. »
What actions are necessary to make a virtual boat show a success?
Will Blair : « Boat Shows are about the product and the broad nature of the Groupe Beneteau ranges mean there is enormous scope in terms of audience. The goal is to excite as many people as possible into making plans for the post COVID19 world and to keep Ancasta and BENETEAU front of mind in the process. Everyone is looking for positive stories and this creates a nice distraction in amongst what is otherwise a very unsettled situation. All staff who are not furloughed will be playing a part to make the experience as valuable and fun for visitors as possible. »
Bob Denison : « We are lucky to have a comprehensive in-house team: designer, programmer, project manager, virtual tour manager, which is in my opinion a key factor of success. Once we got the product going, we started focusing on media and we were fortunate enough to have some decent media coverage here in the US. It was also well supported by BENETEAU America and largely promoted on social media. So far, the feedback has been positive. We believe that many of the future commercial activity will benefit from that virtual event. We had 135 boats featured (brokerage boats and new boats) and on the day we launched the event, we had the highest ever traffic on our website with 14,000 people, and 421 engagements with our clients and visitors. »
Will Blair: « Our virtual boat show will start on April 14th and will run for ten days. If visitors to the show enjoy the experience and come away with more information that they were otherwise not aware of and are one step closer to their dream boat, we will have achieved our goals. When the time comes, we want them to think of Ancasta and BENETEAU as their first port of call. »