What can you do with your boat if you don't have a slip ?
Finding a boat mooring can be a real headache for boaters, but it should not stand in the way of buying a boat. There are alternatives to the traditional berth in a marina. You are on a waiting list, but you would like to go boating before you obtain this holy grail? You would prefer not to wait for a mooring before buying a boat? BENETEAU explains how you can enjoy a boat without one.
A Towable Boat Puts an end to the Worries of a Mooring.
The best solution to avoid the mooring problem is to choose a boat you can tow. With a towable boat, all you need is a suitable vehicle to tow her and then cast off to sea. This is the best choice if you are thinking of buying an average-sized motorboat, such as a FLYER 7 SUNDECK or a FIRST 24 SE.
However, the solution does have some drawbacks:
It is not suited to all boat sizes
It means investing in a trailer
It implies a few logistical details (where to store your boat, having trailer-driving skills with the relevant driving licence, having a powerful car, etc.)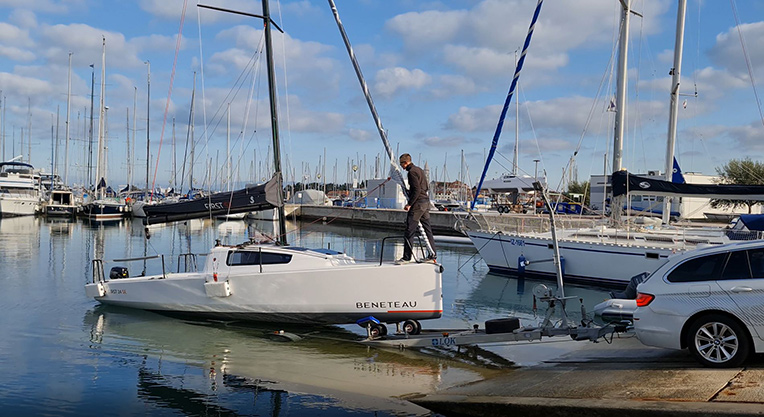 Launching a First 24 SE on a slipway is easy.
Dry Dock for Greater Comfort
Dry dock facilities are for storing boats outside their usual sailing period (in general wintering). However, some dry dock facilities allow you to store your boat throughout the year. They also offer a boat launching service on request. All you need to do is warn the dry dock staff a few hours before you intend to cast off and they will launch your boat for you.
Whether you have a sailing yacht or a motorboat, dry docks are usually equipped with towing facilities for any kind of pleasure craft. However, like berths, it is worth remembering that the bigger the boat, the costlier the service. Another restriction is that dry dock facilities require planning ahead.

There will necessarily be a wait between your request and the boat launch. This period can vary depending on the facilities, but also the season.
The Traditional Mooring Buoy
Another alternative is to leave your boat tied to a fixed mooring buoy. The main advantage of a mooring buoy is that it's easier to find than a berth in a marina. What is more, in some instances, you can install your own mooring buoy, called open anchorage. In all cases, the regulations governing mooring buoys are very strict. So, it is in your best interest to check before buying or installing a mooring buoy.
It's worth noting that a mooring buoy implies missing out on all the services linked with a berth (safety, electricity, water, etc.) and having a tender to take you to your boat.
On the other hand, a mooring buoy generally gives you access to magnificent sites where there is no harbour. Adventurous sailors will love this solution.
A Compromise With Your Boat Dealer
While you wait for a way to store your boat, you can always ask for help from your dealer. He may be able to offer you a temporary berth while you find a solution (this may incur a charge).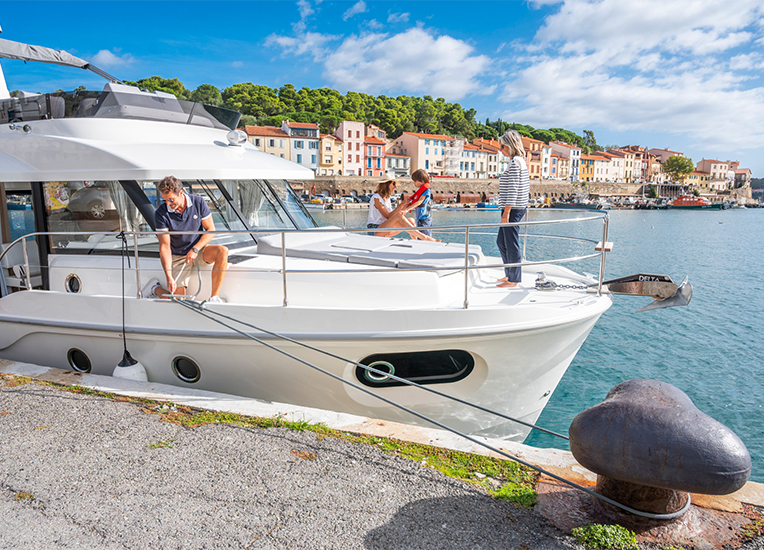 Whatever your boat project, your BENETEAU dealer is there to help you.
A Mooring no Matter What!
If you are committed to finding a berth in a marina, you are left with no choice but to register on a waiting list and wait. This should be done as soon as you start thinking about having a boat, because you can wait for several years before getting a berth in large marinas.
Whatever you are contemplating, we suggest you talk to your BENETEAU boat dealer about it. He will know how to advise you and help you decide which boat is in keeping with your choice.