The 13th China Cup Edition
The 13th China Cup Edition
The recently-completed China Cup International Regatta (CCIR)—China's largest and most influential sailing contest, now in its 13th edition, continued to its popularity and influence with the participation of around 1,100 sailors from almost 32 regions and nations. Among a total of 89 competing boats, 19 First 40.7s (which formed the most competitive category) battled it out on the waves in Daya Bay, Shenzhen with 16 other Beneteau owner boats.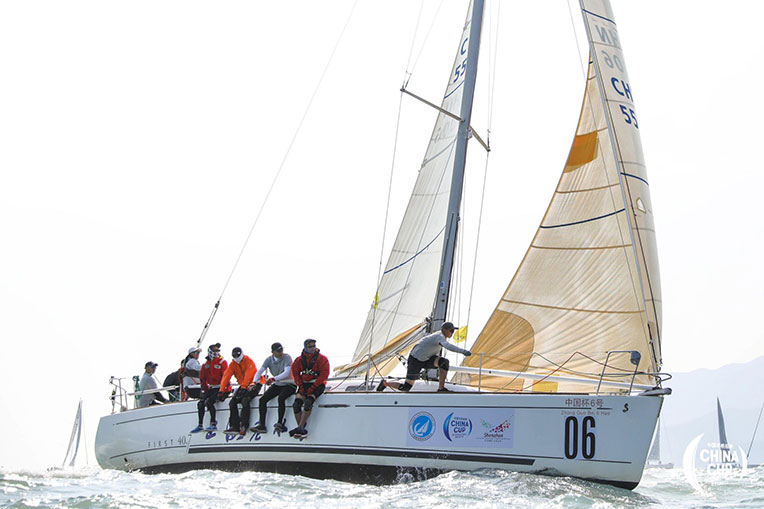 First 40.7 sailors
Bearing the witness of the evolution of the China Cup, Beneteau celebrates the 13-year partnership with CCIR and reiterates its lasting commitment to supporting it. Beneteau's local partner, Simpson Marine, has also been an active contributor to the event.
"The China Cup plays a vital role in promoting sailing in China, allows more people to participate in the sport." Says Vianney Guezenec, Director, Asia-Pacific of BENETEAU.
BENETEAU'S PRESENCE AT THE COMPETITION VILLAGE: FIRST 14 AND FIRST 24 ON DISPLAY
The Beneteau booth and the renewed First range models made an impressive appearance at the village. The latest First 14 and 24 on display breathe new life into the legendary First line, agile and affordable, making sailing more accessible to the people in China.
The models exhibited were made possible thanks to the generous support from our dealer Sea Dragon Yachts in Shanghai who brought them to the village.
HANDOVER OF THE OCEANIS 30.1
A handover ceremony of the brand new Oceanis 30.1 took place during the regatta. As the first Oceanis 30.1 model in China, the yacht was sold by Beneteau's local dealer Simpson Marine and will be used as the training vessel for teenagers. She is smartly-designed, boasting incredible living space and wide choices of programs.


Since its entry into the China market in 2005, Beneteau has been active in fostering a healthy and robust development of China's sailing culture. For the years to come, Beneteau will increase its investment in expanding two target consumer markets in China: the beginners and the middle-class. With its rich product portfolio, Beneteau keeps inspiring people's enthusiasm for sailing and making sailing more accessible. Meanwhile, Beneteau continues to work with the China Cup, exploring more possibilities for cooperation in these two markets, to jointly promote and popularize sailing in China.