First Sardinha Cup
Victory for Yann Eliès and Samantha Davies
The Sardinha Cup ended on the morning of Saturday 13th April with a win for Yann Eliès-Sam Davies on the FIGARO BENETEAU 3 "Saint Michel".
Team Vendée Formation are the organizers of the Sardinha Cup, the first stage of the French elite ocean-racing championship. This first race was sailed by 34 two-handed crews including everything from highly experienced sailors to rookies. As the fleet crossed the starting line on 30th March, they were all eager to try out the new Figaro BENETEAU 3 in official racing conditions.
Participants sailed three legs, one small warm-up of 147 miles off Île d'Yeu and two 48-hour long coastal legs (408 miles and 280 miles). Optimal conditions prevailed throughout the three weeks of racing, enabling the skippers familiarize themselves with the Figaro BENETEAU 3.
The 3rd and last leg was decisive. First place went to the Yann Eliès-Sam Davies duo, who also took first overall of the Sardinha Cup into the bargain. Lois Berrehar and Thomas Rouxel teaming up on "Bretagne CMB-Performance" and Xavier Macaire - Achille Nebout on "Groupe Snef" placed second and third overall respectively.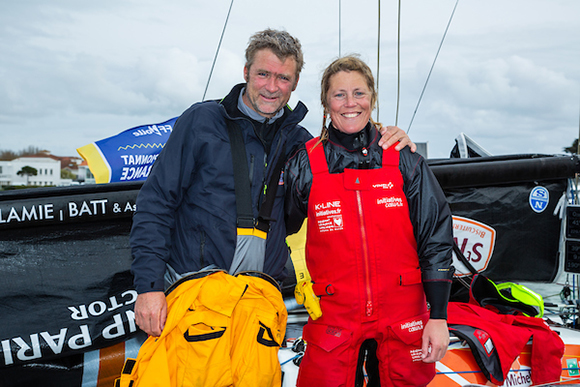 Yann Eliès and Samantha Davies, the winning duo of the Sardinha Cup. (© c. Breschi)
« It's a really nice boat. Change is good for you. It's exciting. We've got a great learning curve ahead. You get all sorts of sensations at the helm, even if it's physical and wet.» Yann Eliès, three-times winner of La Solitaire.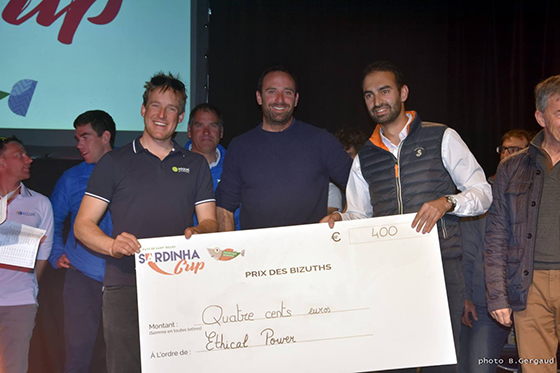 Julien Ferré, sailing communication project manager with BENETEAU presented
the 1st Rookie prize to the "Ethical Power" team of Conrad Colman and Sébastien Marsset.
« The Figaro is tough, so I expected it to be difficult and was not disappointed. I came to take a thrashing and that is just what I got! The boat is really brilliant. I think it's the first time that the letters NZL have ever been painted onto the sail of a Figaro» Conrad Colman, 1st rookie of the Sardinha Cup.
Video of the finish of the last leg.