2021 San Diego BENETEAU Cup Shows Strong Return to Fun Racing!
It was all smiles and high energy for the 275+ sailors who visited San Diego Yacht Club from all over Southern California, with a few special guests from as far away as Chicago, Sept. 18-19 for what has become one of the most popular regattas in Southern California. In fact, at 38 boats, organizer Barrett Canfield of South Coast Yachts realized their formula for the regatta made this BENETEAU Cup the largest B-Cup in the USA and possibly the world, rivaling the B-Cup in Sydney, Australia.
With an instructional, encouraging, and fun format, especially tailored towards new and novice racers, the San Diego BENETEAU Cup has become responsible for igniting the competitive spirit of new racers, leading to new entries in other local and national regattas. The organizer and sponsors believe that this regatta format positively effects the growth of the sport of sailing. In addition to the new sailors enjoying the regatta life, some of the best sailors on San Diego were aboard many of the Oceanis and First series boats competing for the top honors. The First 36.7 One-Design Class had a strong showing and used the BENETEAU Cup as a warm up for the 2021 First 36.7 North American Championship at SDYC the next weekend.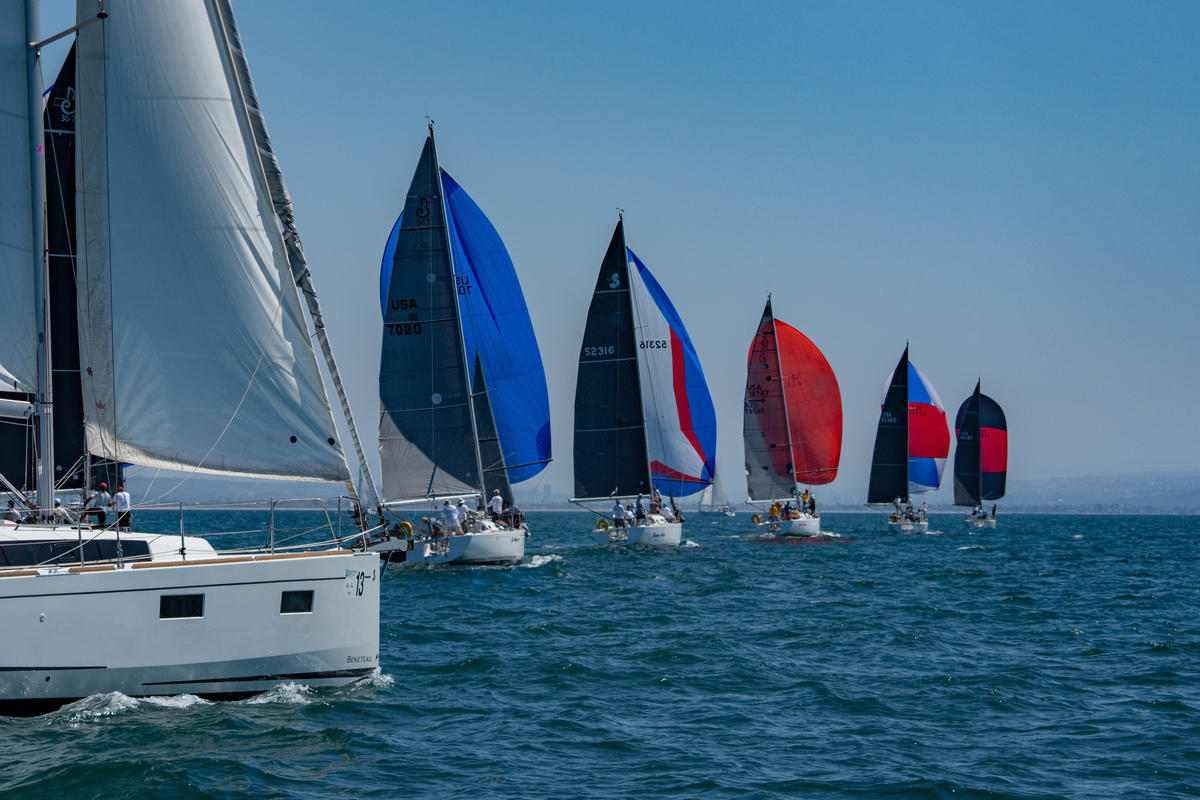 Unique to this regatta, on Friday evening SDYC member and professional sailor Chris Snow (www.thefavoredend.com) gave a well-attended seminar on rules of the road, and racing basics including starting and mark rounding, while stressing safety and fun on the water. The SDYC Junior Clubhouse Jessop Room was packed for this seminar and great food and drink were served by SDYC Catering.
Saturday's ocean racing out in Coronado Roads was picture-perfect SoCal racing, with breeze from 12-16 knots out of the WNW. Cruising Classes 1 and 2, with 10 and 7 boats respectively, ran two triangle courses that were long enough to really let these big Oceanis cruisers stretch their legs with their A-sails pulling hard off the wind. Meanwhile the 36.7's, for whom this was also their West Coast Championship, enjoyed some close racing with three windward-leeward courses to really engage their strategic and tactical skills.
Saturday evening the skippers and crews enjoyed reminiscing about their day while enjoying SDYC's excellent gourmet buffet and bar service, and enjoyed the tunes of musician Matt Heinecke on the Sail Lawn. Photographer and Drone Pilot, Eddie Frank (www.eddiefrank.com/ocean-photography) offered a slideshow of the day's racing which drew a big crowd on its own. Many stayed overnight on their boats, comfortably lined up "Stern-to" courtesy of SDYC's Guest Dock.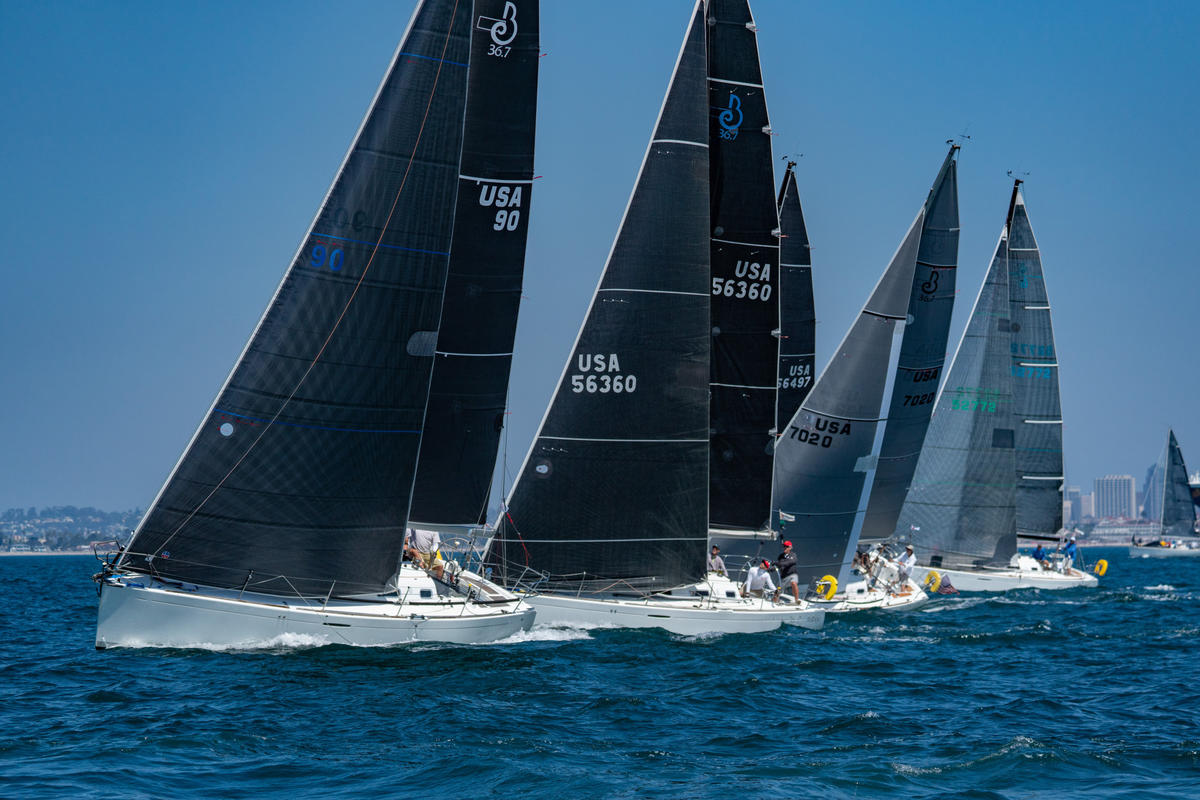 Sunday, with a lighter breeze, SDYC Race Committee did an amazing job setting a W/L course for three races for the 36.7's (to finish their Championship), while sending the other three classes on various round-the-bay, random-leg courses. It was a beautiful sight to see the 30+ Beneteau cruisers headed down the bay flying their beautiful kites. Everyone wrapped up around 4 pm, which was perfect timing to head back to the 5:30 awards ceremony.
Trophies courtesy of Doyle Sails, San Diego were awarded to the top three finishers in each of the four classes, along with Helly Hansen hats, Mount Gay Beneteau Cup hats, and other gifts from local sponsors. SDYC's Commodore Mike Morton Jr. congratulated the racers and posed with them for the trophy photos.
Cruise Class 1 was dominated by winner Federico Pavoncelli (DPYC) with his Oceanis 41.1, "Marilu", while Dan Friedman's (SDYC) Oceanis 48 "Freedom" was the winner of the Cruise Class 2. The Beneteau First 40.7 "Sweet Okole" owned by Rick Harris (Coronado YC) had a fantastic performance this year, winning the First Series Class. Mark Williams' First 36.7 Buenos Aires (DWYC) won the 5-race regatta, and the Overall Class Championship for the 36.7 class. Every year, the best finishing Cruising boat and best finishing First Series Overall also receive the award of the Beneteau Cup perpetual trophy, and this year Marilu and Sweet Okole were the Overall Winners of the 2021 Beneteau Cup.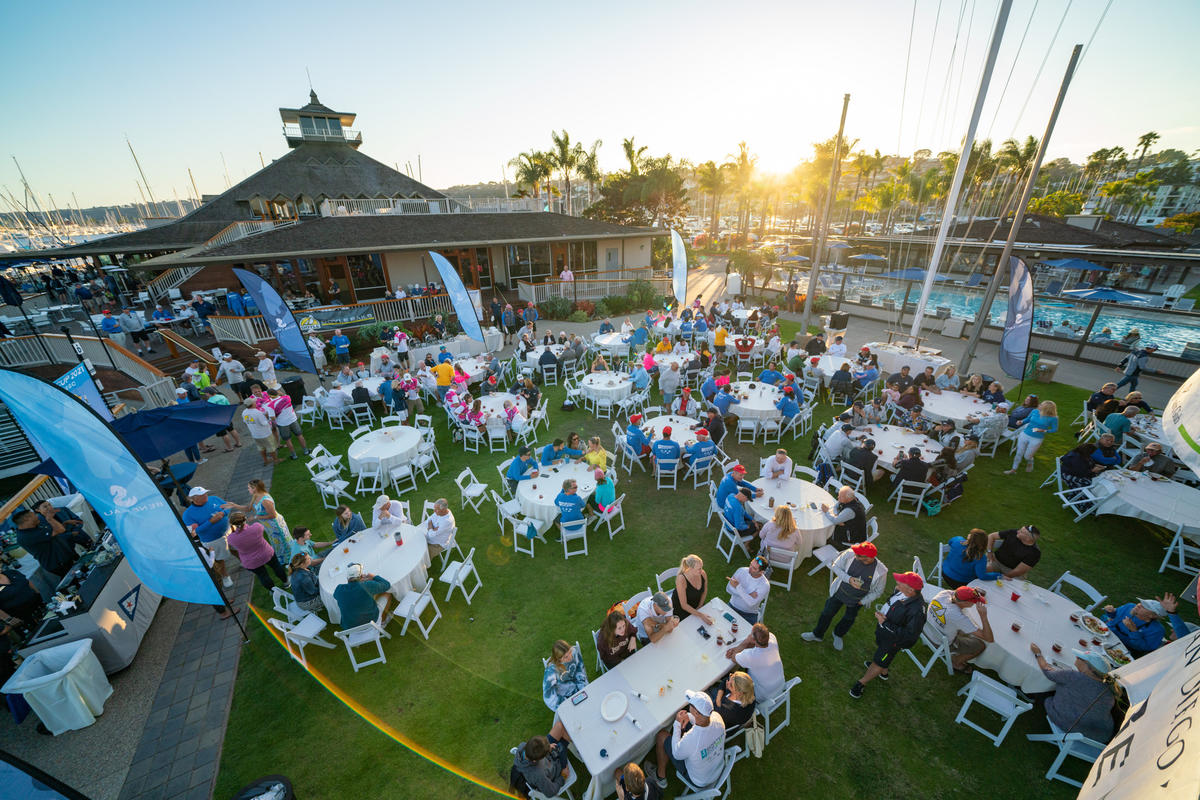 The organizer Barrett Canfield and South Coast Yachts thanks SDYC for the superb hospitality and wonderful catering and SDYC's Race Committee for their excellent work and support over the weekend. He also thanks sponsors Beneteau America, Novamar Marine Insurance, Helly Hansen, Mount Gay Rum, Doyle Sails, Safe Harbor Shelter Island Boat Yard, Eddie Frank, and the Dinghy Doctor for their generous contributions to this fun and memorable regatta.
Beneteau Cup 2022 is set for Sept. 17th- 18th , so mark your calendars, and don't miss the fun!