Nurse Sails to NYC on BENETEAU to Support Covid-19 Patients
Meet Rachel, Owner of S/V Turning Points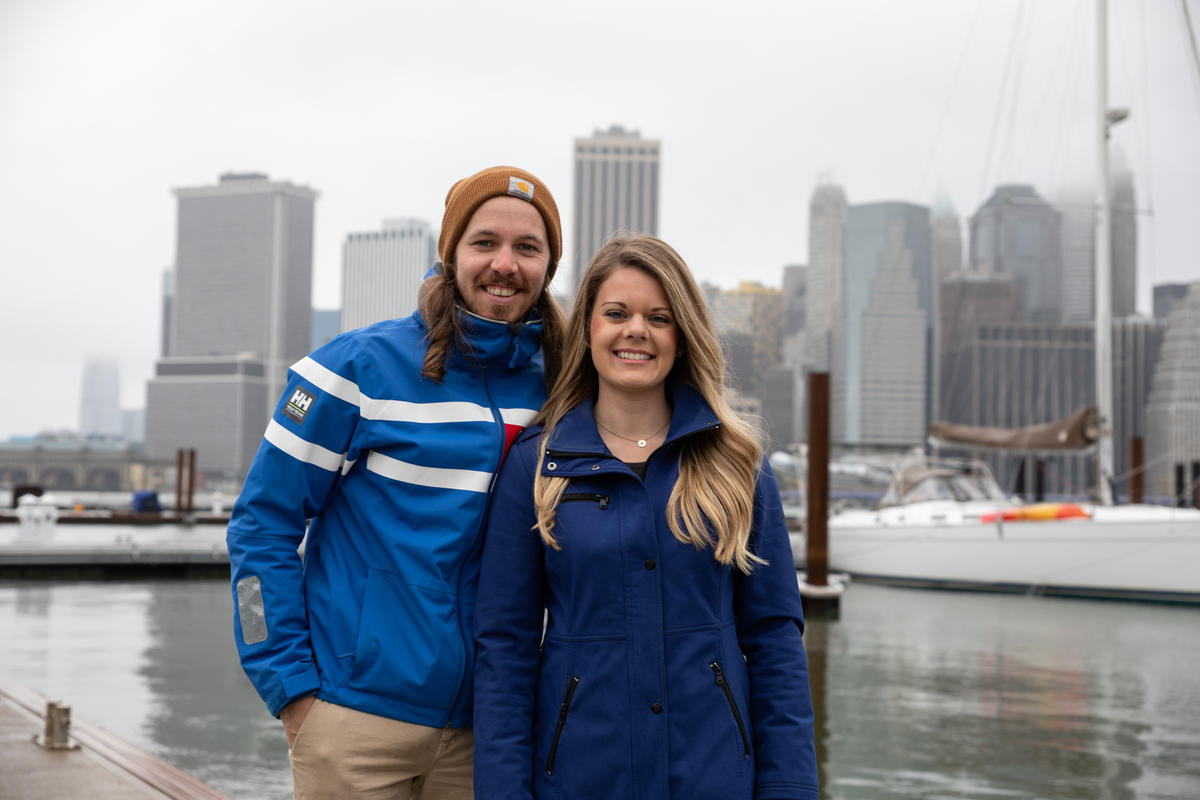 "Spotting the NYC skyline and the Statue of Liberty had us emotional and ready to join the fight against COVID-19."
What inspired you to sail up to New York and help with the Covid-19 crisis?
It was a combination of being contacted on the daily by multiple travel medical companies asking me to come to New York City and being underutilized in Virginia. Working as an anesthesia pre-op nurse, all of our elective surgeries were cancelled and I was hardly working. However, I had three years of intensive care unit experience as a nurse, and that is exactly what NYC needed, so I just felt the Lord was using my past experiences and skills for such a time as this. Taylor (my husband) and I prayed about mobilizing for a few weeks. Then, the day Governor Cuomo rescinded the need for nurses to have a NY state license to practice nursing in NY, I knew it was a true crisis because I had never seen that sort of thing happen. That day I responded to Pat Overby, of Fusion Medical Staff, and within 48 hours he had me signing a contract with NYU Langone Brooklyn Hospital, and a week later we were setting sail.
Why and when did you buy a boat and choose this one?
After selling our house in Ohio (in preparation to move to Hawaii), Taylor and I decided to pursue our dream of boat ownership. Taylor grew up on the water, sailing with his family are some of his favorite childhood memories. He shared his love for sailing with me and we were overjoyed to be able to make our dream of owning a sailing yacht a reality. It was the fall of 2017 that we started looking for a boat, traveling all over the east coast (we were living in Ohio at the time) searching for the right vessel. We had visited Florida a few times, and our broker, Don Jones, found us two identical BENETEAU boats that we fell in love with rather quickly. We were familiar with the quality that BENETEAU has to offer, so were confident in the make, upon looking at S/V Turning Points. As she is a 50' Cyclades, we were thrilled with the amount of cabin space and how smooth she is on the water. After looking at numerous boats, Turning Points was not a tough sell. We fell in love with her and are so grateful for such a beautiful, solid vessel.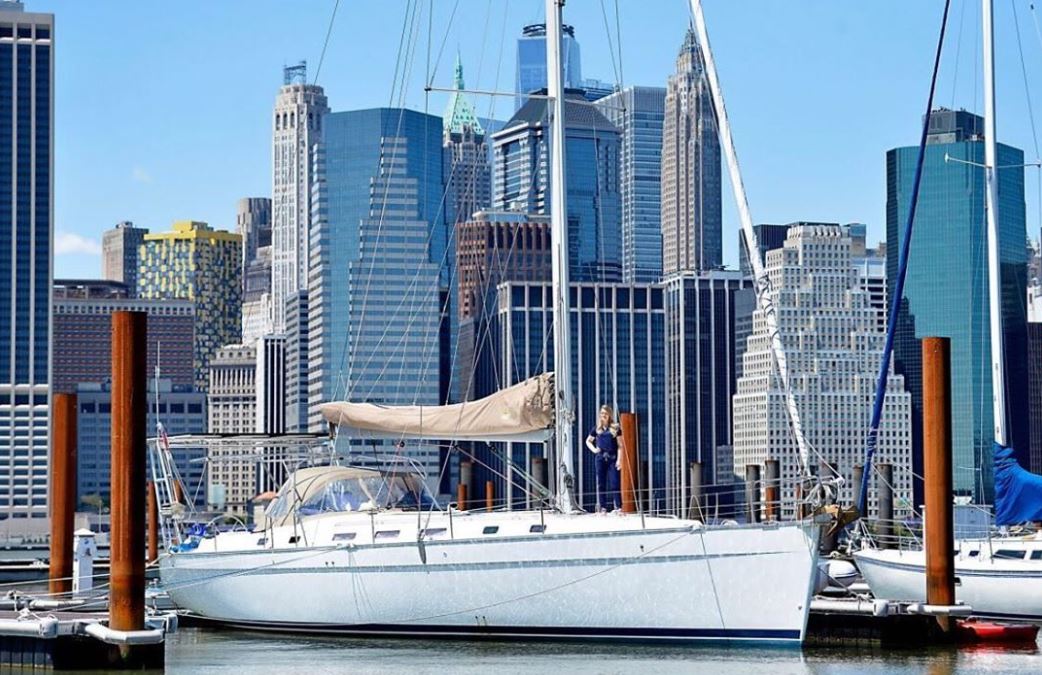 Tell us about your journey up to New York aboard your BENETEAU?
Salt Ponds Marina Resort is right on the mouth of the Chesapeake Bay, making our sail from Virginia to NYC fairly straightforward. With only had a week and a half to prepare for the journey. We had oodles of friends, family, and local marine businesses aid in getting the vessel ready for passage and living aboard. Good Friday, our crew assembled aboard. Taylor and I had our dear cousin, Nathan, his fiance, Emily, and two salty friends, Kevin and Jaden, along for the ride, to help with keeping watch. Watching the weather, we planned to set sail early Saturday morning. I had gone to sleep around 11pm Friday night, though kept hearing suspicious noises and couldn't fully fall asleep. Our marina is extremely well protected; it's rare to feel the boat rocking at the dock. I distinctly remember the moment I was lying in bed and suddenly the boat starts bucking, and I knew, we had hit the bay! Taylor was up and eager to launch and with the weather was in our favor, we unexpectedly set sail at midnight! The passage consisted of 260nm and lasted about 35 hours. Overall, the sea chop was minimal and wind was fair. Thankfully we were prepared for the cold, as the cold wind coursed over the sails. Easter morning, we rounded Sandy Hook, as a pod of dolphins accompanied us into New York Harbor. Spotting the NYC skyline and the Statue of Liberty had us emotional and ready to join the fight against COVID-19. We soon got on the radio with ONE15 Brooklyn Marina, and they guided us in with a warm welcoming committee.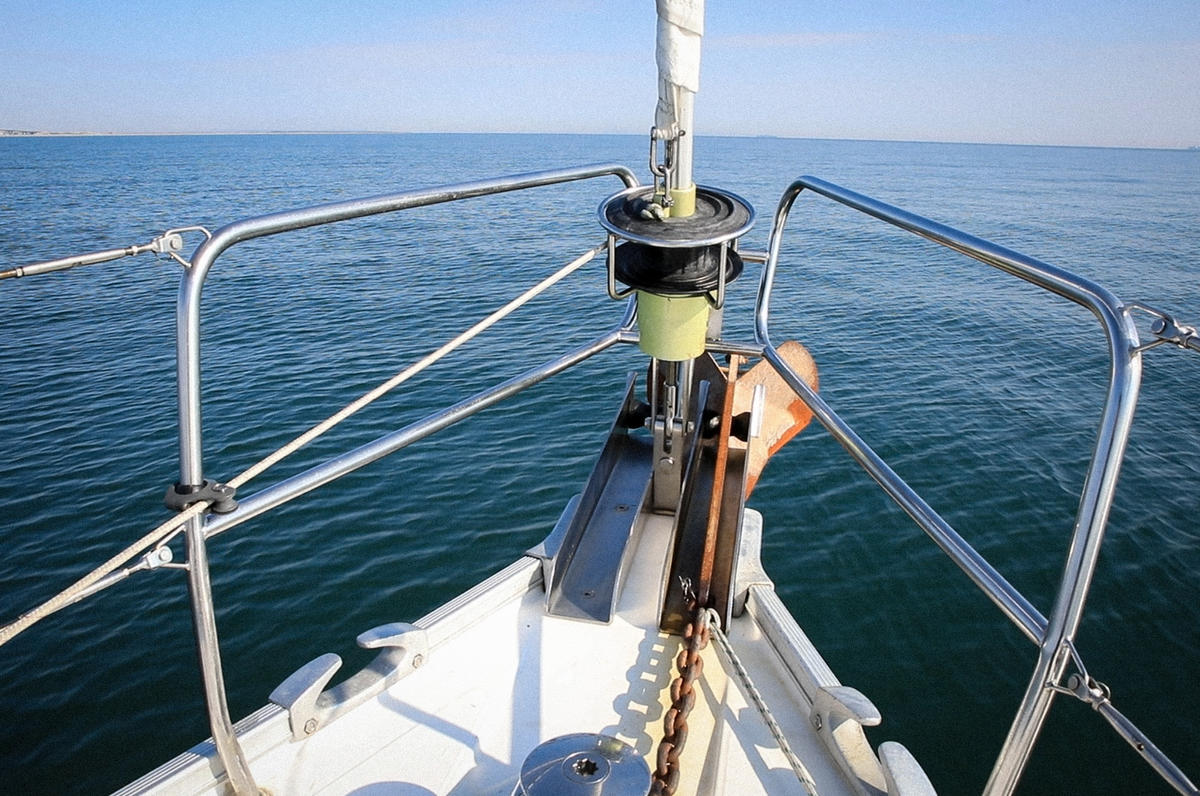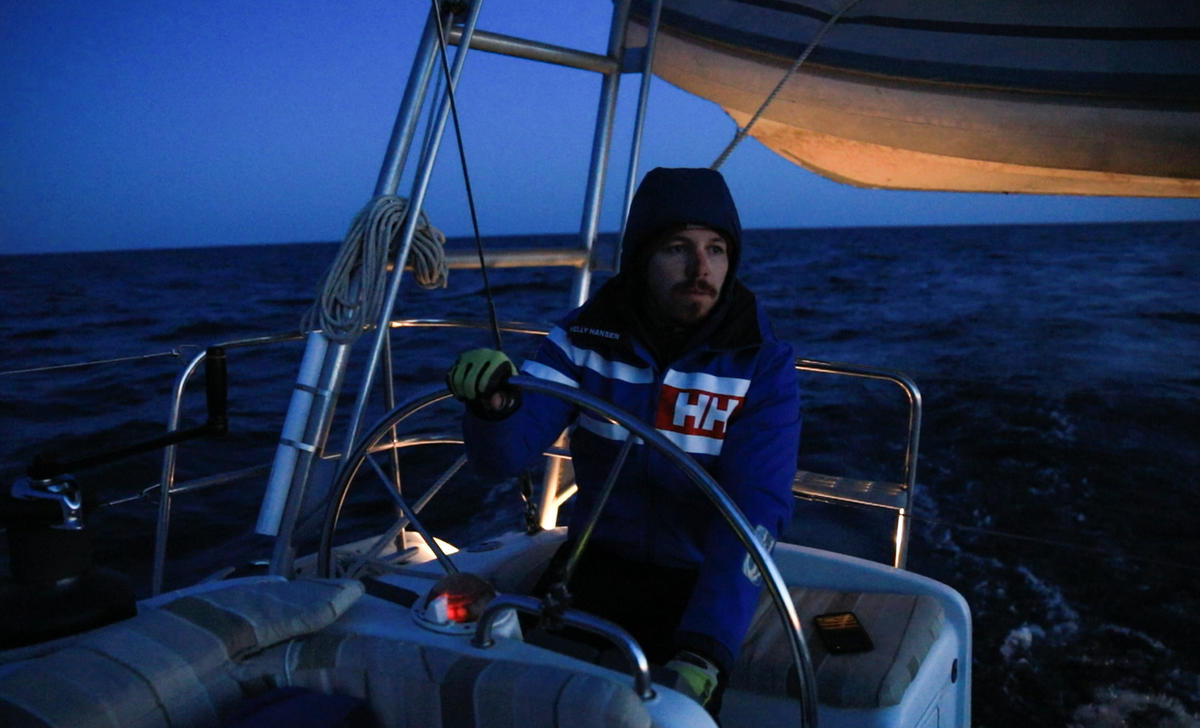 How has the Covid-19 crisis or your "modified quarantine", changed the way you experience boating?
A big draw in sailing to NYC to fight COIVD-19 was the ability to live aboard and have our own space. I am so thankful to have Turning Points as a retreat to come home to and especially enjoy on my days off. To have a familiar space and belongings is something I do not take for granted. If I had to choose to be quarantined anywhere, my sailboat definitely tops the list. We still get to enjoy an occasional pleasure sail on our days off, and soak up the sweeping Manhattan skyline views, thanks to the generosity of ONE15 Brooklyn Marina.
Where do you normally do your sailing?
When we first bought Turning Points, she lived in south Florida, and we sailed around Miami and the Keys. For the past two years, she has stayed in Hampton, Virginia, so the Chesapeake Bay has become our sailing playground.
What is your favorite activity onboard?
There is nothing like a warm summer day, sails hoisted and engine off, with a boat full of family and friends. I just love to enjoy the company of loved ones, and Taylor and I count it a privilege to share our love of sailing with those around us. This is why we bought such a spacious sailing vessel, to be able to accommodate many people and give them a unique experience, hoping to share the joy of sailing and the beautiful outdoors. One of my favorites activities is throwing the anchor, preferably in clear water, and going for a snorkel/free dive. As much as I love being on top of the water under sail, I also love to be in it, exploring the incredible ocean topography.
Have you been able to get out pleasure sailing since you've been in New York City?
We have been able to get out a handful of times since we have been in NYC! Tom Huling, is our dear friend and fellow ICU nurse that lives aboard with us. It was a challenge finding a correlating day off, but when we did, we hit the water. Sailing around NYC is quite invigorating. There is endless skyline to feast your eyes on; coursing through the city proved intriguing.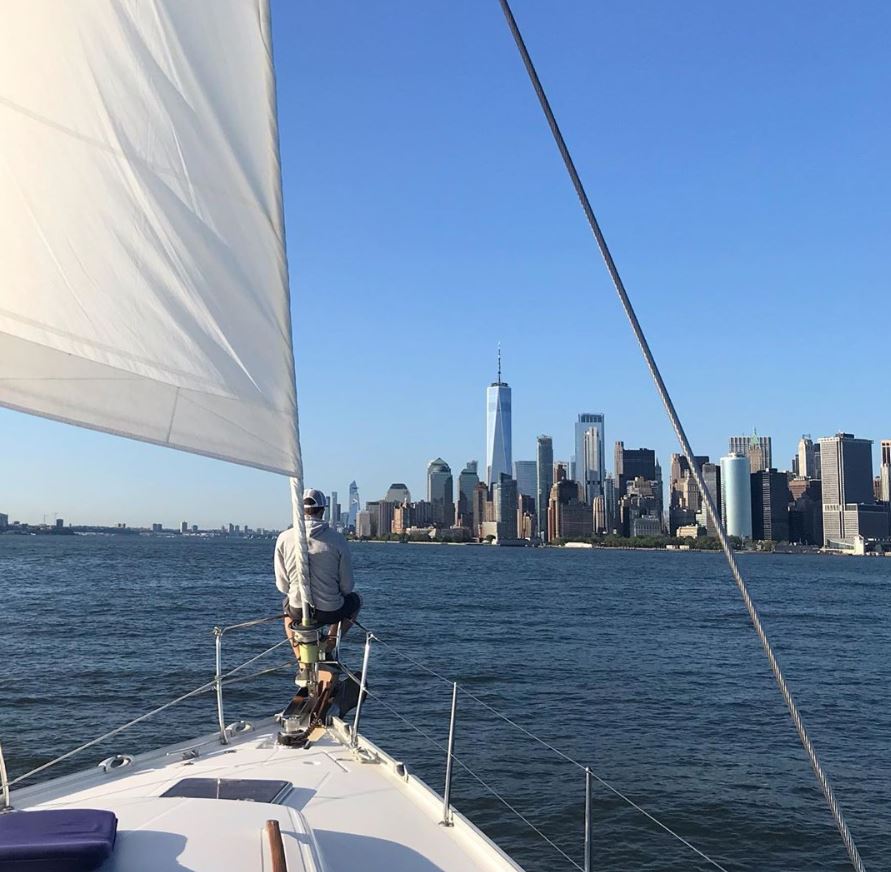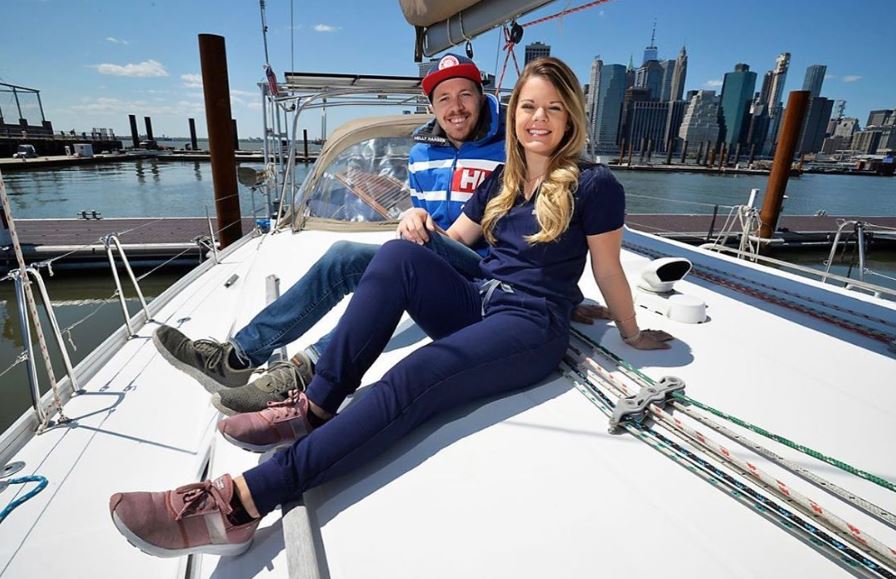 What are some things in your daily routine that help you stay grounded and keep you going amid a world pandemic when you're facing challenges every day?
My faith is the most important thing in my life; it is what drove me here and keeps me going everyday. I have thoroughly enjoyed waking up and enjoying quiet time in the cockpit, soaking in the Manhattan skyline, with a cup of coffee in one hand and my Bible in the other. Praying as I commute to work keeps my mind focused and my perspective aright. Making physical fitness a priority has also been important to my mental health; running through New York City has been an absolute blast. Also, Taylor and Tom have kept me sane. Just having their support, Taylor being my rock and everyday selflessly caring for me, has made all the difference.
How do you sanitize the boat/make sure that you and your husband also stay healthy?
First of all, the scrubs that Tom and I wear in the hospital caring for COVID patients, do not come home with us. All of our PPE stays in the hospital, to minimize the risk of spreading the virus. When we get back, still we take off our shoes and head straight to the shower. As far as cleaning is concerned, we proceed with our usual cleaning, but add alcohol sanitizing wipes on top of everything for serious germicidal effects.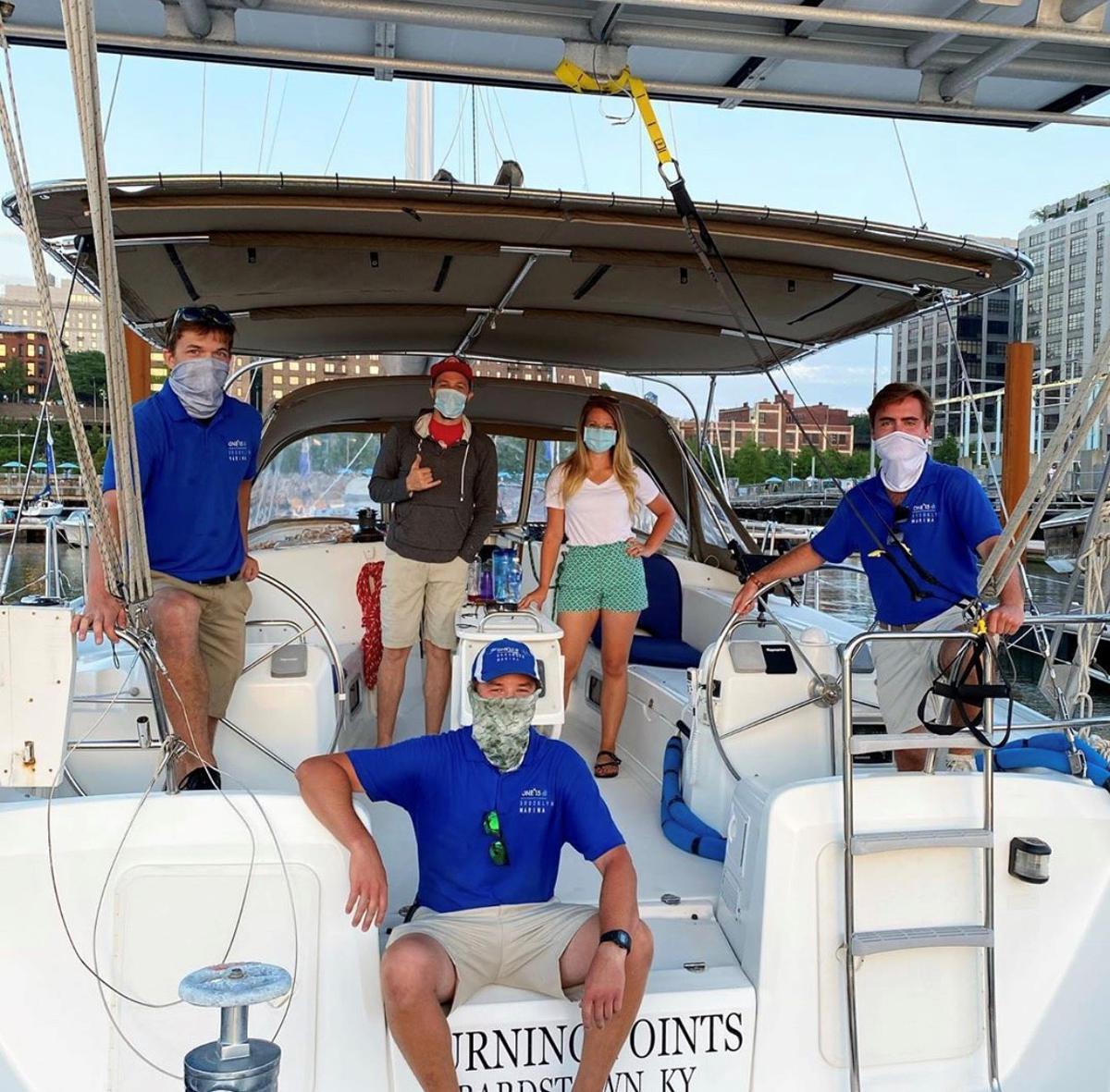 What are your plans after the Covid-19 crisis? - Do you have plans to head back down to your home port or where is next for you?
This week, Taylor, Tom, and I are setting sail to New Haven, CT for another COVID ICU contract, this time working at Yale New Haven Hospital. Once we are done there, we will be sailing back to Virginia. I only have a few months left of Nurse Practitioner school at Cedarville University, which I plan to finish once we are back. Then, I will be looking for a nurse practitioner job, preferably in a location where we can live aboard! While we still have a house in Virginia, we have fallen in love with living aboard, and would love to continue this lifestyle in the near future.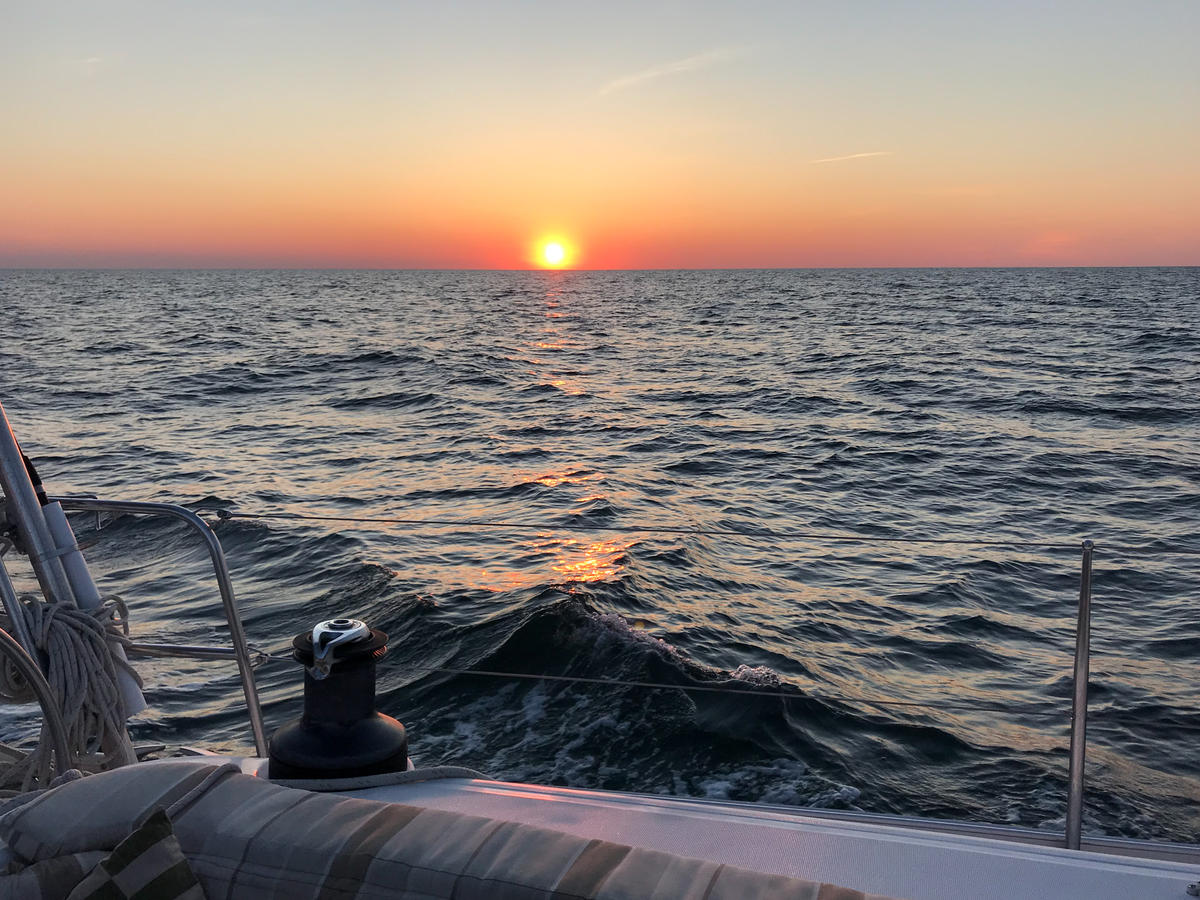 To learn more about Rachel's story, check out her feature in Chesapeake Bay Magazine.