Why We Bought Our New Boat from BENETEAU - And Why We Would Do It Again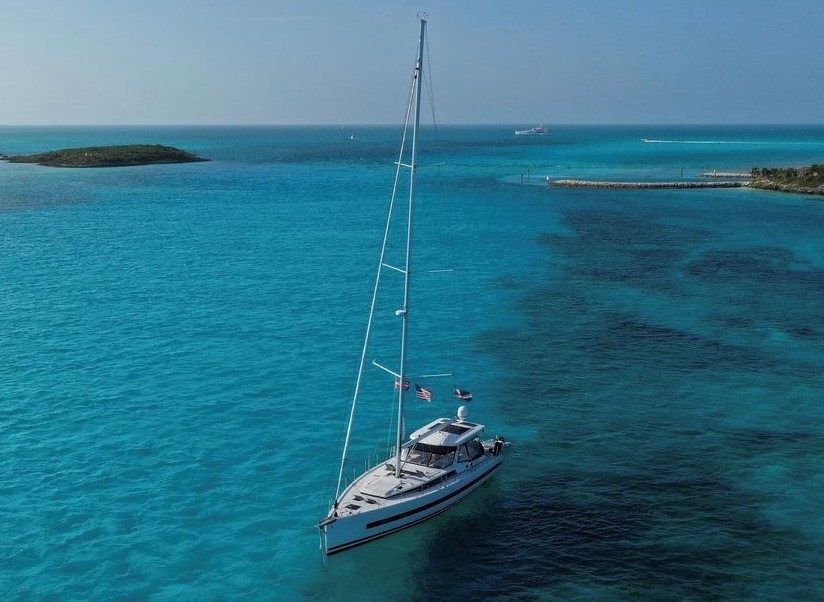 We watched with an almost macabre fascination as the horrible news, devastating images, heart-wrenching Facebook posts and – eventually – video footage of the utter destruction caused by Hurricane Irma started emerging.
It was September of 2017, and we were landlocked in our home in Scottsdale, AZ while the BVI was literally fighting for survival.
We had two 50-foot catamarans on the hard stand in Tortola at the time. Ordinarily, they would have been secured with scores of other boats in the mangroves of the "safety" of Paraquita Bay, but we were in the process of selling both boats. For survey purposes, we had them hauled just before that terrible storm hit.
The result was utter devastation for the islands and its people. And the start of an immensely frustrating ordeal for us.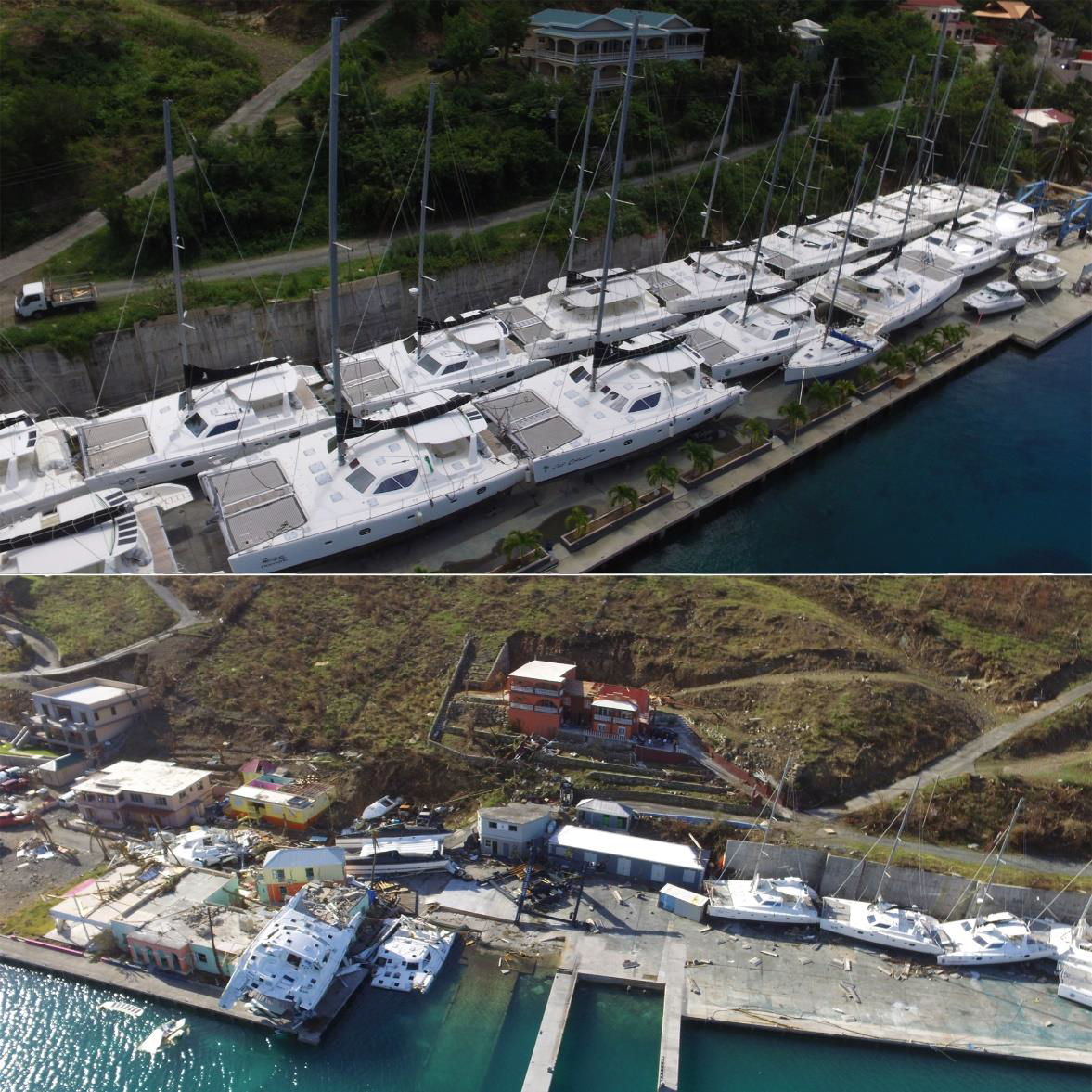 Our catamarans were properly hurricanized just days before Irma hit (top photo). Nothing could survive the destructive force of that storm (bottom photo).
Over the ensuing months, despite the headache of dealing with a very reluctant and unprofessional insurance company and the thousands in legal fees we had to incur to get the settlement resolved, we knew we would be in the market for a new boat.
And this time it would be different. This time, we were looking for our dream boat.
Not a "business boat" for generating charter income that we also happen to use every now and then. Oh no. The time had finally come. We were actively seeking our full-time, liveaboard, take-us-wherever-we-fancy kind of boat.
Our son was in college, our daughter had applied and been accepted to a prestigious prep school in Texas, and we were about to be empty nesters. We had always planned on going full-time, having sailed seasonally for 15 years in places like the BVI, Seychelles, Balearics, and the Canary Island.
We've only ever owned catamarans, ranging from 50 to 60 feet in length. For this reason, we assumed a catamaran would be the way to go again. We looked at many options from many different builders, including the usual production boats. We also considered some of the more "performance" oriented alternatives, and even a motorized cat!
We ended up ordering a new Leopard 50 in June 2018. We paid a hefty deposit and started the 2 year(!) wait for our boat to roll off the production line in South Africa.
To alleviate our impatience, we attended the Annapolis Sailboat Show. This is considered the premiere sailboat event in North America, and we've always wanted to go. We finally made it in October of 2018.
It was so hot in Annapolis that October weekend! We wandered around trying to keep both us and the credit card (which was doing an awful lot of swiping) cool, when we noticed a super sleek, super sexy, super huge monohull. This eye-catching beauty formed the stunning centerpiece at the beautiful BENETEAU display that year.
I asked my wife if she wanted to have a look. She shrugged non-committedly. What would be the value of looking at a monohull anyway? Especially since we'd already committed to the catamaran.
We approached the display entrance and went through the usual formalities of providing basic personal details. When we mentioned we wanted to see "the big one" we were asked if we wanted to speak to a broker. I figured at the time it might help us to skip the line that had formed and said "Sure!"
Sneaky, I know …
We were introduced to Sean Smith from South Coast Yachts out of San Diego. Sean took us on board, and without him saying anything – and within 5 minutes of stepping on board – I knew that this was going to be the boat for us.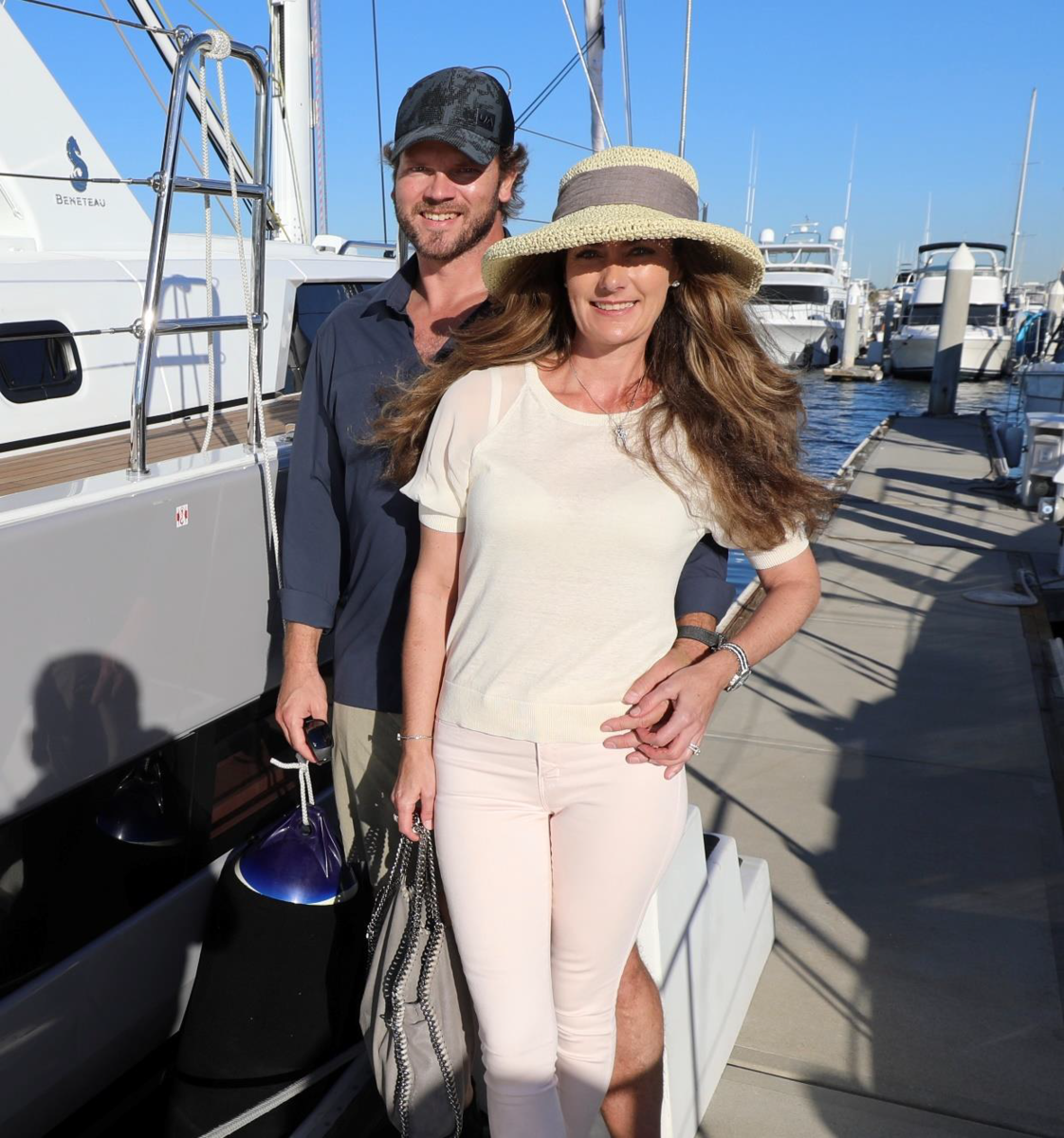 Our trip to Annapolis Sailboat Show was momentous. We decided to cancel our catamaran order and chose a BENETEAU Oceanis Yacht 62 instead!
This was not Sean pulling some slick salesmen stuff. Don't get me wrong, Sean is a brilliant broker. But he did not do or have to do anything in those first 5 minutes, other than give us breathing room and a quiet moment to take it all in. Perhaps THAT was the slick salesman move … he knew the boat needed no assistance.
She was perfectly capable of selling herself.
Before the end of 2019, we cancelled the Leopard order, went on a test sail on a sistership in San Diego, signed the contract, and chose hull number 44 of the Oceanis Yacht 62 line. This is significant because hull 43 was available and would have made for an earlier delivery.
Why did we opt for hull 44? Because it was scheduled to launch on my wife's birthday the following year, and that seemed like a good omen – not to mention a fabulous birthday present. The card read: "My darling, please accept this wonderful gift from me to you … because I deserve it!"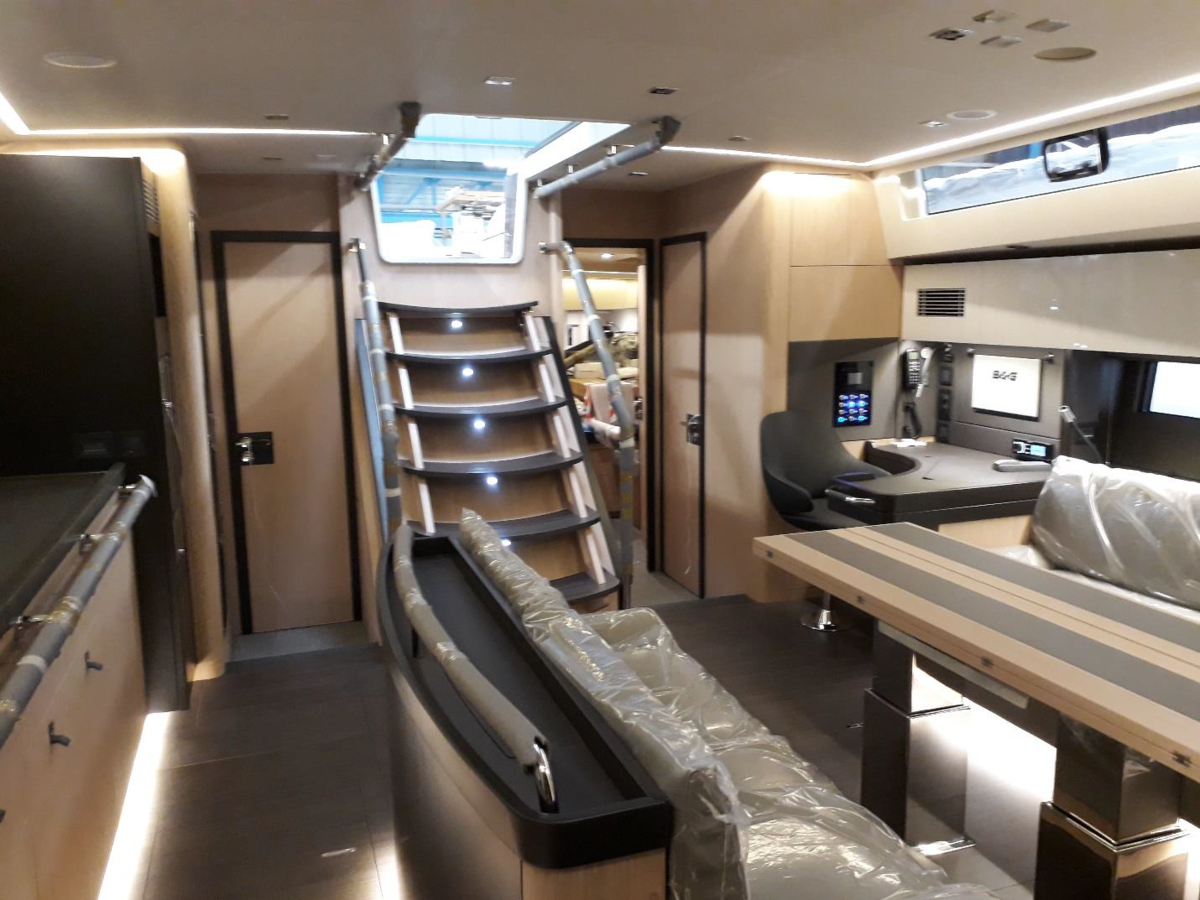 DOUBLESTAR is carefully prepared for her transatlantic voyage from the factory in Saint Gilles Croix de Vie, France to Baltimore, Maryland. May 2019.
The point of all this context is to make it clear that we did not choose BENETEAU because of any affiliation with or a particular affinity for the brand. We had a vague idea that they were a large production builder, based in France, but knew little about them.
What we did know (and what we had first-hand experience with) was working with a builder, having commissioned several boats in the past from both large production and small boutique builders.
It has always been the cause of great frustration. It always resulted in at least some sense of disappointment. Promises made during the sales pitch (what I call the honeymoon phase) was often not honored during the build, for various reasons. Some of these were logical and reasonable, while others frustratingly non-sensical or downright unprofessional and unethical.
We had none of the latter and extraordinarily little of the former in dealing with BENETEAU. In fact, our boat was eligible for their "Premium Service" option which allowed us a significant amount of customization, especially on the interior.
In one instance, we completely removed and redesigned the standard refrigeration options so we could have more of the flexibility and space we would need as full-time liveaboards. We also removed a bunch of the factory options and specified our own choices, which were done during commissioning. Try doing that with a different production boat – it's just not possible.
We even had separate plumbing and infrastructure installed to allow us to have both a washing machine AND a separate tumble dryer on board. An absolute essential luxury for us.
The entire buying experience was amazing and we could not have been happier.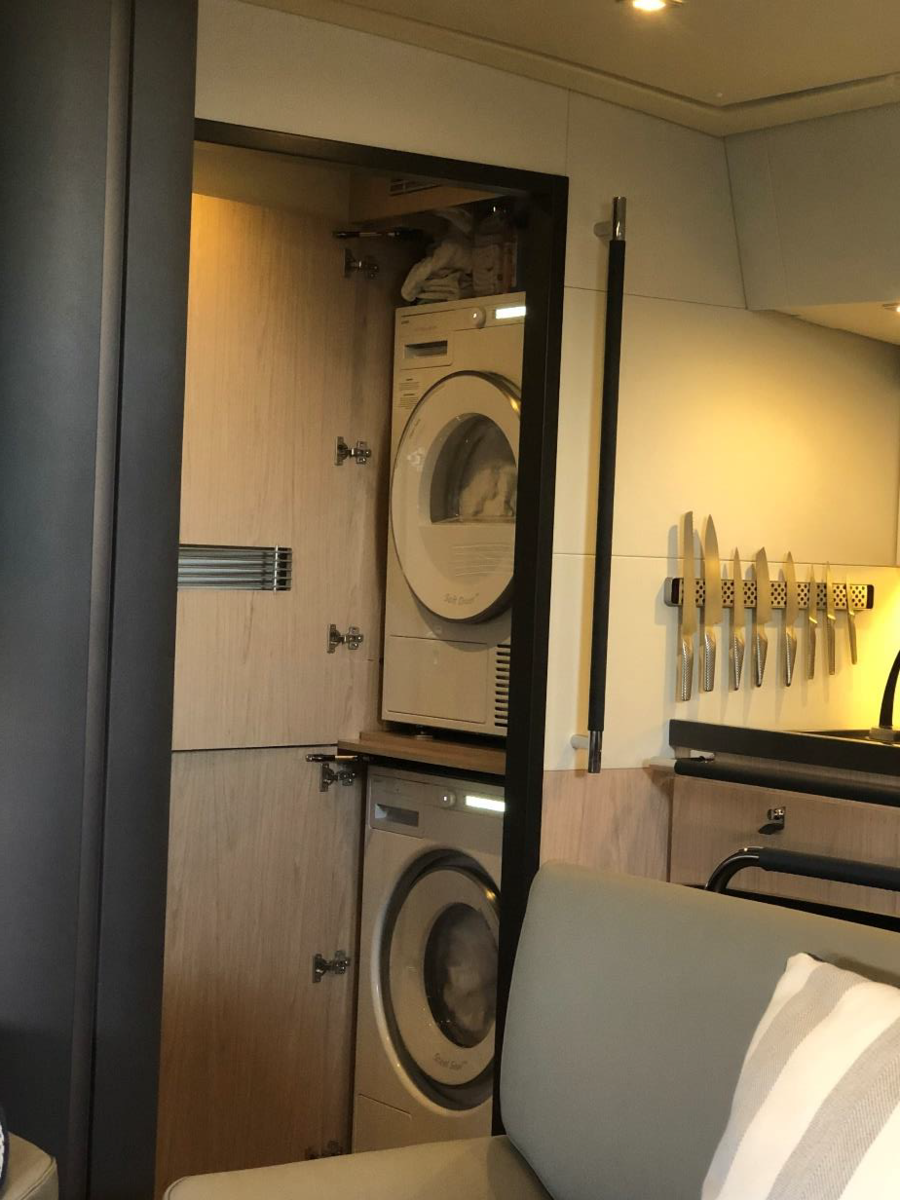 An essential luxury (yes, we're aware it's an oxymoron). We could not live aboard full-time without the benefit of both a washer and a separate dryer! This was a custom addition that BENETEAU facilitated as part of their Premium Service.
Still, that is not the main reason why we will buy from BENETEAU again. And it is not the main reason why we are happy we bought a brand new boat. The main reason is the warranty and the way BENETEAU has stood by us in the last 16 months.
Modern sailboats have a host of electric, electronic, hydraulic, pneumatic and mechanical systems. These are designed to ensure the safety and comfort of those onboard. All these components must withstand one of the most inhospitable environments known to man – the ocean. Whether 10 years old or fresh off the production line, boats require care, attention and maintenance. Often, they also require repair.
DOUBLESTAR is no exception. She is a lucky boat that gets to sail 365 days a year, but with that being said, some wear and tear is inevitable from time to time. However, no matter what it was, BENETEAU has always been great at making things right when they go wrong.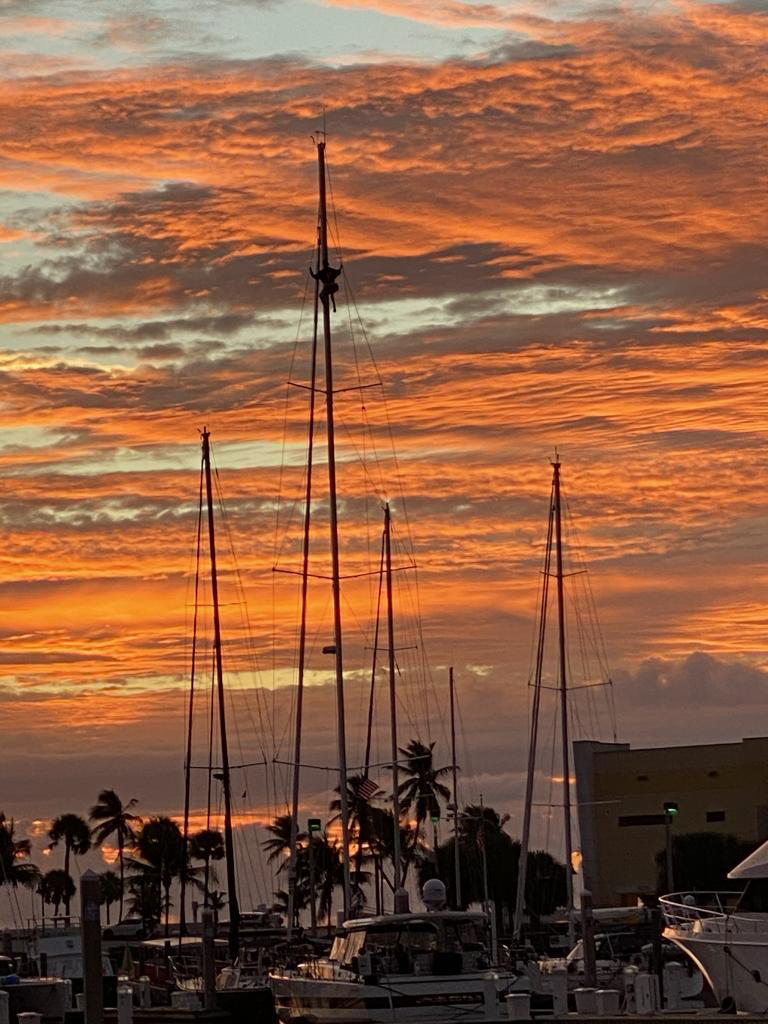 A B&G technician working at the top of our 100-foot mast, literally at the crack of dawn. This was an hour before we departed the USA for our trip down-island.
Of course it has not been without time and effort needed on both sides. It's a lot of work and a lot of communication, and the people you deal with are critical. We were fortunate enough to have a great broker (South Coast Yachts in San Diego) and a great commissioning team (Annapolis Yachts Sales).
Most critically for the long run, we have a brilliant service team at BENETEAU to assist in identifying, troubleshooting, procuring and replacing whatever is needed.
We even had the principal of Annapolis Yacht Sales personally fly to us in the Dominican Republic from Annapolis to fix a broken furler bearing, on a Friday no less. We were good to go by the end of the weekend. While we had to pay for the travel cost, all labor and parts were covered under warranty.
If you are looking at buying a boat and your plans include a new boat purchase, my best advice is:
- Buy from a solid, reputable builder. The warranty is of no use to anyone if the company behind it goes bankrupt
- Research the people as much as the warranty itself. We have had plenty of experience with builders that will do everything they can to avoid claiming any responsibility under their so-called warranty. We've even had a builder claiming a replacement for electronics which we had to pay for (and duly did) only to find that the money vanished and the old electronics were still on the boat 6 months later.
Dealing with the right people, people that are willing to assist and want you to be happy, is key.
Our final thought: Not all warranties are created equal!
For the most part, builders offer a 1 year "bow to stern" warranty. But unless you are full time, you are not going to identify all those issues early on. Even now, after 16 months living full-time aboard and 6,000 nautical miles travelled, we are STILL identifying issues. Fortunately we are STILL getting those issues resolved under warranty. That's because BENETEAU is one of the only builders (that we are aware of) that offer a 3-year warranty, while the industry standard is 1-year (not including structural, which is typically longer).
This gives us incredible peace of mind. It is the main reason why we would definitely do this all over again with the same boat from the same builder.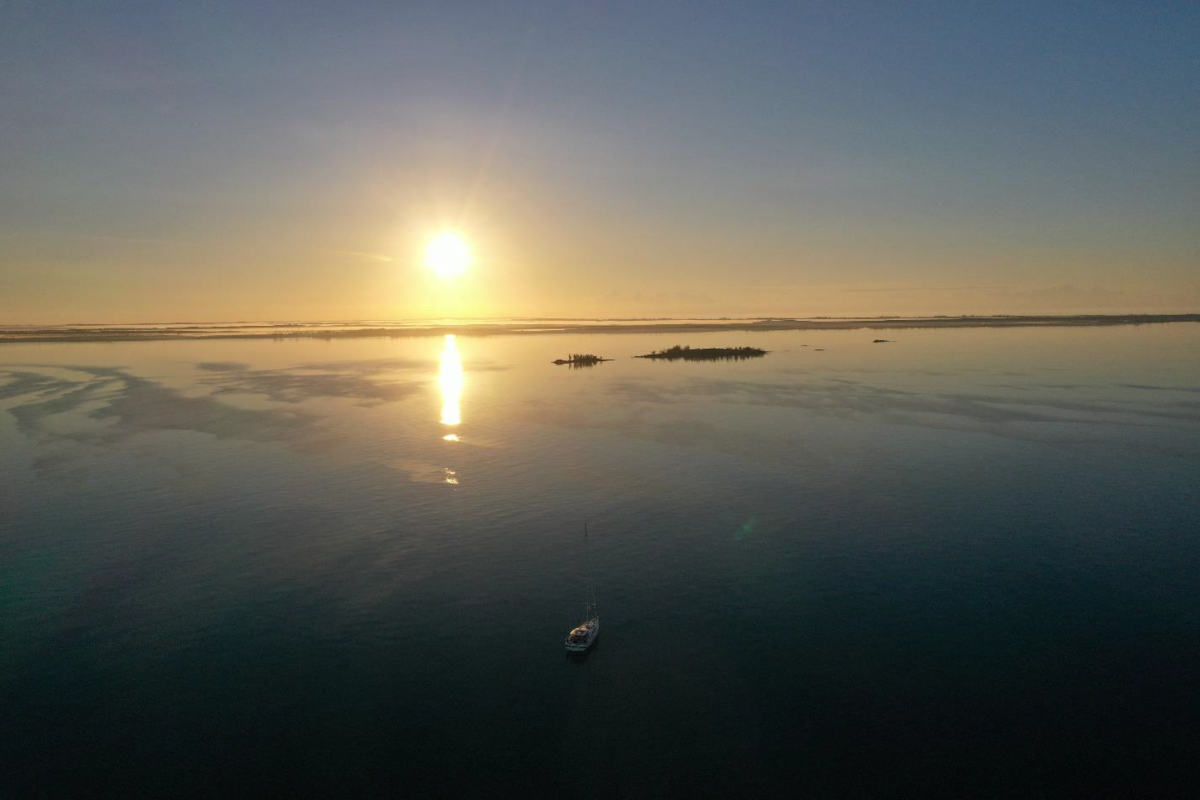 Sunset at anchor. Life does not get much better than this.
With all the challenges thrown at us in 2020, having the freedom to move your home from place to place has become more coveted than ever. Knowing that our boat warranty is underwritten by a reputable builder with a world-wide presence is priceless. We are very fortunate to live aboard DOUBLESTAR, and we're very fortunate that we made the right decision in choosing our BENETEAU Oceanis Yacht 62.
We would do it again in a hearbeat.