[Join now] Beneteau Cup Hong Kong 2022 | October 29 - 30
Dear Sailors,
Mark your calendar for October 29th to 30th for the 2022 Beneteau Cup Hong Kong at Aberdeen Boat Club. The event will definitely become another memorable experience with all the sea lovers and your friends and family.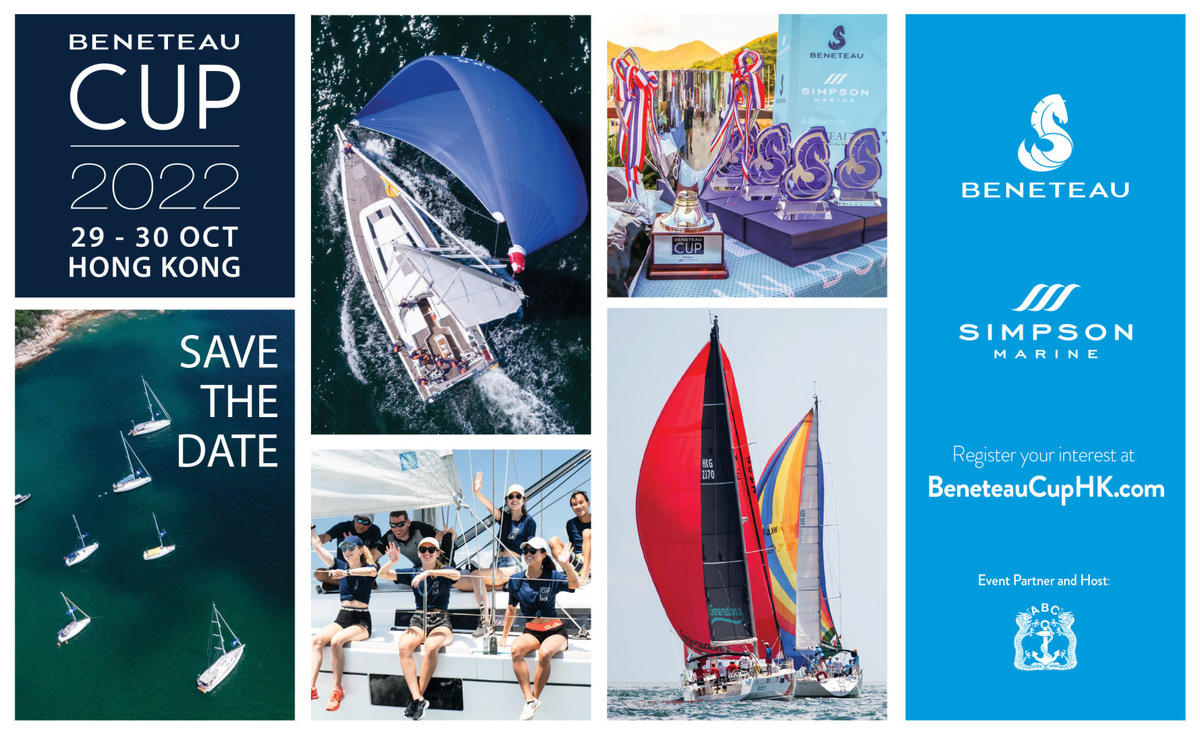 REGISTRATION IS NOW OPEN
All Beneteau sailboat owners of any skill levels from any age group are welcome.
Last year's edition witnessed the participation of an epic number of 21 Beneteau sailboat models.
"This second edition will surely be as unforgettable as the first one! I invite all of you, from the racer beginners to the more experienced ones, to join this great competition and have fun together."
Said Erwan HER, Beneteau Sales Director, Asia Pacific.
HIGHLIGHTS
Beneteau Cup provides you with an opportunity to escape the hustle and bustle of downtown Hong Kong and explore the hidden gem - from beautiful urban oases, unspoiled countryside areas to myriad islands in the name of sailing.
Day 1 (October 29): Island racing & Themed Gala Dinner (Pirates of the Caribbean) in Middle Island ABC with premium F&B and live music
Day 2 (October 30): Pursuit Race and Award Ceremony Sunset Party at The Bay Restaurant, Lamma Island (Mo Tat Wan) with premium F&B and water toys experience
Looking forward to seeing your all there!
SPONSORS & PARTNERS
This event is jointly organized by Beneteau Asia Pacific and our dealer in Hong Kong Simpson Marine. We would like to take this opportunity to thank our sponsors and partners for their generous support.
Title sponsor: Aon
Marine Partners: Peters & May, Seven Star Yacht Transport
Award Partners: Amore Pacific, Cleanmax Solution HK Limited, Decathlon, Devialet, Farandole, Fortnum & Mason, Frette, Lantau Yacht Club, L'Imperatrice, Māzŭ, Moonzen Brewery, North Sails, Pocari Sweat, PYE, Oliver James, RAZE, Rituals, Supergoop!, TOIO Hong Kong and TUMI.
Media Partners: Asia-Pacific Boating, Asia Yacht Press, Fragrant Harbour, #legend, Hong Kong Madame, Le Petit Journal, Sail World and Yacht Style.
REGATTA INFO
Date: October 29-30, 2022
Venue: Aberdeen Boat Club (Middle Island) & The Bay (Mo Tat Wan), Hong Kong
Please click here for registration