New Flyer 6 and 7
Stylish All-Purpose Day boats!
Already an international gold standard in the versatile sports day boat segment, the renewal of the Flyer line pursues and emphasizes its unique appeal. The new Flyer 6 and 7 feature the enhancements present on their elder sisters, making them an obvious choice for anyone who loves good, simple, convenient, affordable, flexible boating.
Stunning Elegance and Style
You are instantly struck by the desire to put out to sea and enjoy every moment aboard on seeing these new little Flyers! In the wake of the Flyer 8, Flyer 10, the Flyer 6 and 7 have now been given sleeker lines and a more aggressive sporty design. The elegance of the silver and black hull artwork adds to the timeless contemporary atmosphere created by the grey upholstery and black or stainless steel pulpits.
If you are inevitably drawn to the Flyers for their looks, it is also because they are great all-rounders with the potential to deliver a wonderful driving experience.
Their lines are sharper, but that does not mean there is less space. On the contrary. The challenge was to keep the same deck area, while slightly decreasing the beam. There is even enough space on board for extra fittings such as additional benches. With these improvements, the Flyer 6 and 7 can comfortably accommodate up to 6 and 9 people respectively.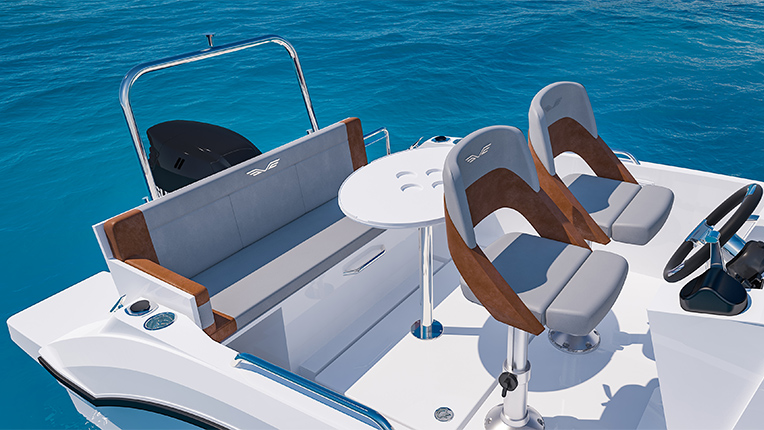 The joy of extra-safe driving
Instantly recognizable as sports day boats, the Flyer 6 and 7 cannot be mistaken in their appearance for anything other than "powerful little speedboats". They are extremely agile, responding quickly and offering a smooth ride and some very enjoyable driving sensations. The Flyer 7 also has the Airstep2 hull, which means that it lifts off fast and is much more stable even at full speed.These features go hand in hand with impressive safety.
The driving stations' ergonomics have been improved. The new consoles have a more wraparound windshield and hand rails which make movements on the two symmetrical side decks much safer.
Programmes that tick all the boxes
Wakeboarding, surfing, fishing, bathing or lazing in the sun? With their striking looks, versatility and simplicity, the Flyer 6 and 7 are ideal entry-level crafts for unlimited leisure activities. On your own, with the family or with friends, these trailable day boats are the perfect choice for people who love day trips packed with thrills and fun on the water!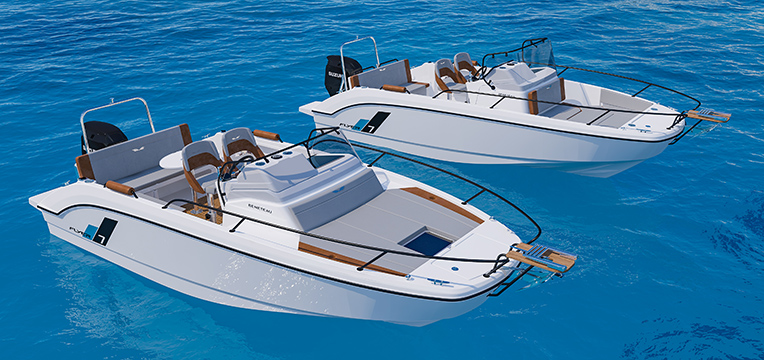 Two versions available
Like the other models in the Flyer line, the Flyer 6 and 7 are available with two different deck versions to suit the different
uses of a day boat:

• SUNdeck: a sun pad on the fore deck along with a sheltered cabin
• SPACEdeck: a central console providing more space on deck and an additional forward saloon.
The Flyer 7 will be exhibited at the Grand Pavois in La Rochelle, whereas the Flyer 6 will be in Paris in December.