Round Ireland on a Figaro BENETEAU 3
New Double-Handed World Sailing Time Record
Pamela Lee and Catherine Hunt have set a new female double-handed Round Ireland sailing time world record. They set sail from Dublin on 13 October 2020 and it took them 3 days, 19 hours, 41 minutes and 39 second to complete the circumnavigation on the Figaro BENETEAU 3 IARRACHT MAIGEANTA. This record sailing time was ratified by the WSSRC (The World Speed Sailing Record Council) on 3 November 2020. The reference time for this Round Ireland Race in 2014 was 4 days and 6 hours.
Pamela and Catherine make up a wonderful duo, formed only a few months ago on the 2020 Figaro BENETEAU 3 circuit, during the Solitaire du Figaro. When the record was ratified, we were quick to call Pam, who Is Irish, and Cat, who is English, to talk to them about their backgrounds and the progress they have made in their wonderful racing adventures.
Hello Pam and Cat, can you tell us a little bit about your sailing backgrounds?
Pam: I started sailing on dinghies in Ireland. Then I became and instructor and continued to sail at university, doing team racing. I ended up moving to Sydney, in Australia, in my early twenties. I wanted to go on sailing, and I found out that Sydney has a really great offshore sailing scene, the highlight being the Sydney-Hobart. My 1st proper offshore racing boat was the BENETEAU First 45! I then went on to do my Yachtmaster and sailing tickets, and raced in Palma for a while, then the Caribbean and more recently in the Fastnet. Kenny Rumball (ed.: Irish skipper in the Solitaire 2020) and I decided to try and represent Ireland in the mixed-gender World Offshore Racing Championship, which was due to take place in Malta, but which sadly was cancelled. This is when we started taking an interest in the Figaro 3, which was supposed to be the qualifier for the Irish representation.
Luckily, Kenny decided he would do the Solitaire instead and I was his preparateur, which was the best way for both of us to get to know the boat.
Cat: I am English, 21 years old and I grew up in the northwest of England. I began as a dinghy sailor in the Lake District. Then, I sailed keelboats in my teens. I loved being part of a bigger team. When I was 17 or 18, I got involved in sailing Class 40s, through the Magenta Project and I ended up doing my first Fastnet. Then I did a full RORC season and another Fastnet on the JPK 1180 Sunrise. Last winter, I did a transatlantic race on a Ker 46 with an under 30 crew and we came second.
With the amendment of the Olympic Games offshore racing class, I started double-handed sailing just before the lockdown in spring. Then I contacted Alan Roberts (another skipper in the Solitaire 2020) and he suggested I work as a preparateur on his Figaro 3 for the Solitaire. This is how I met Pam.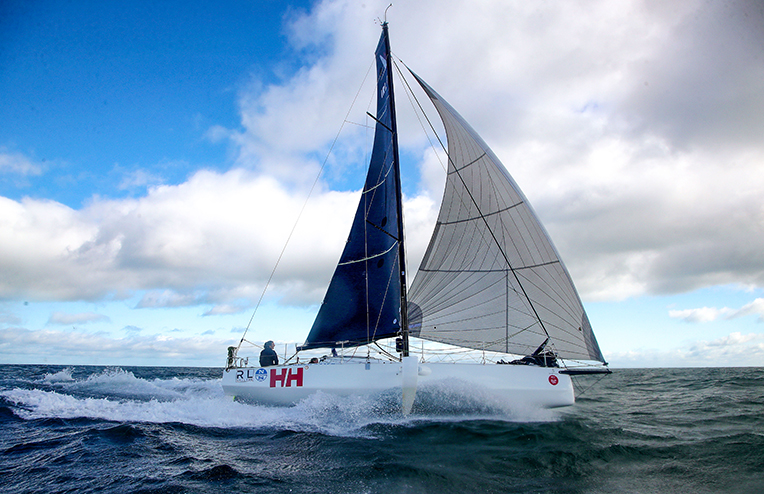 The Figaro BENETEAU 3 IARRACHT MAIGEANTA.
When did you first sail on the Figaro 3?
Pam: That was in the spring with Kenny and Joan Mulloy (ed. Irish skipper who competed in the Solitaire in Figaro 3 in 2019). I think it was in Lorient. It was pretty cool. There were Figaros everywhere. We spent a week trying to figure out the boat and double-handed sailing, with Joan helping us. I think it blew 30 to 40 knots every day.
Cat: I first discovered the Figaro with the Artemis Offshore Academy (ed. Figaro 2 at the time) and I knew all the skippers well. The first time I sailed a Figaro 3 was back in March this year. I delivered one double-handed the weekend before France went into lockdown. When I came back to the UK, I wanted to get more involved in double-handed sailing and I delivered Alan Robert's boat back from England to France for the Solitaire.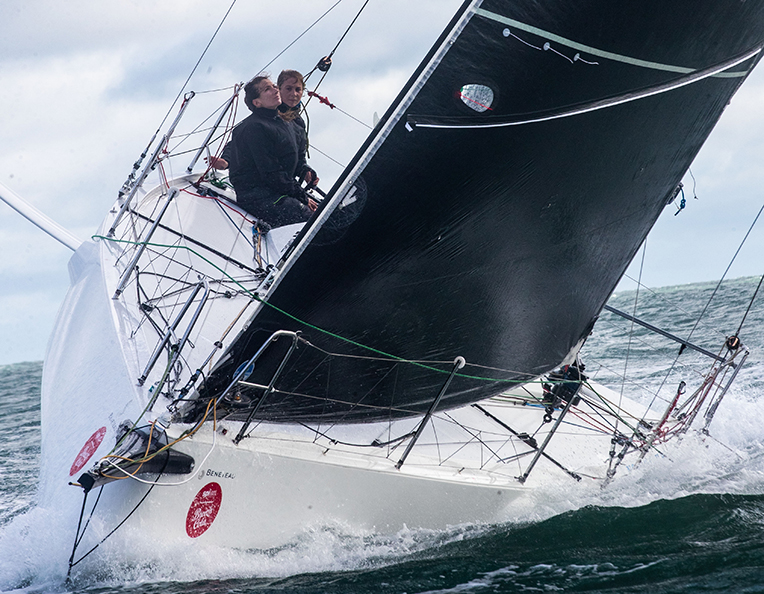 What did you learn from your experience as preparateurs for the Solitaire?
Pam: It was really nice to get to know one boat intimately especially as it's a one design. You could chat to the other preparateurs and learn the little tweaks and the small details that would raise the boat's level bringing it closer to the other boats.
So, by the time we actually set sail on the Round Ireland, I was really confident in the boat.
«The whole offshore racing ecosystem in France and the level of the skippers and preparateurs was really eye-opening. I wanted to try and bring a little bit of that vibe back to Ireland!»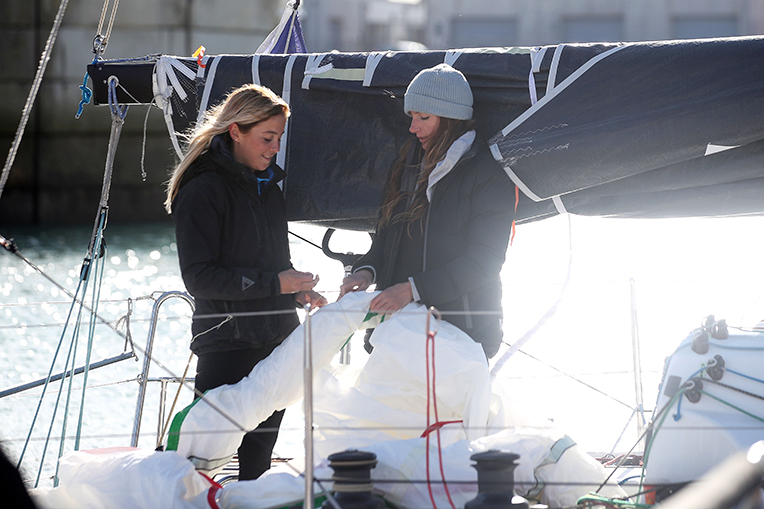 The idea of sailing together came to them during the Solitaire Le Figaro in France.
Now, let's talk about how you made the project happen.
Pam: We were the only two female preparateurs and the only two non-French ones, so we bonded over that. We got chatting about our mates and got to know each other's backgrounds, how we did things and it helped us do a better job.
«Then I had the idea of the female record bubbling, so I talked to Cat about it and she was keen straightaway and said: "I'd do that". I think we decided to do it together in under an hour! »
Cat: Everything fell together really quickly, with the loan of the boat from Marcus Hutchinson, the support of Abby Ehler and Libby Greenhalgh from the Magenta Project and then the weather. When our router Miles Seddon told us that we had a good weather window it was such a relief!
Did you think that the race would be followed by thousands of people?
Cat: We left at a time when there were very few sporting events and very few positive things happening… Sailing can be a bit boring to follow for the public, but in this case it was just two girls sailing around Ireland as fast as they could.
Our little videos and the social media did the rest.
This is also what makes the Solitaire in France so successful. The public follows individual skippers through tracking, pictures, and videos. It would be nice to bring the adventure and pioneering side to England and Ireland.
Pam: You didn't hear much from us before the start, but once we were at sea, with the good start we had, the public's interest began to grow.
What do you prefer on the Figaro 3?
Cat et Pam: the code 0 (gennaker)!
Pam: Having spent many years jumping into different boats, what I love about the Figaro is that the setup is designed for single-handed sailing - everything runs back into the cockpit, everything is there, you can control it all.
Cat: The simplicity of the one design and the high level of competition in France. We really need to get some more Figaros over to the UK and Ireland.
Pam : « The set-up is simple and you can go really fast. We're not big beefy guys and yet we can do all the sail changes and everything else and still go really fast and have a really good time. It takes away the barrier of size and strength and makes me feel I can sail safely on my own. »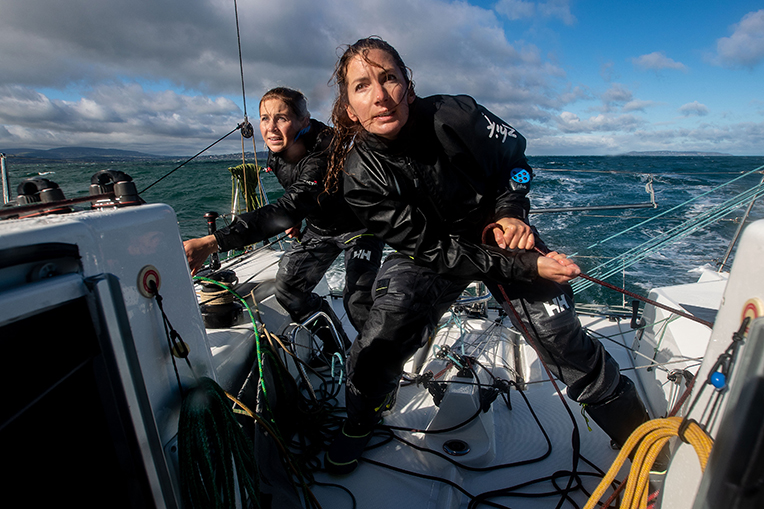 Manoeuvres on the Figaro BENETEAU 3 in Ireland.
What are your plans now? Will we see you in the Solitaire in 2021?
Pam: Yes, if I can find a sponsor! Kenny and I will bring the boat back to France and then try talking to people to try and make next year happen.
Cat: I must finish my final year in Southampton and finish my degree. I'm going to continue to train over the winter. Once the degree is done, I'm going to focus on my own Figaro 3 campaign in 2 years.
Pam: We have lots of ideas of records we can do!
Crédit photo : @inphobryan Bryan Keane OLY