The 5th edition of the Oceanis Med
During the weekend of 25th to 27th June, around forty teams sailing Oceanis boats, the flagship model of the BENETEAU cruiser yacht range, gathered at the island of Porquerolles for the fifth edition of the Oceanis Med.
Conviviality and fun for all was the order of the day at this friendly get-together on the Var coast. Organised by 3 boat-owning sailing enthusiasts, including the creator of the Oceanis Forum which now numbers over 1,500 members, the event provided an opportunity for bringing together several generations of Oceanis yachts. A little over forty 30' to 60' yachts arrived at the port over Thursday and Friday. Having faced a stiff Westerly en route for Porquerolles, all the participants assembled on the pontoons to share a meal and receive a welcome bag of goodies supplied by BENETEAU and its partners.
The following day, after an early morning briefing in the village, the boat owners set sail for Cavalaire. The 30-footers were the first off in good conditions with a light wind and were only overtaken by the larger yachts around Cap Bénat, where the Antares 36 sailed by the BENETEAU team had anchored to shorten the course. The whole fleet regrouped before setting sail for Porquerolles in an easing breeze. The conditions made it difficult to establish a clear strategy, with the leaders shifting back and forth at the mercy of the light gusts and shifts in the breeze. Having seen an opening leading towards Port Cros, the Oceanis 30.1 Giula IV raced ahead of the larger boats and was first to cross the finish line at the level of the Cap des Mèdes. After that, the boats started arriving in a steady stream. Twenty-six yachts finished the course, the others having yielded to temptation and decided on an impromptu bathing session or on coming back under engine power.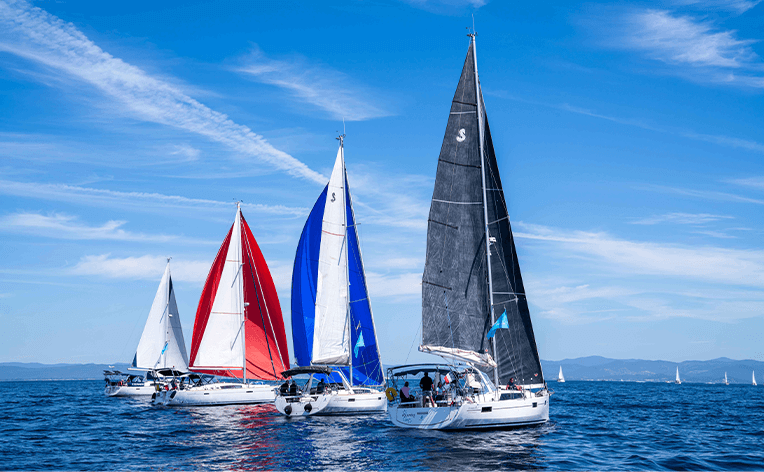 The teams wrapped up this enjoyable day by gathering in the evening for the awards ceremony. All the participants received a trophy, together with the lots offered by BENETEAU and other partners. The winners received a Cup, which will be offered as the prize again at next year's edition. There was also a raffle in which participants with the winning tickets were able to claim the best lots offered by the partners.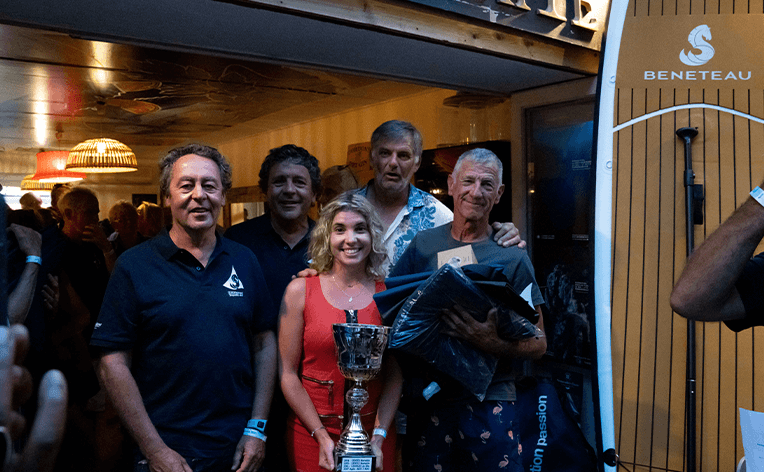 The winners of the Oceanis Med 2021
All in all, a successful and enjoyable fifth edition with a lot of happy boat owners who are already looking forward to the next meeting in 2022. A big thanks to Richard, Jean-Michel and Eric for their impeccable organisational skills and the effort they put in to make sure that everything went off without a hitch.