4 New Motorboats Underway!
After the launch of a new wave of Oceanis sailing yachts last February, the starting signal has been given for four new BENETEAU motorboats, which we will see at the autumn boat shows.
Gran Turismo, the team is growing!
The Gran Turismo 36 is the latest addition to BENETEAU's range of express cruisers. Available with an inboard engine, this 36 footer belongs perfectly between the smallest of the range, the Gran Turismo 32 built last year, and the Gran Turismo 40. The boat has a new hard top, large hull windows, and a powerful new look, modernizing the line. What is more, she is so easy to handle that anyone can enjoy the express cruiser experience.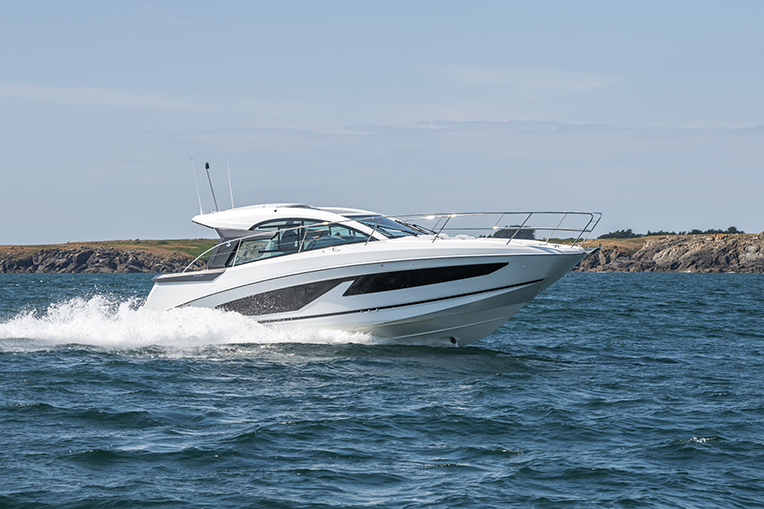 While waiting to visit the Yachting Festival de Cannes, enjoy the first pictures of the boat underway.
SEE THE CHARACTERISTICS OF THE GRAN TURISMO 36
Ongoing development of the Flyer range
Following the Flyer 10, the Flyer 7 SUNdeck and SPACEdeck, and then the Flyer 6 SUNdeck and SPACEdeck, it is the turn of the new Flyer 9 to join the family. The Flyer 9 replaces its predecessor, the Flyer 8.8, and has all the advantages of the new generation: deck plan optimization, new design, and optimal driving station ergonomics for even greater thrills at sea! And that is not all, there are other surprises in store, new to the range on this state-of-the-art day boat!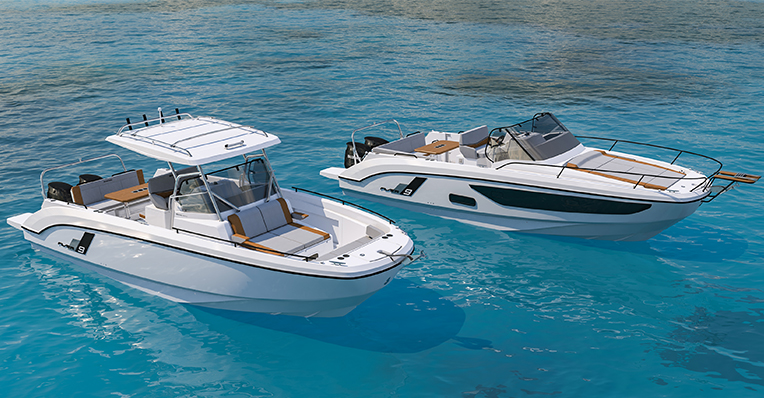 The Flyer 9 will be premiered in its SUNdeck version at the Cannes Yachting Festival, from 8 to 13 September 2020.
SEE THE CHARACTERISTICS OF THE FLYER 9 SPACEDECK
SEE THE CHARACTERISTICS OF THE FLYER 9 SUNDECK
A new version of the Antares 11, the Antares 11 Fly
The Antares 11 was launched last December and was a surprising addition to the historical BENETEAU range, in that it was a fast 30-foot boat with an outboard engine and 7 berths on board! A Flybridge version of the Antares 11 will now be available for people who get the most from outdoor boating. This new model will be premiered at the Cannes Yachting Festival.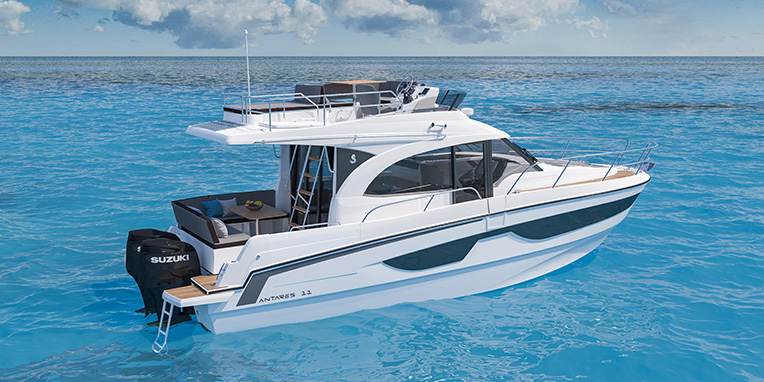 The Flybridge version of the Antares 11 .
SEE THE CHARACTERISTICS OF THE antares 11 FLY