Interview de Giovanni Belgrano on the First 36
Tell me a little bit about yourself.
I'm Italian, but I came to England to study back in '79.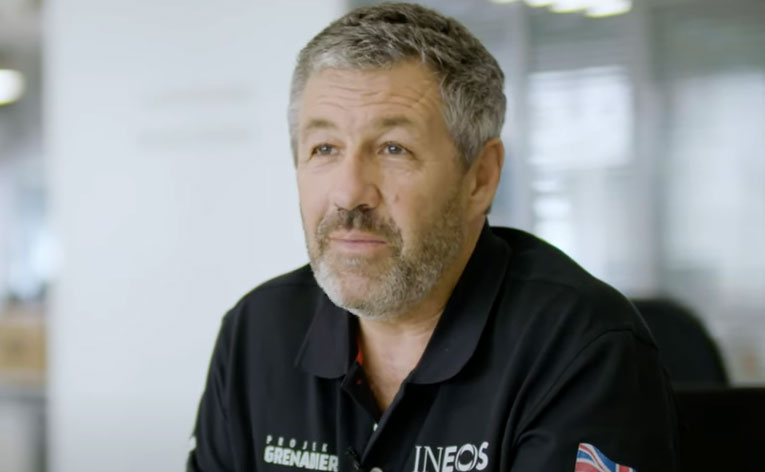 I was a part of a team that founded a company called SP systems, and we set up an engineering facility specialized in composites. And all my life I've pretty much done that engineering composite structures, working with designers and trying to come up with structural arrangements and solutions to what the project direction is. So I've worked in a variety of fields, but my passion obviously is sailing boats.
So I've worked in anything from mostly high performers, anything from ocean racing yachts to day racers, America's Cup, large cruising yachts, rescue boats, and every now and then also some industrial type composite applications. All of this work is partnered with Pure design and engineering – we are basically a team of experienced structural engineers who work on specialist projects like this one – the 36.

And sailing wise?
Sailing wise, sailing is a hobby for me. I mean, I used to race in my youth, but then studies and professional work took over. And for the last 20 years, I've been working and racing on a classic boat, which we keep here in England.

What kind of projects have you done and which one is your favorite?
Well, I've done five, six America's Cup campaigns. They are almost like doing a PhD. You get a chance to fully, fully immerse. So you get to work with a team where you basically cannot wait to wake up in the morning to go straight to work. Those are very intense experiences, but there are also others like the first composite Maxi. To be honest, I enjoy just about anything. I just love these boats.

You mentioned the composites and other new technologies that are developed. Can you tell me a little bit more about how this changed the, the naval industry?
Yes, I mean, it' interesting. I was just talking earlier with this guy called Brain Thompson, who's world record breaker on ocean crossings. We were discussing about, when you look at my boat, which is 82 years old, you know that the designers of those days would do the same thing we are doing now if they had the same materials and technology back then.
The materials, the understanding and the structural configurations really allowed us to make a difference in last 20 years. But with some of the inventions and the technology we now use, you can make things much lighter, and therefore you can do things that people would have loved to do, but were impossible before.
Can this new technology be applied to the production boats, in what way?
It is not easy, but we're getting more interest. We have three-four projects like 36, but you need to have good production to come through. Obviously, the costs involved raise the overall costs and there is a lot of constraints within, which you must work with to make it viable. But again, it's a matter of the companies putting together good teams like they've done on the 36. And we can actually work on it and make it happen.
How was working in this team?
Well, to be honest, Seascape made a great job of coordinating us. That's what's happening, Matic (Lenaršić) and the guys at the yard are making the link and making sure the words all coming all the way through, so they are actually the ones putting us all together. We worked with these individuals before, with Sam and with Lorenzo, so it's very natural the way boat is coming together. But it's all happening in Seascape.
So how much of the technology acquired on the high-end projects can be applied to a production boats?
Well, we certainly use the same tools, the same engineering analysis and calculations that go into America's cup, here on the First 36. The material is obviously different, but again, we try and pick the best possible materials to try and achieve some of the performance that featured on a racing boat.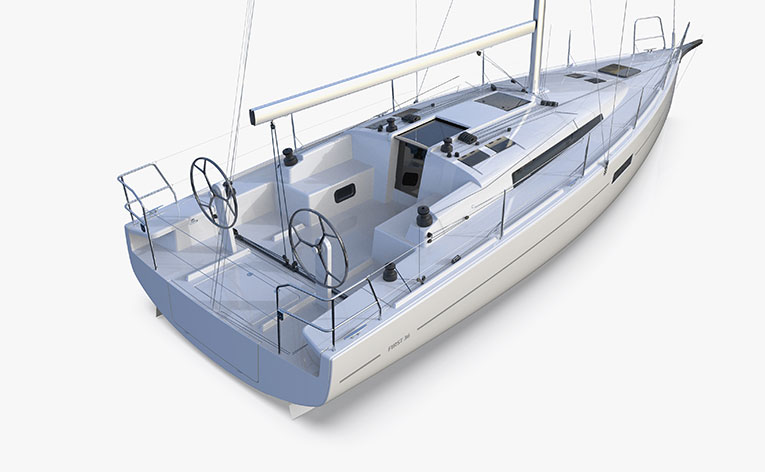 What are the benefits of this new technology for cruising? Why does speed matter?
Well, the thing is, if the boat is pleasure to sail, you'll be sailing more, and you'll go out more often. When you are out there, you will be sailing most of the time, rather than motoring or motor sailing. So if a boat can start sailing in light airs, you'll switch off engine more often. And so, it the boat sails faster, you can actually get to places quicker. It will never be as convenient as a powerboat, but it is going to be real pleasure while you are doing it.
How is this boat different than other cruiser-performance boats?
We are managing to hit the target weight which we are aiming for, which combined with the hull shape makes an honest performance boat. There is a lot of pretend performance boats. They say they are high performance, but if they are a ton heavier, they will not be a pleasure to sail. The Firsts have always been reasonably high performance in their class, better than some other general mass produced 30-something-foot racers. So in some ways, it's not a massive departure from the First line. It does somehow fit in.
What kind of boats do you see as a competition for this boats?
It's interesting, because I think it's going to be much more lively, lighter than the boats you could buy. I mean I can think of the guys working with Arcona and X Yachts and these people, but this boat is much more dynamic. It is bridging the gap between the sports boats and family cruisers. It won't have the performance as a pure day racing sport boat, but it will come close. And the volume inside is not compromised for cruising. It's going to be really a pleasure to sail on anything like that.
What is the most important feature of the 36 in your eyes?
I think the hull shape is quite new for boat of this type and size. It's going to be very lively, exciting boat to sail. You will feel alive in the boat.
So I think it's hull shape, and to be honest I am pretty happy with what we are doing. We're managing to keep it pretty light. It's going to be nice and light and rigid, much better than boats that size sold in production.
Can you describe this boat in one sentence?
Well, it's a fresh new look, it's a fresh new approach. So I don't know how you would call this First 36. It's not a sport boat because it's not just for racing, you can happily cruise in it. One sentence?
It's performance sailboat.