True to their continuous mission of sharing a passion for sailing, BENETEAU and Seascape are proud to present three new members of the 7th generation of FIRST. The First 27 and First 24 are the most exciting sport cruisers on the market today, while the First 14 is an innovative and versatile dinghy that will deliver joy and thrills to every type of sailor. In addition, a new First SE line (short for Seascape Edition) will consist of four models - 14SE, 18SE, 24SE and 27SE – which will build on the Seascape legacy to bring modern one-design racing and adventure sailing into the hands of everyone.
Over the past five decades the FIRST name has been a fundamental part of the BENETEAU spirit, offering sailors true performance boats that were also suitable for cruising, and by extension, offering a more versatile interface between sailor and sea. First class one-design racing boats offered the possibility of competing on a level playing field, and the BENETEAU Wizz, a truly innovative Finot-designed sailing dinghy, opened the door to sailing on even the smallest of budgets.

40 years later BENETEAU and Seascape joined forces to reinvent First for a new sailing era defined by accelerated innovation and progress. With a clear focus on the user and the user experience, BENETEAU and Seascape have created two distinct ranges, First and First SE, to meet the needs of two specific types of sailors.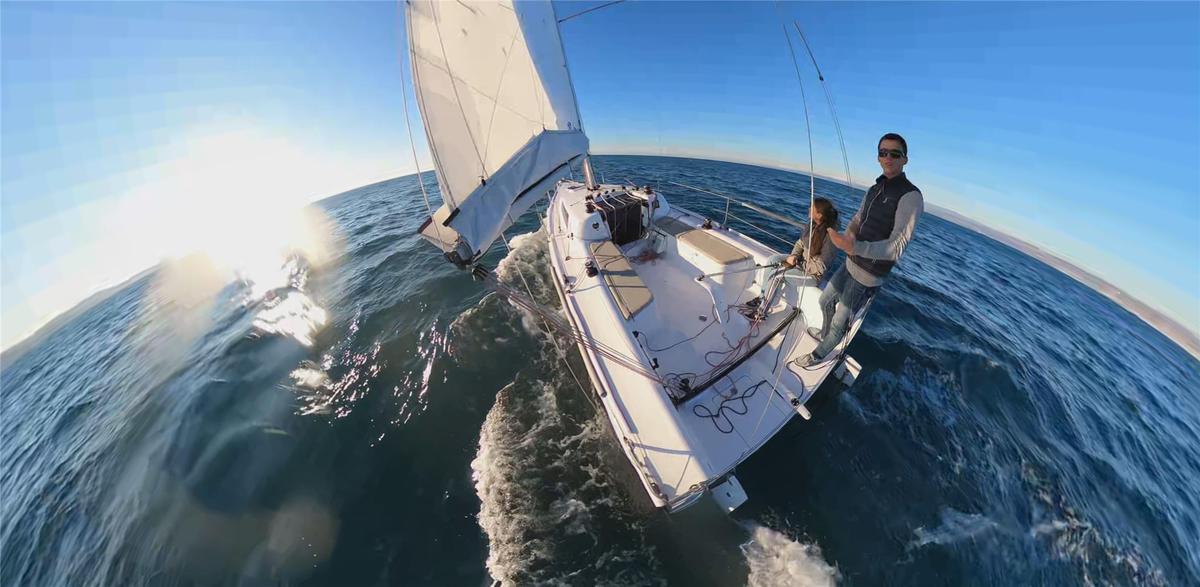 FIRST, 40 YEARS OF ICONIC BRAND HERITAGE
The signature features of the FIRST range have not changed since its conception in 1977 – these boats have always been designed for sailors who enjoy club racing as much as cruising, joining into one cohesive product line the proverbial best of both worlds. Today, BENETEAU takes another step in this direction with the launch of the new FIRST 14, FIRST 24 and FIRST 27.
These new boats draw their power from the same exhilarating hulls as their SE cousins (drawn by the hugely talented Samuel Manuard) yet offer simpler systems, aluminum masts, and comfortable interiors and cockpits geared towards daysailing and coastal cruising. True to the spirit of the BENETEAU brand, they represent a drive towards tuning the boats to the needs and expectations of the widest variety of sailors.
FIRST 14: A DOUBLE HANDED DINGHY FOR EVERYONE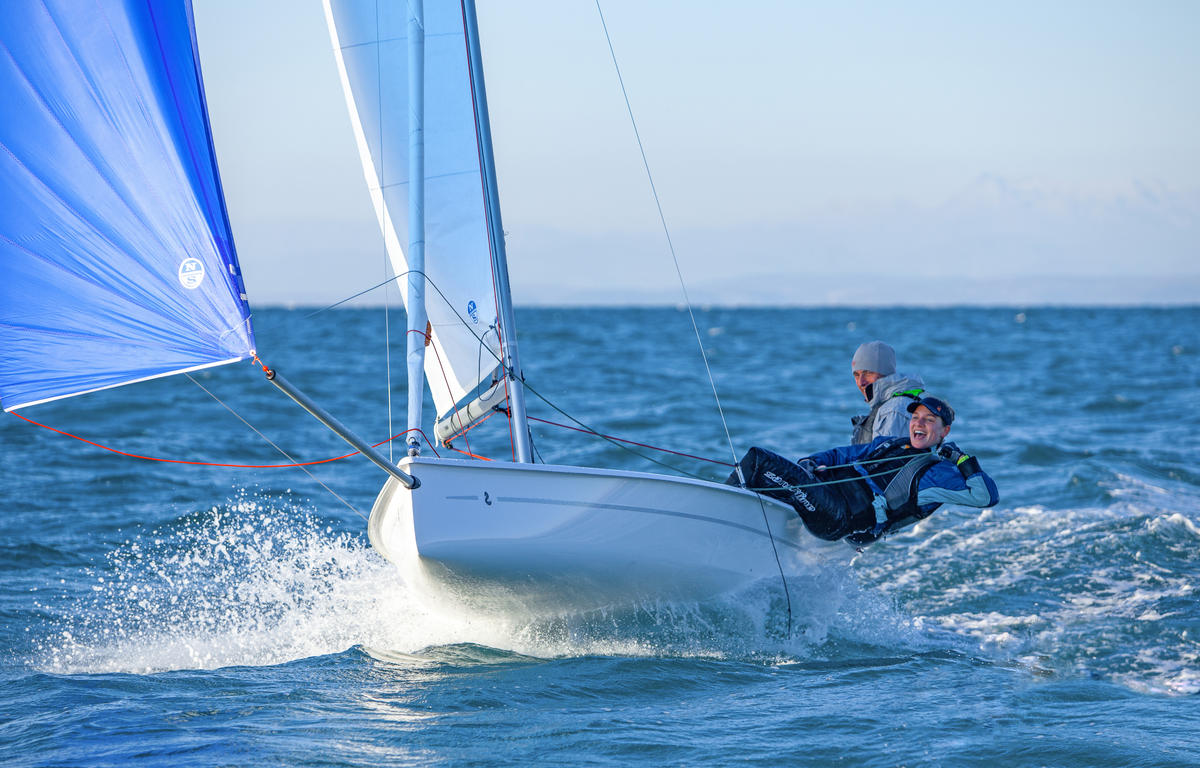 Building on the legacy of the legendary BENETEAU Wizz, the First 14 reproduces the exhilarating world of fast and planning dinghies. Light, accessible, and easy to handle, the boat is also fundamentally fun, and the quality of her build simplifies maintenance and guarantees worry-free ownership.
Her design allows for a seamless on-water transition from single handed to double handed mode. A wide and stable hull offers safety and comfort, as well an open space cockpit where movement is quick and easy. Her deck fittings, hardware and sails are both simple and quality-driven, providing the sailor with easy ownership and maintenance. Removable wheels are ideal to quickly launch and retrieve the boat, ideal when you take her to unexplored shores.
FIRST 24: THE PERFECT FAMILY DAYSAILER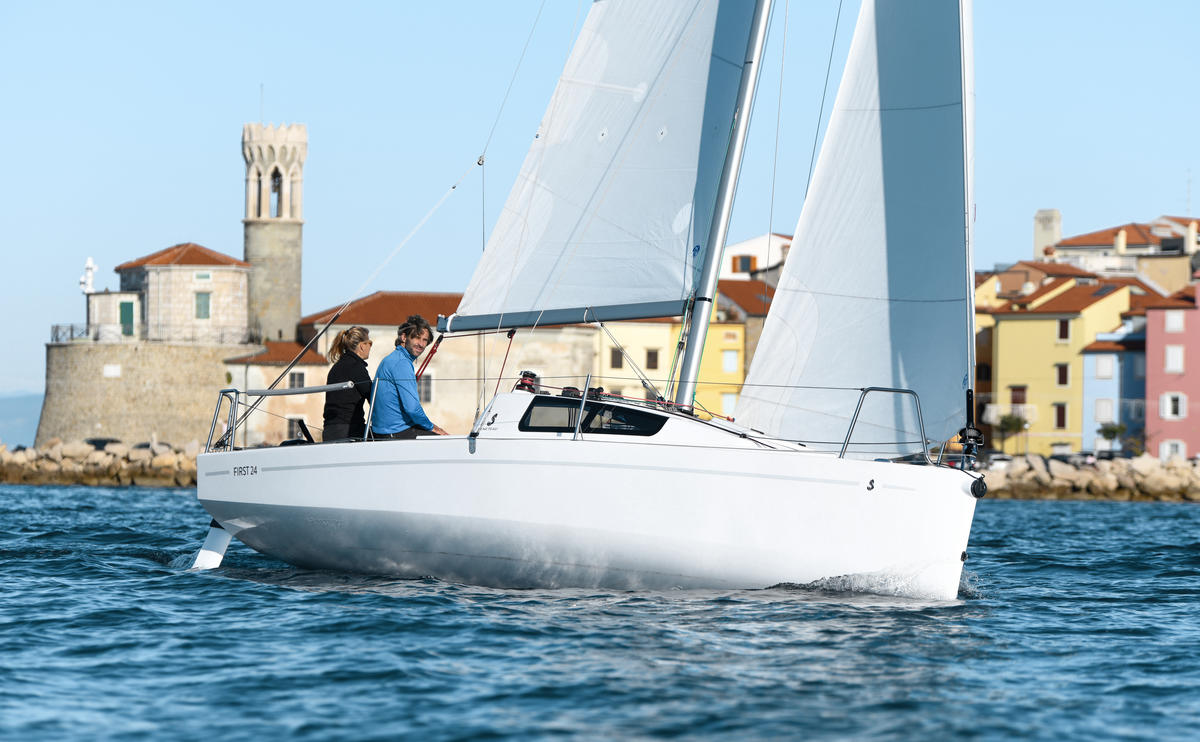 She's a smart pocket cruiser, a joyful day-sailor or a solid club racer – whichever way you choose to use your First 24, she is equally ready, with sleeping accommodations for up to four wrapped in an ultramodern performance hull. A completely retractable keels gives you unfettered access to the shallowest cruising grounds and the possibility of quickly launching and retrieving the boat from any ordinary ramp. Her light and stable hull, alu rig, classic backstay and dacron sails make her the ideal holiday cruiser, within operational reach of even the most inexperienced sailors.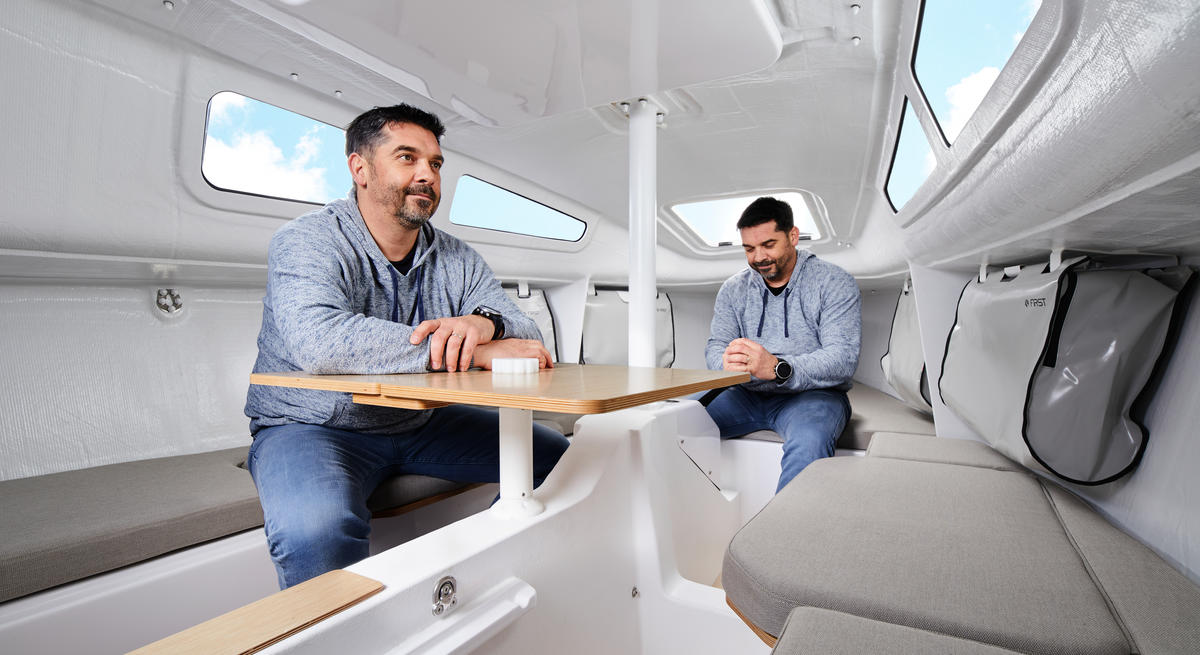 The open space interior is articulated around enormous sleeping areas and offers innovative and ergonomic solutions for storage, comfort, and day-to-day use. The winch-operated deep composite/lead retractable keel and removable rudders allow for movement in as little as two feet of water, yet offer unrivaled stability and speed while underway.
FIRST 27: A CRUISER FOR THE NEW ERA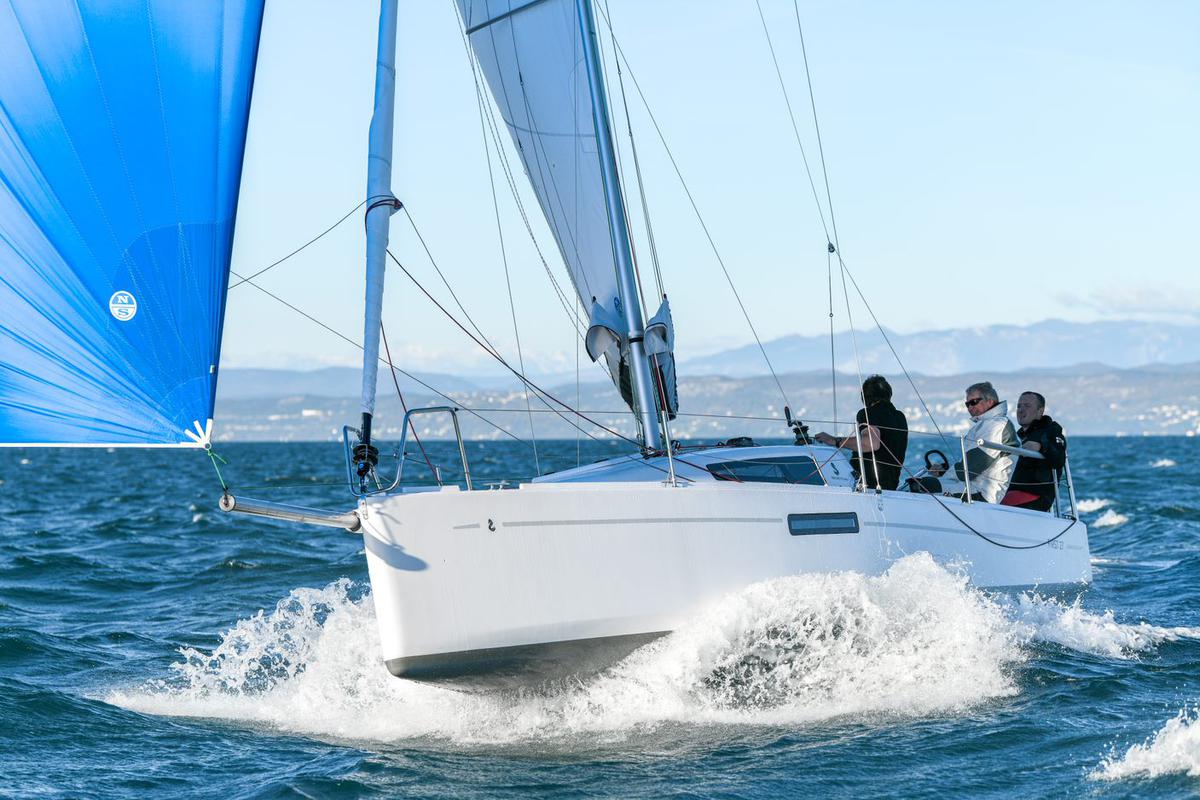 Flagship of the new FIRST line, the First 27 is unquestionably the fastest and safest cruiser in this size range. Her modern design and state-of-the-art manufacturing delivers the magic of planing sailing to families, couples, and solo sailors alike, wherever the cruising ground and whatever the weather conditions. A true pocket yacht, she has an inboard Yanmar diesel, a working galley, a real head and plenty of storage, as well as room for up to six people for overnight adventures. Large windows and portholes provide for natural light and excellent ventilation, and her comfortable cockpit, complete with comfortable seating and a removable table, is the ideal platform for outdoor activities, both underway and at the dock.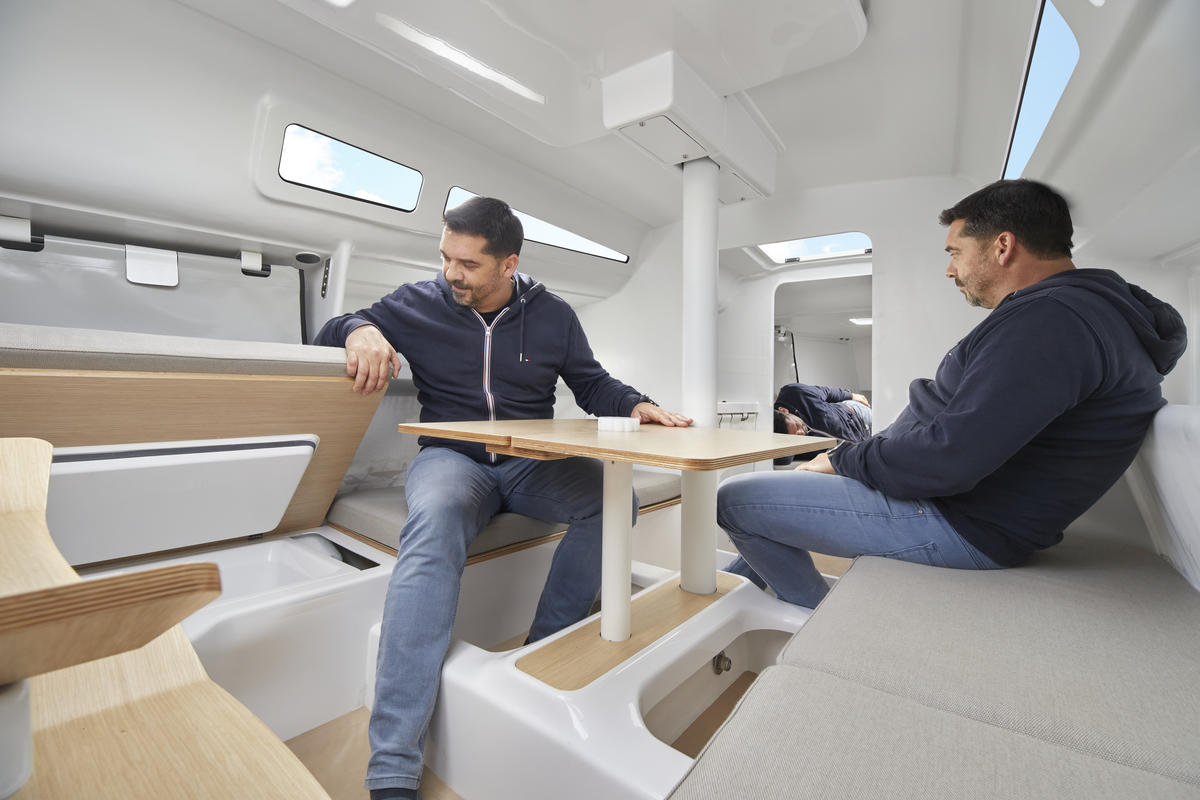 In terms of the rigging and hardware, her alu rig, traditional backstay and dacron sails are balanced by a deep, 5'7" lead fixed keel and twin rudders. The result is a boat that is simple to use and own yet makes few – if any - concessions to performance. With unsinkable compartmentalized volumes, this is also a boat you can take well offshore without any feeling of worry.
FIRST SE - SEASCAPE EDITION
HIGH-TECH PERFORMANCE FOR EVERYONE
FIRST SE – or Seascape Edition – builds on the Seascape heritage and empowers sailors to expand their comfort zone. The SE boats bring the high-tech performance and unique community spirit of Seascape into the hands of even the most novice of sailors.
FIRST 14 SE: PURE SAILING EXCITEMENT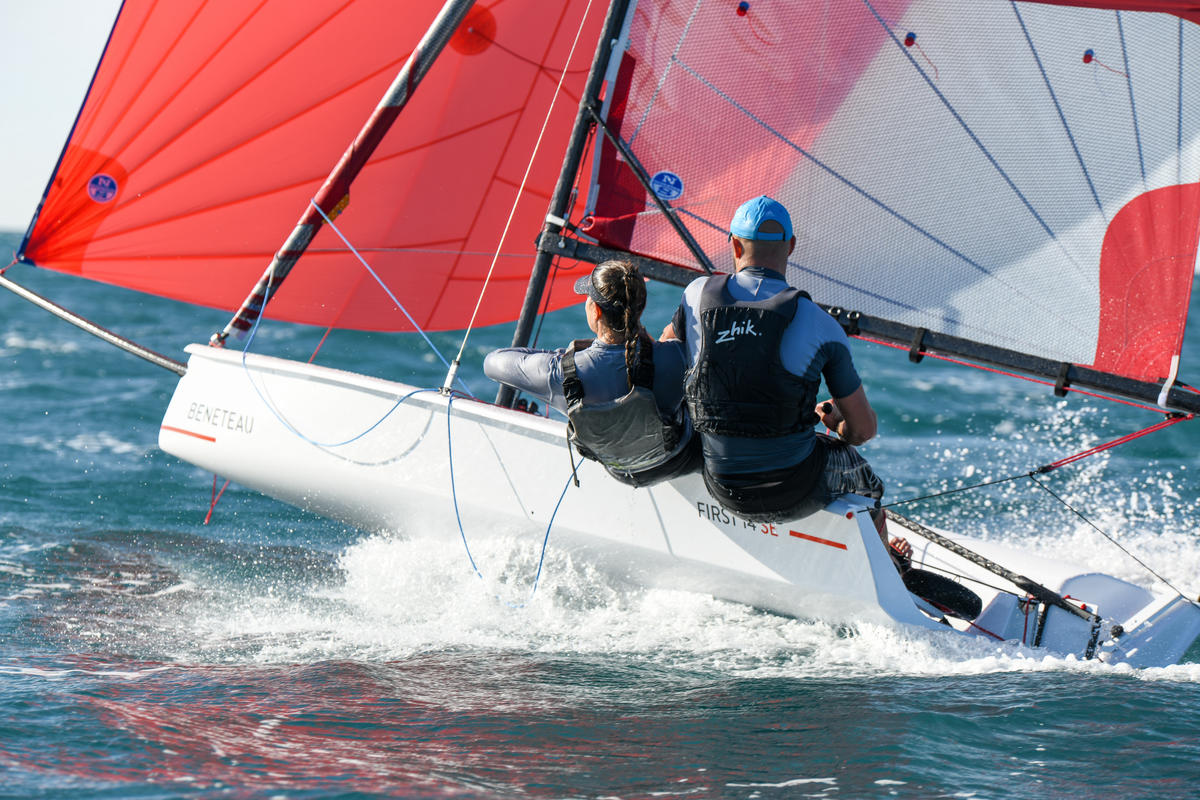 The First 14SE is the boat for performance and quality oriented dinghy sailors seeking to push their own limits. She delivers the excitement, speed and fun of serious racing in a package that is modern, accessible, practical and safe. The build quality and high-tech materials allow you to push the boat into stronger winds, while additional sail area options will also guarantee thrills in even the lightest of airs. The mast, boom and bowsprit are carbon fiber; the sails are laminate; the combination will make you a speed machine, whether you're out for a leisurely early morning windward run or pushing your limits on a big-wind afternoon. Her removable wheels and overall weight – which allows her to be transported on the roof of a car – make it the ideal answer to an active lifestyle.
FIRST 18 SE: THE ENABLER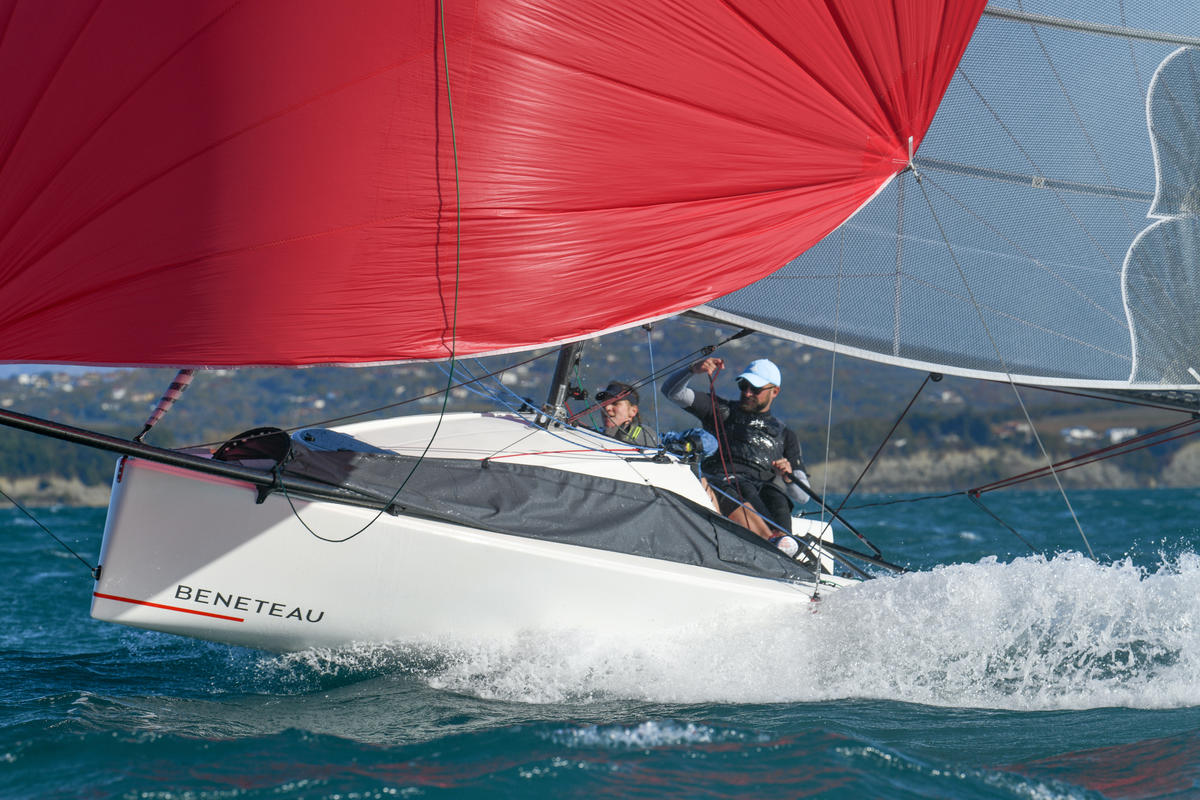 The First 18 SE is a sailboat for people looking to explore the fundamentals of sailing or looking to grow into more experienced sailors through club racing or adventure sailing. With over a thousand hulls sold worldwide, she is a perfect sport boat for recreational sailors who would like to challenge themselves in a well-established one-design class. Her broad, flat hull and twin rudders deliver near-perfect control of the boat even when planing at double-digit speeds. Sail handling and deck organization are simplified as much as possible with a snuffer system, furling jib and carbon mast with no backstays. The cabin is large enough to accommodate two adults and offers a convenient option for storage; with her open cockpit, she makes for an ideal sea camping platform.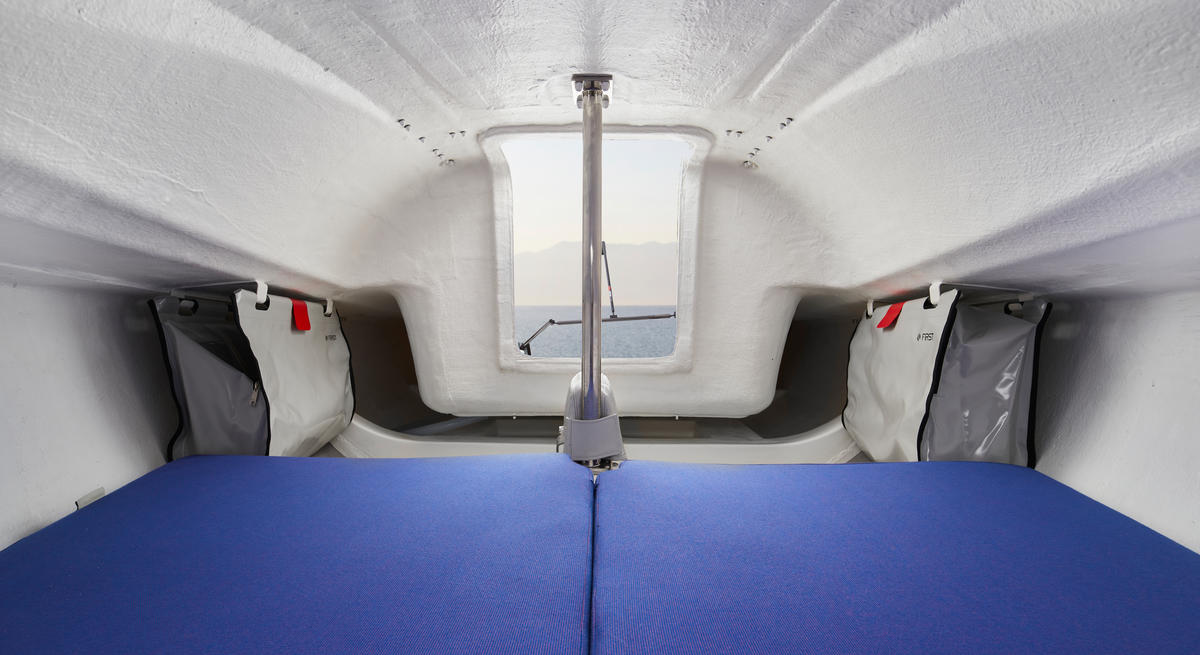 A fully retractable swing keel and removable rudders will provide you with access to the shallowest of waters, while allowing for an incredibly quick and easy trailer launch and retrieval procedure.
FIRST 24 SE: LIGHT, FAST, SIMPLE AND VERSATILE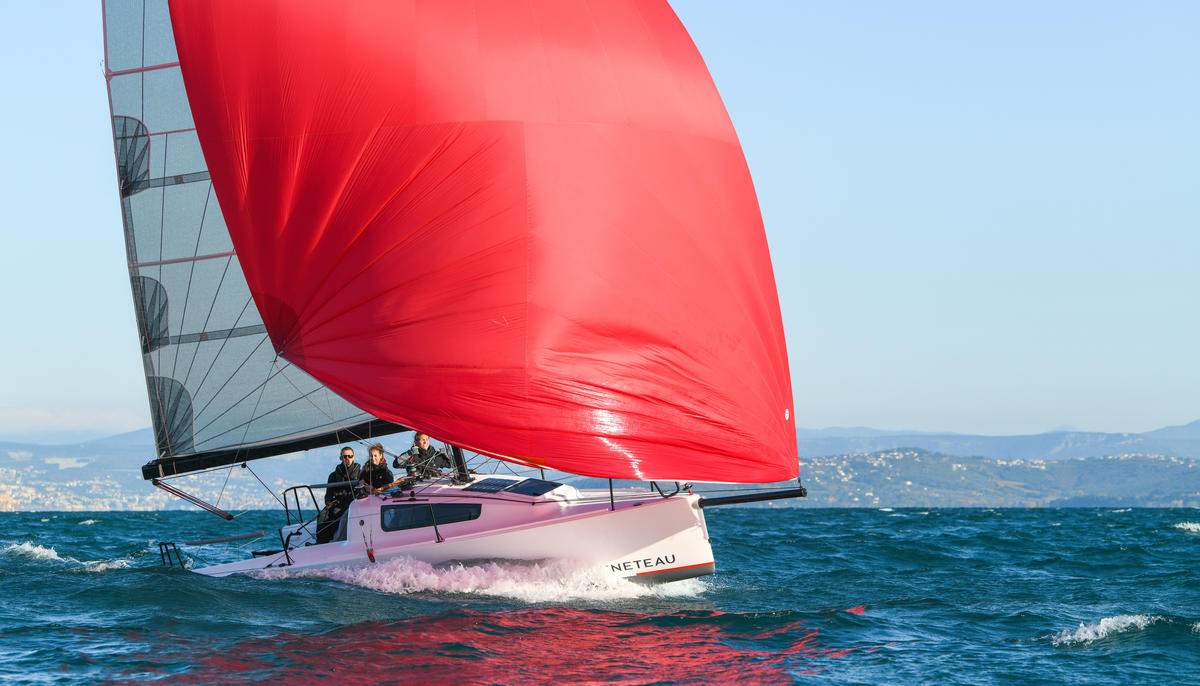 From expanding your comfort zone in solo adventuring to family coastal cruising, the First 24 SE can do it all – and then some. She is a modern high-tech sport cruiser, capable of delivering thrilling performance in a versatile package that is easy to use and maintain. Her carbon rig not only reduces weight aloft but removes the need for a backstay, which significantly simplifies maneuvers and also allows the boat to carry a sizable square-top mainsail.
The result is a combination of very high sail area/displacement ratio which allows sailors to have fun in even the lightest of winds. She is of course trailerable, and her smart mast-raising system allows a single user to launch and go, allowing her access to a wide variety of cruising and racing grounds.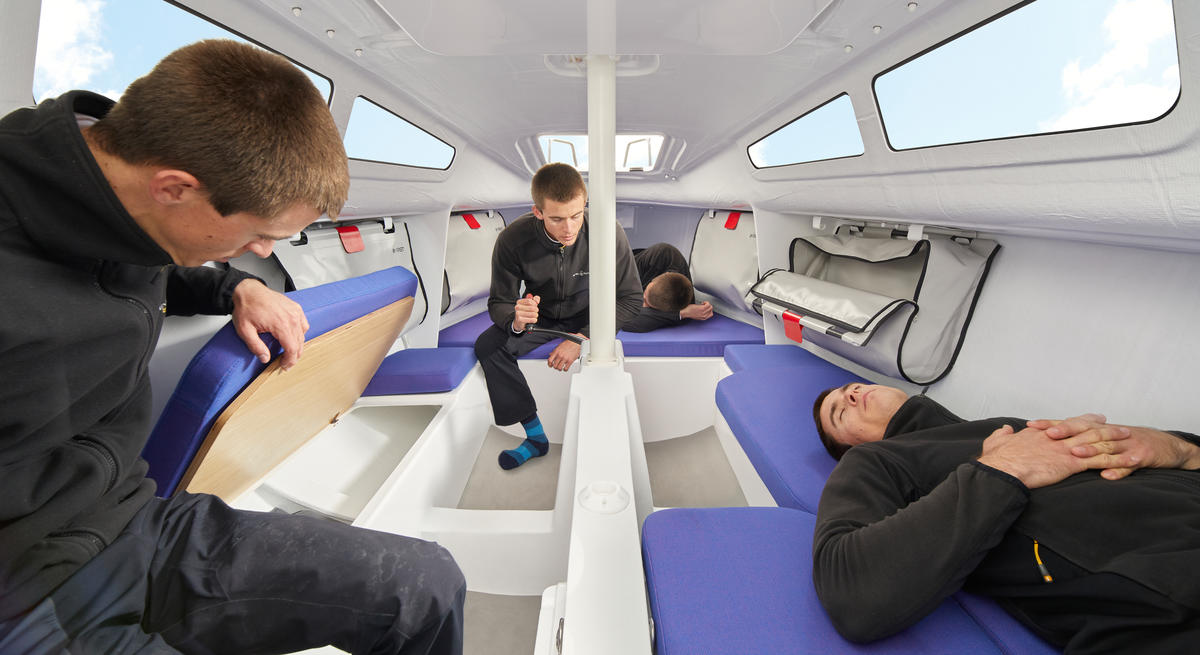 When the day is over, she will welcome you into her basic but smart interior, adding the overnight dimension to all of your dreams of adventure.

FIRST 27 SE: NO LIMITS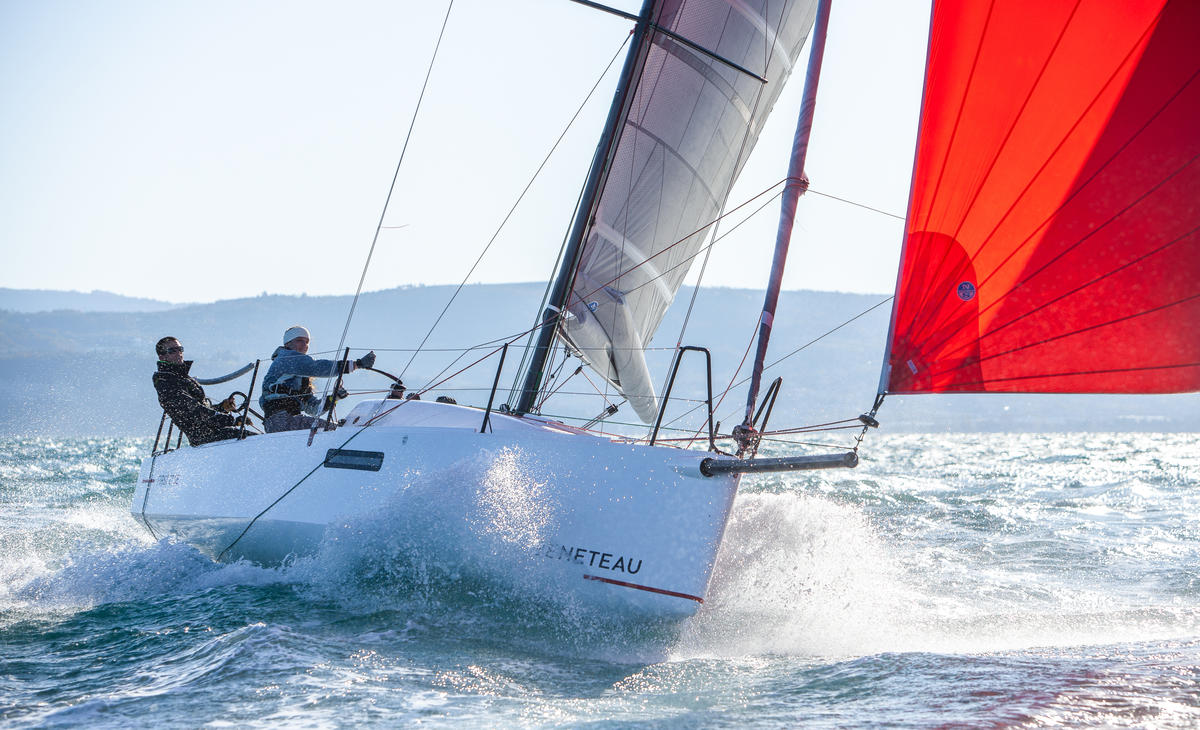 The First 27 SE brings the cutting edge of offshore racing into the hands of recreational sailors – the performance, the technology, the community, and of course, the exhilaration. As an all-weather, one-design offshore racer, her Samual Manuard-designed hull delivers an extraordinary sailing experience heretofore reserved for only the smallest group of professionals.

Her vacuum infused sandwich construction helps make her the only offshore one design sailboat that can be road-towed without special permission, a feature more than 160 owners worldwide have taken advantage of. She has placed or won in such notable races as the Chicago-Mac and Silverrudder, and offers the opportunity for sailors to challenge themselves in a wide variety of environments and racing grounds.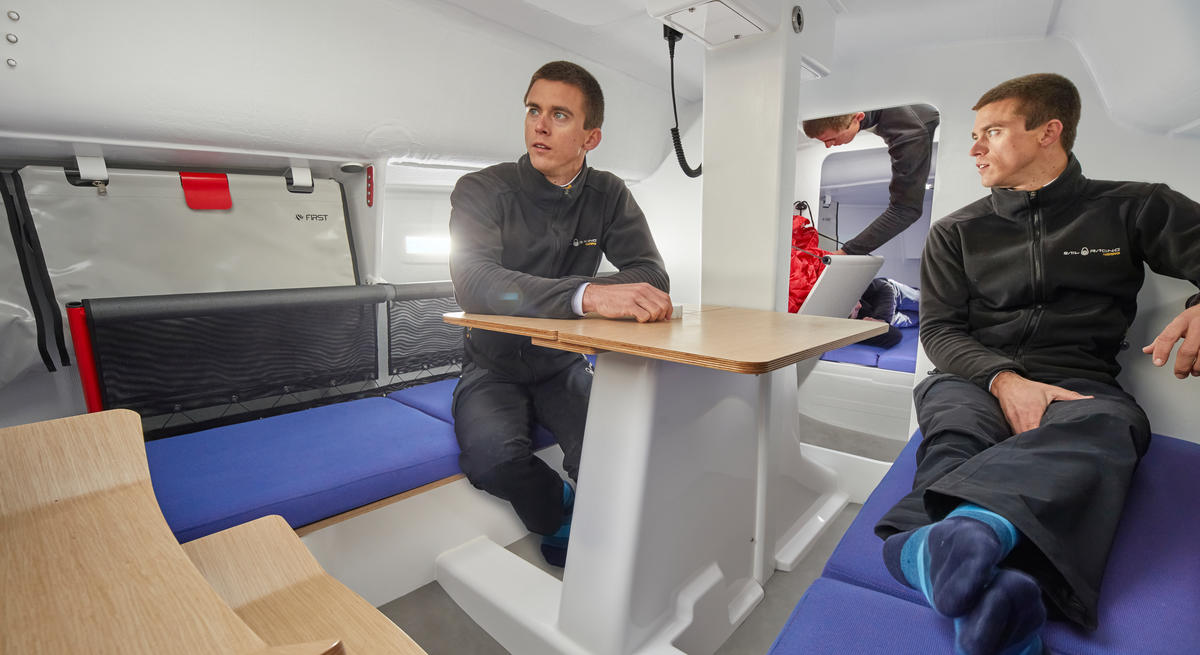 With a marine head, up to six berths with a separated front cabin, optional galley and enough storage for long-term cruising, the First 27 SE is the ultimate adventure racer for sailing connoisseurs.